March 24, 2011 -
National Football Post
Behind the Measurements: Height vs. Arm Length
Every year NFL prospects strip down to their underwear and are paraded around in front of scouts and executives in an event known as the weigh-in. This is the first time official heights and weights are received on each player. However, two other important pieces of information are also recorded during the weigh-in that have just as much barring in relation to how "big" a potential NFL prospect can play. Those two numbers are reach (the length of a prospects arm) and hand size (the length from the pinkie finger measured to the thumb).
Football is a contact sport where collisions take place on every play. Most NFL players are asked to win battles at the point of attack and the players with the biggest frames and longest reaches have a clear advantage when engaging with an opposing player.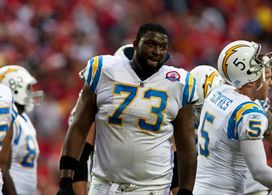 ICONMcNeill's length is a great attribute to his game.
The reach or arm length of an NFL prospect is a key attribute to any position, especially to those playing along the line of scrimmage. However, at no position is a prospects reach more vital then at the offensive tackle spot. To put it into perspective how offensive lineman are benefited and hindered from length, I want to take a look at two former prospects who both had similar height/weight numbers when they came out, but have both taken different paths so far in their NFL careers. OT Adam Terry (Baltimore Ravens) and OT Marcus McNeill (San Diego Chargers) are both former second round picks (Terry in 2005, McNeill in 2006) who both weighed in during their Combine appearances at 6-8 and around 330 pounds. However, the key difference during each player's weigh-in was the dramatic discrepancy in the length of the two player's reaches. McNeill measured in at 35