March 17, 2011 -
National Football Post
Behind the times: The Ten-yard split
So much is made of the 40-yard dash times every year for prospects at all positions. However, when evaluating pass rushers one of the main numbers I tend to put more weight into is their ten-yard split. In my mind there is more of a correlation in measuring their initial get off burst with their ten-yard split than with their overall 40.
Now, measuring a ten-yard split isn't the end all of figuring out who can rush the passer in the NFL and who can't. However, if you have a guy who can consistently fire off the ball quickly, than you at least have a prospect who can threaten the edge with his speed rush at the next level.
*Times were taken from the eclectic times issued at the NFL Combine.
Martez Wilson, Illinois: 1.59
His initial first step is one of the biggest reasons why I think he has the potential to rush off the edge as a 34 OLB. He's long armed, has some pass rush ability and with that initial first step, he can at least threaten the corner until he develops more of a pass rush arsenal.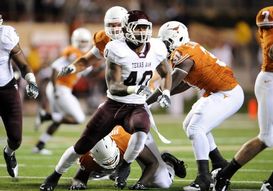 ICONMiller's first step can consistently open up a counter.
Von Miller, Texas A&M: 1.62
Simply by watching Miller on tape, it's no surprise that he possesses one of the fastest ten-yard splits of any pass-rushing prospect in the draft. He's a guy who opposing tackles will need to consistently account for turning the corner at the next level. However, it's his fluidity and change of directions skills off his speed rush that ultimately will make him an even tougher block in the NFL.
Brooks Reed, Arizona: 1.63
Again, when you watch the tape you know Reed depends mostly on his first step. He's a guy who gets off the ball quickly and has developed a nifty spin to counter. However, he's tight hipped and looks linear as a pass rusher. Strikes me more as a one trick pony at this stage, which will limit him.
Justin Houston, Georgia: 1.66
Houston is similar to Reed, whereas he possesses a good initial burst off the snap and can consistently threaten. Now, he's a bit more fluid than Reed on tape. However, he isn't the most flexible of guys around the edge and has yet to really develop much of a counter off his speed rush.
Adrian Clayborn, Iowa: 1.67
For a 6-3, 285-pound lineman, 1.67 is an impressive time. Clayborn possesses a good first step off the ball, as well as impressive short area quickness and burst when asked to close for a guy his size. He definitely plays faster than his frame would indicate because of his natural explosion/quickness in tight quarters.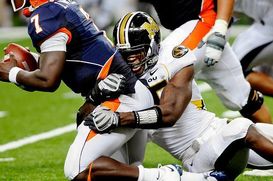 Smith's combination of get off burst, length and fluidity make him a tough block off the edge.
Aldon Smith, Missouri: 1.68
Smith is a tall, long armed defensive lineman who takes a bit more to coil up into his stance. However, for a long prospect he possesses a good first step, natural bend and has the ability to at least threaten the edge and than work off his counter. His speed rush isn't elite by NFL standards, but it's certainly enough to keep tackles off balance, flatten out with along the edge and counter off.
Jabaal Sheard, Pittsburgh: 1.68
Sheard is one guy who continues to intrigue me. He displayed a better initial get off than I gave him credit for, has a great motor and an intriguing pass rush arsenal. He'll get looks at both 34 OLB and down as a DE, and is one of the most underrated pass rushers in the draft in my view.
Robert Quinn, North Carolina: 1.69
I never quite understood where the potential 4.55 40 came from in regards of a possible time for Quinn. He's a long, flexible athlete off the snap who has the get off burst to reach the edge. But when watching him on tape I didn't think he was an elite speed rusher. I saw a coordinated kid who used his arms/hands well to shed and demonstrated some natural change of direction skills to his game, which would allow him to consistently reach the passer. But in my mind he simply possesses a good, but not elite first step.
Cameron Jordan, California: 1.71
Jordan is more of a sudden/quicker pass rusher who knows how to set up his rush and use his length to keep himself clean. However, simply trying to turn the corner vs. NFL caliber offensive tackles will never be among his strong suits.
J.J. Watt, Wisconsin: 1.71
About what I expected on tape from Watt as the former Wisconsin standout isn't a speed rusher. He's a powerful kid who can play with leverage for his size, get under blockers and shed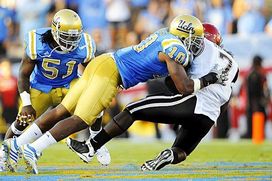 ICONAyers plays faster than he times.
Akeem Ayers, UCLA: 1.72
Plays faster on tape and I'm going to be interested to see exactly what he runs at his pro day. Putting in the necessary work could be the issue and not physical talent when it comes to his Combine/pro day numbers.
Ryan Kerrigan, Purdue: 1.72
Again, not exactly a speed rusher who is going to consistently threaten the corner at the next level. He's a high motor guy on tape who plays heavy handed and can fend off blocks. But, if you're looking for an out and out speed rusher, Kerrigan isn't your guy.