April 30, 2011 -
National Football Post
Best available for day three
A position-by-position look at the top prospects left on the board after three rounds.
Quarterback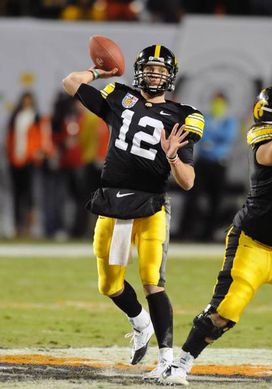 ICONStanzi is the only "starting caliber' QB left on my board.
Ricky Stanzi: Iowa
He's a savvy, tough signal caller who comes from a pro style offense and could mature into a starter with some time.
Tyrod Taylor: Virginia Tech
Think Seneca Wallace. More of a number two at the next level, but is a gifted runner who has really develop as a passer the past two seasons.
Greg McElroy: Alabama
Smart, accurate and looks like a solid backup who will play in the league for ten years.
Running back
Kendall Hunter: Oklahoma State
A little bundle of dynamite who is shifty in tight areas, can catch the football out of the backfield and will mature into a solid pass blocker as well.
Delone Carter: Syracuse
Built thick, runs with good patience and has the wiggle to make a man miss and accelerate.
Jacquizz Rodgers: Oregon State
Ultra quick, but undersized. More of a 3rd down back who has a place in the NFL.
Wide receiver
Tandon Doss: Indiana
His lack of speed hurt his draft stock, but he's a well-built kid who can catch the football and potentially mature into a starter.
Niles Paul: Nebraska
A talented wide out who is built like a running back. Needs to catch the football more consistently, but is powerful in all areas of the game.
Terrence Toliver: LSU
He's a big, coordinated athlete who flashes on tape, but has some of the worst concentration I have seen this year and always puts the ball on the ground.
Tight end
Jordan Cameron: USC
A personal favorite of mine. Cameron can run down the seam, is fluid out of his breaks and will go up and get the football.
Offensive line
Jason Pinkston: Pittsburgh
A naturally thick kid with good body control in tight areas. Needs to play in a phone booth to be effective, but can create as an in-line guy.
Clint Boling: Georgia
A "do it all" type lineman who can play both inside and out. Isn't physically dominant, but can bend and moves his feet well through contact.
David Mims: Virginia Union
My favorite "sleeper" of the class. He's 6-8, 330 pounds, can bend and has NFL starting upside as a right tackle.
Defensive line
Greg Romeus: Pittsburgh
A boom or bust guy. Possesses a tall frame, great length and can fend his way off blocks. However, he's a medical concern and his motor has a tendency to run cold at times.
Christian Ballard: Iowa
Runs extremely well in pursuit and is a gifted athlete for his size. However, plays a bit high and character concerns have caused him to fall.
Jerrell Powe: Ole Miss
A real plugger inside who is tough to move off the football and is an ideal nose for a 34 front.
Linebacker
K.J. Wright: Mississippi State
He's well built, productive and can play a number of spots in either a 34 or 43 defense.
Quan Sturdivant: North Carolina
Isn't as instinctive as he's made out to be and needs to play on the outside where he doesn't have to read off blocks as much at the next level.
Defensive back
Brandon Hogan: West Virginia
Has some medical and character concerns, but he's a tough corner who can run, plays the football well and if healthy can certainly contribute to a roster.
Brandon Burton: Utah
He's long, physical and can press off the line. However, plays too high and struggles in off man concepts because of it.
DeAndre McDaniel: Clemson
He's coordinated in his drop, can get after the football, but his lack of straight-line speed definitely hurt his draft stock.
Quinton Carter: Oklahoma
Showcases natural thump at the point of attack, but doesn't take great angles to the football and didn't run as well as many expected at the Combine.
Follow me on twitter: @WesBunting