February 14, 2011 -
National Football Post
Better quarterback prospect? Cam Newton or Jake Locker
The two most highly publicized quarterback prospects over the past month have been Washington's Jake Locker and Auburn's Cam Newton. Both are gifted physical athletes who possess a unique run/pass skill set that is becoming more and more popular at the position in the NFL.
Therefore, the NFP takes a look at five tools used to evaluate the quarterback position and come up with our reason as to who is the better quarterback prospect.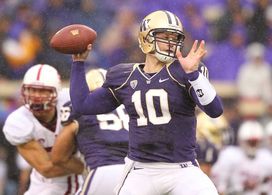 Locker has the edge in overall experience.
Seasoning/coaching
At first glance this initial trait seems to be largely in the favor of Locker. He's a four-year starter who has experience playing in more of a pro-style offense under head coach Steve Sarkisian — despite going to more of a spread look later in 2010. He's attempted 1,148 passes during his time at the FBS level compared to only 292 from Newton — who worked exclusively from a wide open spread offense. Plus, Locker has a quicker release, when he has time is more consistent with his footwork as a passer and overall is cleaner with his mechanics at this stage compared to Newton.
Edge: Locker
Winner
I will give Locker more credit than he probably deserves as a winner, considering the fact that at the end of his senior year he did run off three straight victories in order to get his team into a bowl game and was able to beat a Nebraska squad that laid the wood to them earlier in the season. However, with that being said, the facts still speak for themselves as Locker was 15-25 as a starter over the course of his four seasons at Washington. I will say he did elevate the play somewhat of his teammates toward the end of the year, but with a record like that I do have my doubts about the guy's ability to consistently win football games and lead his team through tough situations in the clutch at the next level.
Newton on the other hand has won at just about every level. The guy captured a national title at Auburn during his first season as a starter this past year. Led the Tigers to a come-from-behind win down 24 points vs. rival Alabama in Tuscaloosa. And looking even further back Newton won the NJCAA national title at Blinn College prior to his arrival at Auburn. He's a guy who his teammates really seem to rally around, he rarely seems to get rattled and no moment ever seems too big for him.
Edge: Newton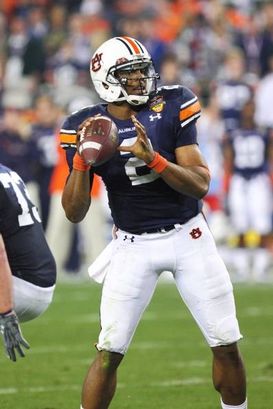 ICONIt's impossible to ignore how physically impressive Newton is.
Physical attributes
You have to give credit where credit is due and with all due respect to Locker, who's a really gifted athlete in his own right, it's rare to find a more physical specimen than Cam Newton. I would say Newton has the bigger arm, spins a cleaner, more consistent football, is more elusive moving around the pocket and is a bigger threat once he breaks contain and can create with his legs in the open field. Now, in no way is that a slap in the face to Locker and his physical attributes, it's just to state the fact that on a physical talent level only at the QB position, I think Newton is superior.
Edge: Newton
Off-field Character
We know all about Newton and his troubles with the play-for-pay plan this year, whether it was his father's fault or not. However, when you evaluate a prospect you have to look at the full picture and his troubles dating back to Florida cannot be overlooked. Newton faced felony chargers for burglary, larceny and obstruction of justice for being in possession of stolen property at Florida (a laptop) and then throwing it out a dorm window (Charges were later dropped after a pre-trial intervention for 1st-time offenders). The Florida football team suspended him as a result. Newton also was accused of cheating — according to sources — three times during his time at Florida and even faced potential expulsion because of it.
Now talking with scouts about Newton's maturity issues and when trying to figure out if he has learned from his past troubles or hasn't changed at all, I have heard both sides of the story.
One scout told me that he comes off as a mature and well-spoken kid in the media, but it's all an act. In reality, he said that he's a selfish, "me first" guy who eventually would have worn out his welcome at Auburn.
Another scout I talked to said he's come a long way from his time at Florida. And that he's a smart, well-spoken kid who loves to compete and should not be lumped into the same categories as quarterbacks like JaMarcus Russell and Vince Young.
Locker on the other hand has been about as good off the field as you can get. There are no run ins with the law; he seems like a humble kid who keeps his nose clean. He's used to being in the spotlight, being a four-year starter at Washington, and off the field character is of little concern when evaluating Locker.
Edge: Locker
Mental capabilities
In my view Newton is just a more natural quarterback in the face of live pressure compared to Locker. He seems more decisive in the pocket and looks for secondary options much more confidently. His balance through his progressions remains more consistent as well, which allows him to be more accurate than Locker off his initial read and stay in better rhythm.
Now, I'm in no way saying that I think Newton is NFL ready from day one, and the guy is going to need as much time as any QB learning the intricacies of an NFL offense coming from a spread offense in college. However, when watching him vs. Locker, Locker really doesn't look real confident when asked to trust what he sees, gets fidgety anytime he has to look for a secondary option and his footwork/accuracy suffer significantly because of it.
I think both guys are going to need time and will both be considered "reps guys" in the NFL from a pocket passer standpoint. But I just see Newton as a more natural quarterback from the pocket in deciphering information and coming to a quicker conclusion compared to Locker at this stage.
Edge: Newton
Overall, when breaking these two prospects down, both have their strong points and both have their flaws. And in no way am I saying that I have convictions in either of these two quarterbacks as I see both as potential boom or bust guys, and I do not think either is worth the risk pulling the trigger on in the first round.
With that being said, if I were to make the pick on the better quarterback prospect of the two I would side with Newton. He's a more physically gifted athlete, he's got more upside to his game and the fact that he has a better feel for the game from the pocket and deciphering defenses is the biggest reason I would go with him. I realize there are some character concerns possible in the future, which is the biggest reason I would stay clear of the guy early in the first round. However, when comparing him to Jake Locker only, I think there's a better chance for Newton to overcome his past question marks off the field than for Locker to overcome his deficiencies from the mental capabilities standpoint.
Better quarterback prospect: Cam Newton, Auburn.
Follow me on twitter: @WesBunting