November 14, 2013 -
Jason Cole
Big Ben expecting to join $20 million QB club
While talk of quarterback Ben Roethlisberger being traded or even requesting a trade is a bit premature at this point, a looming issue for him and the Pittsburgh Steelers is a contract extension that is likely to be discussed this offseason.
A contract the 31-year-old Roethlisberger would expect to be north of $20 million per season, putting him in line with fellow quarterbacks Drew Brees, Aaron Rodgers, Matt Ryan and Joe Flacco. Roethlisberger is signed through the 2015 season as part of an eight-year, $102 million deal he agreed to in 2008. While that would seem to work against Roethlisberger's leverage, there is precedent for him to receive a deal in the range of what he would likely want.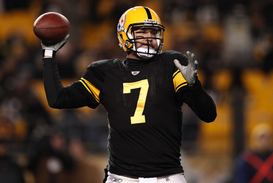 Both Rodgers (two years remaining on his deal at the time) and Ryan (one year remaining) received extensions at more than $20 million per season during the 2013 offseason. Rodgers received $110 million, including a $35 million signing bonus with his deal. Ryan received $103.75 million for his five-year extension, including a $28 million signing bonus.
As for age, Brees received his five-year, $100 million contract in 2012 when he was 32.
Finally, Roethlisberger has as many Super Bowl appearances (three) as Brees, Rodgers, Ryan and Flacco combined. Roethlisberger has also won two Super Bowls. None of the other four has more than one.
As one source put it, "The comps are there."
Thus, if talks don't go well between the team and Roethlisberger, the situation could get ugly. The source suggested Roethlisberger could even holdout, but that might be difficult if the 3-6 Steelers continue to struggle this season.
Ryan Tollner, Roethlisberger's agent, declined to comment on the situation. A Steelers spokesman said the team does not comment on individual player contract talks. Pittsburgh makes it policy not to negotiate contracts with players during the season, so no talks will be held until after the current season.
At that point, Roethlisberger will have two years remaining on his deal with salary cap numbers of $17.9 million in 2014 and $17.5 million in 2015. The Steelers already have just over $129 million in contracts signed for 40 players for the 2014 season. The salary cap for 2014 is expected to be approximately $125 million.
The Steelers do have some flexibility because of large base salaries in 2014 for safety Troy Polamalu ($8.25 million), cornerback Ike Taylor ($7 million) and offensive tackle Levi Brown ($6 million). All of those players are entering the final year of their contracts, meaning the Steelers could save $21.25 million by cutting all three or save a large portion by reducing or restructuring their contracts.
Roethlisberger has the largest salary cap number and base salary ($12.1 million) on the team for 2014. That gives the Steelers the chance to extend him at a salary in line with other top quarterbacks.
The question is whether the Steelers will want to do that. Pittsburgh generally shies away from giving large contracts to players who are in their 30s. However, franchise quarterbacks are a different commodity and the Steelers are well aware of that. It took Pittsburgh 21 years to go from Hall of Famer Terry Bradshaw to Roethlisberger.
The Steelers made the Super Bowl once in the time between Bradshaw and Roethlisberger.
Follow Jason on Twitter: @JasonPhilCole