November 25, 2011 -
National Football Post
Big time corner/receiver showdowns in Arkansas vs. LSU matchup
Arkansas CB Jarius Wright vs. LSU CB Morris Claiborne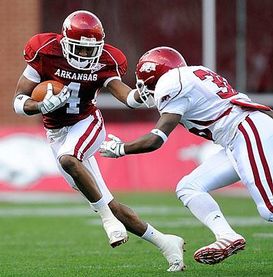 ICONWright can make defenders miss.
I've taken some heat for giving Arkansas WR Jarius Wright a "slot only grade" at the next level despite him lining up both inside and out at Arkansas. Therefore, if there's a game that he can prove to me that he is capable of maturing into a starting caliber wide out outside the numbers in the NFL it's today vs. a talent like LSU's Morris Claiborne.
At 6-0, 185-pounds, Claiborne possesses a really long set of arms, "plus" foot quickness laterally and natural fluidity when asked to turn and run. Plus, the guy isn't afraid to play up right near the line, use his length and consistently re-route receivers in the pass game.
Therefore, I'll be watching closely to see how Wright handles the press of a taller, longer defensive back who can out muscle him with the jam, but also has the quickness to mirror initially and not simply open up the gate.
If Wright can prove that he can beat press coverage vs. one of college football top press men, I will likely be willing to move my grade up on him. If not, I'll be content to keep him in the top-tier slot corner type grouping, which is where I think he belongs in the NFL.
Arkansas WR Joe Adams vs. LSU CB Tyrann Mathieu
Adams can be a dynamic vertical threat due to his elite speed, plus he's shifty and explosive with the football in his hands. He also displays some savvy as a route runner and can simply run away from corners in coverage once he gains a step.
Nevertheless, Adams isn't the cleanest/sharpest of route runners, and when lined-up in the slot today with LSU's Tyrann Mathieu he's going to have to prove he can separate vs. one of the most instinctive corners in the nation. Mathieu is an undersized kid, but plays with a strong, compact frame, natural balance/explosion out of his breaks and has that sixth sense to always be around the action, making plays on the football.
Mathieu isn't quite the same straight-line athlete that Adams is, but he plays fast because of his elite balance and his ability to always get early jumps on the football.
Therefore, vs. a savvy, NFL-capable slot guy, it will be interesting to see if Adams is still is as effective separating on all areas of the field or if Mathieu will prove that Adams does have to develop further as a route runner in order to consistently separate vs. top-tier NFL type slot men.
Follow me on twitter: @WesBunting
Check out the NFP Draft Page here...