September 21, 2011 -
National Football Post
Boise State getting no love on the D-line
So much is made year after year of the Boise State offense. And rightfully so. They sent a pair of talented wide receivers (Austin Pettis & Titus Young) to the NFL last year, and this year they have a stud running back prospect (Doug Martin), a talented left tackle (Nate Potter) and a hotly debated quarterback in Kellen Moore. All of whom will at least get drafted. However, today let's look at the Broncos' very talented defensive line that possesses three senior prospects who not only have the skill set to get drafted, but all three could mature into starters and in my view two have the ability to potentially make a real impact up front.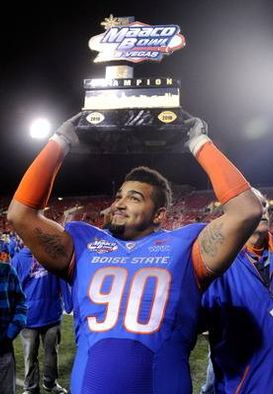 ICONWinn is a talent inside.
Lets start with DT Billy Winn. Winn is a 6-3, 300-pound kid with a thickly built lower half, natural power through his base and a very good first step off the football. He's got the initial burst to consistently threaten gaps both in the run and pass game, keeps his pad level down and has the power/burst to fight his way through contact and make his way toward the football. Winn displays the initial burst to routinely cross the face of offensive linemen inside as well, extend his arms and is just a bear to routinely engage off the snap. And even when a lineman can gain leverage and get into his pads, he's the kind of athlete who is quick to shed, gather himself and close on the football.
Now, he's a bit linear as a pass rusher. However, he has displayed in the past the ability to use his powerful club and lateral quickness to shed inside one-on-one and get after the quarterback. He looks like an ideal one-gaping type lineman to me at the next level. However, he also has the natural power, burst and uses his length/hands well enough where I could see him getting some looks as a potential five-technique in a 3-4 front as well. Here they could move him around in order to create mismatches in nickel situations much like the Steelers use DL Ziggy Hood. Either way the guy looks like a bona fide starting caliber defensive lineman wherever you play him in the NFL.
Playing outside of Winn is DE Tyrone Crawford, who is a big, strong, longer armed lineman that does a nice job staying low off the ball and has natural anchor strength vs. the run game. At 6-4, 273 pounds he possesses the ability to defeat blocks in the run game and is still the caliber of athlete to make plays off his frame in pursuit.
However, he is still developing as a pass rusher. He exhibits a solid first step off the edge for his size, but hasn't quite put together much of a counter at this stage. And he lacks the initial burst/bend to simply try to run around pass blockers consistently to the corner. Nevertheless, he is a former JUCO kid who still has some developing to do. Plus, when I watch him stunt inside he's not the type of athlete who is incapable of changing directions, staying down and accelerating toward the football. As he's a really tough block on the T/E stunt as he changing directions cleanly, uses his long arms to shed and fights his way through contact well.
Therefore, I see Crawford as a guy who will continue to get better as the year goes on. He might be used mostly as a rotational type lineman early in his NFL career as he learns how to rush the passer. But the skill set is there for this guy to mature into a capable three-down lineman if he develops a more complex pass-rushing arsenal. If not, he still looks like a capable run defender.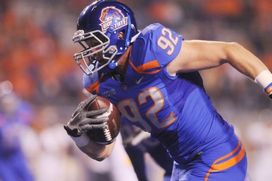 ICONMcClellin can rush from a number of spots at the next level.
Finally, the one guy on the Boise State defensive line who definitely isn't getting the kind of love he deserves nationally is DE Shea McClellin. He was the one guy while watching Winn and Crawford who kept flashing on every game I broke down. He's a solidly built kid at 6-3, 255 pounds, plays with a great motor and has an explosive first step to his game. Add in the fact he's fluid off his pass rush while changing directions and even some pop into contact as a power player. He also has the versatility to line up at a number of spots on an NFL defense, just like he does at Boise State.
In all honestly after studying some tape of him from 2010 and then watching him dominate the Georgia offensive line early this year, in my mind he's one of the top senior pass-rushing prospects in this year's draft.
Overall, I really like this group of Boise State defensive linemen as all three play with a lot of passion and are well-coached from a technique standpoint. Winn and McClellin are both gifted athletes who can play a number of spots up front on an NFL defense and could both mature into impact caliber linemen at the next level.
Crawford, on the other hand, still hasn't put it all together, but has the skill set to do so and certainly could outperform his potential mid-round grade come April if he develops.
Therefore, expect to hear much more concerning the Boise State defensive line trio as we get closer to the draft because I can't stress enough, that these guys can really play.