December 30, 2010 -
National Football Post
Bowl Mania: Prospect breakdowns
A look at some of the top prospects playing in today's games as Kansas State faces off against Syracuse, Tennessee battles UNC and Nebraska has and Washington have their much anticipated rematch in this year's Holiday Bowl.
New Era Pinstripe Bowl
Who to watch for…
Kansas State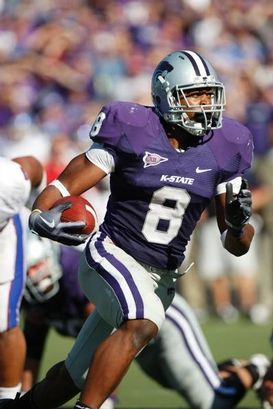 ICONThomas runs with a high pad level.
RB Daniel Thomas: No. 8 (6-2, 228)
A tall, well-built back who runs angry and hard inside. Does a nice job dropping his shoulder into contact, churning his legs and fighting for additional yards. Exhibits a pretty good feel between the tackles, knows how to set up blocks, be patient and accelerate into the open field. Possesses above-average body control for a back his size with the ability to side step a defender, break a tackle and stay on his feet.
However, is an upright runner who exposes too much of his body between the tackles. Allows defenders to easily get into/under his pad level and needs to do a better job running behind his pads. Isn't the most sudden or shifty of backs and routinely gets too long/overextended with his footwork, failing to consistently keep his feet under him and maintain proper balance. Has the ability to cut against the grain, stick his foot in the ground at full speed and side step a defender in space. However, he isn't shifty enough to make a man miss in tight quarters and create for himself behind the line. Doesn't exhibit a great first step when asked to press the hole and seems to only have one gear to his game. Struggles to get back up to speed quickly out of his breaks and isn't going to outpace anyone to the edge at the second level. Can catch the football out of the backfield and looks natural in the pass game.
Impression: A big, physical back who runs hard and exhibits the vision to set up blocks and pick his way through traffic. However, he isn't a real impressive athlete, runs upright and will have a tough time averaging 4.0 yards per carry at the next level. Looks more like a physical backup type runner to me who isn't dynamic enough to start in the NFL.
Syracuse
OLB Doug Hogue: Syracuse No. 32 (6-2, 226)
A former collegiate running back who made the transition to the defensive side of the ball during the spring of his junior year. Possesses a thickly built upper body, but is a bit narrow in the lower half and looks thin in the calves. However, displays good body control and fluidity in his drop. Gets good depth off the line, can cleanly open up his hips and gets back up to speed when asked to turn and run. Isn't the most instinctive of backers in space at this stage though. Doesn't have a ton of experience and gets caught staring into the backfield and can be late to recognize his pass keys. Possesses good range once he locates the football, but can get caught with his feet stuck in the mud at times trying to decipher information. Doesn't offer much as a blitzer at this stage. Has a good first step off the edge and can create a bit of a push on contact, but gets upright and struggles to slip/disengage.
Isn't the most instinctive of run defenders either. Has trouble consistently taking proper angles toward the football and will run himself out of plays and get caught up in traffic easily at times. Does display above-average power and range to his game, has the ability to anchor vs. lead blocks and runs well in pursuit. Wraps up well into contact and has a long set of arms that allow him to break down and make some plays off his frame on perimeter runs.
Impression: A nice athlete who has some real upside to his game from a mental aspect since he has only played linebacker for about two years. He has shown flashes and is worth a draft pick, but looks more like a backup/developmental starter to me who will need some time.
Franklin American Mortgage Music City Bowl
Who to watch for…
Tennessee
WR Denarius Moore: No. 6 (6-1, 195)
Possesses good size for the wide receiver position and displays an impressive initial burst off the line. Reaches top-end speed quickly and has the body control, shiftiness and power to cleanly slip the bump of opposing corners either off the line or down the field and get into his route. Accelerates well for himself when asked to separate down the field as well as once he gains a step and has the ability to track the football vertically. Possesses good straight-line speed for his size and is tough to keep pace with down the field. Exhibits good hand/eye coordination and strong hands when asked to locate and go up and make a play. Consistently is able to come down with the catch while showing the type of strength to hold onto the ball through the play.
Is still developing as a route runner. Is a bit tight in the hips, has a tendency to start to drift into his routes prematurely and isn't real sharp in and out of his breaks. Will begin to advertise his routes early and isn't much more than a vertical route runner at this stage. However, he will work as a blocker on the outside, can run a bit after the catch and grades out well enough to warrant a draft pick and roster spot.
Impression: A vertical route runner who has ability to accelerate away from defenders once he slips press and making plays down the field. Still needs to add some polish to his game, but he has enough athleticism to work his way onto an NFL roster and fight for playing time as a sub-package/vertical threat down the line.
UNC
LB Quan Sturdivant: No. 52 (6-2, 230)
Possesses a thicker, well-put-together frame and plays with natural bend and leverage on contact. Looks comfortable sitting into his stance, extending his arms and keeping himself clean in traffic. Exhibits good power as well when asked to take on pulling guards in the hole. However, doesn't play with a consistent passion, at times looks content to be blocked and sealed from the play and too often simply tries to run around defenders, sealing himself away from ball carrier at times. Displays good range in pursuit and can make plays away from his frame, but isn't the most sound of tacklers into contact. Has a tendency to easily slide off ball carriers and lacks ideal technique when asked to wrap up in space.
Displays good body control and overall fluidity in the pass game, can open up his hips, redirect cleanly and does display an above-average burst out of his breaks. However, possesses only average instincts. At times struggles to get his head around and find the football, and even when he does locate the ball in the pass game, he plays too tentative and doesn't quickly click and close and make the play. Doesn't' always trust what he sees.
Impression: Looks much more comfortable playing on the outside where he doesn't have to key off as many blocks. Displays good athleticism and can be powerful when taking on opposing linemen, but questionable instincts and work rate hurt his cause. Has the skill set to start for a team, but I don't think he's the type of potential blue/red-chip prospect many are making him out to be.
Bridgepoint Education Holiday Bowl
Who to watch for…
Nebraska
ICONAmukamara is looking to finish the season in a big way.
CB Prince Amukamara: No. 21 (6-0, 201)
A good athlete for his size who possesses good instincts in coverage and has a real feel for the pass game. Does a nice job quickly locating the football, putting his foot in the ground and clicking and closing on the pass in front of him. Possesses compact footwork in his drop when asked to play in off and does a nice job keeping his feet under him and quickly driving on throws. Exhibits impressive ball skills and consistently is able to come down with the catch. Improved his overall pad level in his drop from a year ago, does a much better job sitting into his stance through the play and not popping upright the longer he has to sit into his stance.
Lacks elite speed vertically down the field when asked to turn and run, will allows receivers to get behind him and doesn't possesses the type of second great to routinely make up for a false step. Possesses natural fluidity in his hips, is able to cleanly change directions and looks really comfortable smoothly getting out of his breaks and closing on the throw. Is an improved tackler from last season, has a physical element to his game, breaks down well and will stick his head in and wrap up.
Looked a lot more poised when asked to play in press coverage in 2010 as well. Did a much better job being patient off the line, using the proper hand to initially press with and was able to sit into his stance and maintain balance laterally through the play. However, doesn't play as physical vs. bigger, stronger wide outs at times and gets content playing press-bail, which will get himself in some trouble trying to play more like a finesse corner. Is fluid when asked to turn and run and his combination of balance, footwork and strength off the line makes him really difficult to separate from even initially into routes. However, he does get a bit grabby at times down the field and will get caught stopping his feet when looking back for the football, allowing receivers to get behind him.
Impression: A fluid, balanced corner who possesses good play speed and looks like a guy capable of starting at a number of spots in an NFL secondary, but I don't think he will ever be a real blue-chip corner.
Washington
QB Jake Locker: No. 10 (6-3, 226)
A thick, well put together quarterback that has the physical makeup to handle the rigors of the NFL game. Displays natural balance in his drop from under center, quickly getting away from the line of scrimmage before collecting himself and delivering the football. Possesses a clean, compact release, holds the football high and the ball comes out of his hands quickly. Showcases a strong arm and has the ability to make all the throws required of him at the next level. Exhibits good zip and timing when asked to go outside the numbers to his initial read and does a nice job letting go of the football on time. Is also very impressive when asked to throw on the move. Generates a lot of torque from his lower half and has the ability to fit the football into tight spots even when he's off balance. Did a slightly better job this past season identifying coverage's before the snap and trying to work his progressions more efficiently –still needs significant work though-. But still, too often will lock onto his initial man, doesn't decipher info quickly in the face of pressure and force the ball into coverage. Deeds to do a better job moving his feet once he comes off a read and striding into throws. Has a tendency to get sloppy with his footwork and not align himself up with the target, which causes his accuracy — especially over the middle of the field — to suffer. Will struggle at times anticipating throws in the pass game, holding onto the football too long waiting for receivers to uncover.
Is a gifted athlete who looks comfortable on the move, can buy time for himself and create outside the pocket, but at times needs to learn to just throw the football away. Has a tendency to try to do too much and will get himself into some trouble with some negative plays. His accuracy seems to run hot and cold. When he sets his feet and keeps a solid base under him, the guy can consistently make all the throws. But too often, he gets caught throwing across his body, overextending in the pocket and/or falling off of throws. Nevertheless, he's a tough, gritty quarterback who his teammates really seem to rally around and has proven he can bounce back after facing a ton of adversity during his first two years on campus.
Impression: The athletic ability, the arm strength and the intangibles are all there, and the upside his game possesses is still tremendous. However, there is still a lot of work needed to be done and will need time to sit back and mature if he hopes to develop into a franchise signal caller.
Follow me on twitter: @WesBunting