December 29, 2010 -
National Football Post
Bowl Mania: Prospect breakdowns
A look at some of the top prospects playing in today's games as Illinois faces off against Baylor in the Texas Bowl and Oklahoma State does battle against Arizona in this year's Alamo Bowl.
Texas Bowl
Who to watch…
Illinois
DE Clay Nurse: No. 97 (6-3, 260)
Possesses an athletic-looking frame with really long arms for a guy his size. However, doesn't seem to play the run game with much integrity, consistently making his way up the field and routinely sealed from inside runs. Showcases natural bend out of his stance, but tends to pop upright vs. the run in order to find the football and fails to extend his arms and use his hands properly to fight off blocks. Routinely is controlled at the point of attack and isn't a guy who can set the edge, as he's easily washed out on contact.
However, as a pass rusher, he does a good job getting off the snap count on time and pressing the corner as an edge guy. Consistently is one if the first lineman moving off the football and showcases good natural explosion out of his stance. Is still learning how to use his hands into contact, but possesses some change of direction skills when trying to quickly work his way back inside. Displays the ability to consistently can gain a step on opposing linemen off the ball, but he still struggles to flatten out around the edge. Lacks the ability to routinely drop his pad level and dip his shoulder, and opposing linemen are consistently able to just push him past the quarterback and keep him from the play.
Impression: Isn't a factor vs. the run game, but I'm not willing to write this kid off as an NFL prospect yet. He hasn't played football very long and he definitely flashes the ability to rush the passer. Still has a long way to go, but there is some upside to his game as he's a smart guy with good awareness off the snap.
Baylor
OL Danny Watkins: No. 59 (6-4, 310)
A 26-year-old Canadian who has a background playing hockey and is a former firefighter. Made the move to football only three years ago and has drastically improved his game during that time period. Has started two years in a row on the blindside at Baylor and has matured into one of the most impressive offensive linemen in the country in a very short amount of time. Possesses a compact build and seems to lack ideal length. However, exhibits good body control and a strong lower half when asked to get his feet around the target and anchor defensive ends away from the inside run. Plays with natural leverage in the run game, has the ability to sink his hips, maintain balance and create a bit of a jolt on contact. Gets his hands a bit too low at times, but works his feet hard, sticks to blocks and can win at the point of attack as an in-line guy or when asked to reach block. And although he isn't real long armed, exhibits a quick punch, allowing him to control blocks initially on contact in the run game.
Has really improved his pad level as well in the pass game, consistently is able to sit into his base on his kick slide, takes compact, balanced steps off the edge and possesses good range vs. speed off the edge. Exhibits good change-of-direction skills to quickly redirect and mirror in tighter quarters. At times will get a bit overextended, but has the fluidity and body control to quickly catch himself, make up for a false step and mirror in space. Doesn't ever really give up much penetration in the pass game and has the balance, body control, range and flexibility to consistently mirror and hold his own in space. Was one of the best offensive tackles I saw in college football all season.
Impression: If he were two inches taller and three years younger the guy is a first-round pick. However, I worry about his length as a left tackle and there is a concern about his age. However, he is a mature kid whose best football is still ahead of him and I think he's a guy who can come in and start from day one as a guard in the NFL and will give a team four-to-six very good years as a starting NFL guard.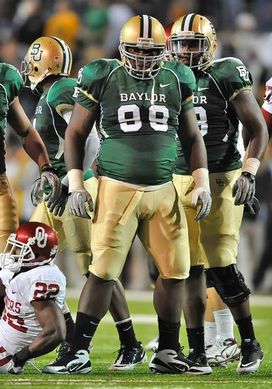 ICONTaylor has the size to mature into a force at the next level.
DT Phil Taylor: No. 98 (6-4, 355)
A massive interior lineman with a thick lower half who actually looks to carry his weight pretty well. Exhibits a good first step off the snap for his size and at times can be very violent with his hands when trying to make his way toward the football on perimeter runs. Is a better pass rusher than given credit for and seems improved from last season. Displays some natural power on his bull rush when blocked one-on-one inside. But isn't consistently overpowering because he allows his pad level to get too high and rarely keeps his base under him. Needs to do a better job using his length and hands to dictate to blocks initially off the snap, doesn't extend his arms until well into contact and consistently allows opposing linemen to get under his frame. However, there is a definite improvement in his overall lateral quickness/balance as a pass rusher. He does display some quickness laterally for his size and his combination of size, length and power allow him to slip blocks at times off the ball and fight his way through contact one-on-one.
Exhibits the kind of lower body strength and natural get-off burst to simply overwhelm blockers at the point of attack vs. the run game. Can simply manhandle opposing linemen one-on-one inside and quickly drive his way into the backfield. Is stout at the point of attack inside and even shows the grace to cleanly move down the line, fend off a block and make his way toward the ball carrier. However, he's still very raw, allowing his pad level again to get too high and failing to consistently extend his arms into blocks, which at times is the difference from him making the play and not. Isn't overly instinctive at this stage either and will struggle to consistently diagnose his run/pass keys quickly and find the football. Would like to see him do a better job sitting into his stance to anchor as well; it would really allow him to play much stronger inside vs. the double.
Impression: He's got a big frame, a pretty good step for his size and is really powerful both in his upper and lower body. However, technically he's slightly improved but still raw. Nevertheless, I think he's an intriguing tackle prospect because of his size and athleticism. Does have some character concerns though as well and seems like a real boom or burst kind of prospect
Alamo Bowl
Who to watch...
Arizona
DE Brooks Reed: No. 42 (6-3, 255)
An undersized pass rusher who plays 100 miles per hour on every down. Exhibits a good first step off the snap, gets off the ball quickly, keeps his pad level down and is consistently one of the first defensive linemen moving off the line. Has the ability to threaten the edge and get into offensive tackles quickly. Looks comfortable keeping his pad level down into contact, extending his arms and can create a bit of a surge on his bull rush. Plays with good leverage and can be a bit more physical than his frame would suggest.
However, lacks balance and body control at this stage and really struggles when asked to change directions, keep his feet under him and break off any type of counter move. Also seems to routinely overextend into blocks and doesn't have the type of coordination to drop his shoulder and really accelerate around the corner. Is a real linear pass rusher at this stage who hasn't figured out how to maintain his balance off his initial rush.
Isn't a guy who can stack and shed vs. the run game at the next level, but does play with good leverage when run at and will chase the football in pursuit. Works very hard, fights and scraps for every inch and can work his way into the backfield toward the football, but fails to disengage consistently.
Impression: Plays hard and at least has the explosion to be a threat as a pass rusher at the next level. However, his ability to develop a counter move and become more than a one-trick pony off the edge is key. Looks more like a nickel rusher or potential 3-4 OLB prospect who I would take a shot on because of his initial burst and overall work rate on the field.
DE Ricky Elmore: No. 44 (6-5, 260)
A tall, well-put-together defensive end who exhibits pretty good flexibility out of his stance and can keep his base down when coiling up off the line. Lacks a great first step and isn't a guy who can consistently threaten the edge or turn the corner. However, does a great job maintaining his balance into blocks, getting his hands up and extending his long arms into contact. Does a nice job keeping himself clean and showcases some violence with his hands. Loves to work the swat and rip in order to free himself and works endlessly in pursuit. Isn't a real explosive athlete, fails to be real sudden on any type of counter and just lacks a dynamic first step. However, he has some natural power and bend when trying to work his way toward the quarterback and can flatten out around an angle. Does a nice job maintaining leverage through the play and never stays blocked for long.
Possesses the ability to drop his pad level, extend his arms, gain leverage and anchor vs. the in-line run game. Isn't overly explosive when asked to stack and shed, but is very balanced and methodical in working himself free and closing lanes off his body. Now, can be sealed from the football and lacks the kind of power to simply overwhelm on contact and collapse from the outside. But works very hard and seems to really wear down opposing tackles as the game goes on, consistently gaining good leverage and hand position inside. Is a smart kid as well who finds the football with consistency and rarely takes himself out of plays.
Impression: A technically sound, methodical pass rusher who isn't overly explosive, but knows how to free himself off the edge and work his way toward the quarterback. Has the ability to initially help out as a rotation guy in a 4-3 and does have some starting potential.
Oklahoma State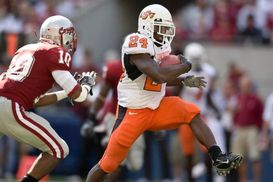 ICONHunter can be dynamic in the open field.
RB Kendall Hunter: No. 24 (5-8, 197)
A short, compact running back who possesses decent thickness throughout his lower half, does a nice job running behind his pads and rarely exposes his frame to the big hit. Is a natural runner who displays a good feel both running from I-formation sets and from the gun. Exhibits an explosive first step when asked to press the hole with the balance and short-area quickness to cleanly side step defenders and accelerate into the open field. Displays impressive change-of-direction skills and is fluid inside, and he has the skill set to consistently create even when plays aren't blocked off appropriately. Does a nice job making himself small through creases inside and always seems to be falling forward despite his size. Looks really comfortable on perimeter runs as well, picking his way through traffic and quickly planting his foot in the ground and accelerating toward daylight. Possesses good — not great — speed and does a great job accelerating out of his breaks. He's a two-stepper who reaches top-end speed quickly.
Now, he will get caught dancing a bit too much at times behind the line and lacks the type of power to simply lower his shoulder and grind out tough yards inside. Can be wrapped up easily in a phone booth and isn't a guy who will be able to run through many tacklers at the next level. However, his low pad level and balance allows him to stay on his feet through contact and at times bounce his way toward the sideline. Isn't a real physical blocker and doesn't have the type of lower body power to consistently anchor in blitz pick-up. However, does have the ability to catch the ball out of the backfield. He isn't a real clean route runner at this stage, but can be a threat in the pass game.
Impression: When the guy is 100 percent healthy, he's one of the more dynamic backs in college football. He's shifty, explosive and has a great feel for tight areas. Looks like a guy who can be a threat both in space and between the tackles at the next level, and in my opinion is one of the top running back prospects in the nation and looks like a nice change of pace guy at the next level.
Follow me on twitter: @WesBunting