December 25, 2010 -
National Football Post
Bowl Mania prospect breakdowns
Sunday, December 26
LITTLE CAESARS BOWL
Toledo vs. Florida International
OC Kevin Kowalski: Toledo, No. 69 (6-3, 297)
Possesses an average build for the position, but isn't real physical off the snap. Lacks great bend, plays straight-legged in the run game and tends to double over at the waist at the point. Exhibits a solid first step, but gets his head down into contact, keeps his hands too low and struggles to generate power and drive anyone off the football. Is routinely stonewalled after his initial burst on contact and isn't a guy who is going to move anyone as an in-line guy at the next level. However, displays good athleticism on the move. Is able to quickly pivot out of his stance and pull, reaching and breaking down well on targets through the hole/at the second level. But again, isn't real powerful on contact, gets upright and isn't a guy who locks on and can drive defenders backward even in space. Displays the body control to hit the moving target and initially create a slight jolt, but is easily stood up and disengaged from through the play.
Displays good initial athleticism off the snap. Has the ability to quickly get out of his stance and is asked to get a lot of depth off the ball, helping clean up any mess from the inside. Showcases good range when asked to redirect and covers a lot of ground. However, consistently gets too upright off the snap and isn't real heavy handed when asked to engage. Struggled to mirror and hold up one-on-one when asked to block a man off his shoulder. Routinely oversets, lacks a pop on contact and allows defenders to work across his face and get up the field. Struggles to lock out and seal completely and eventually is worked over and overwhelmed through the play.
Impression: Is a good athlete with some natural range to his game. However, he plays upright, lacks power/bend in the run game and plays too high in pass protection. Possesses some upside because of his athletic ability, but isn't much more than a later round/free agent type guy in my view.
Others worth noting…
CB Anthony Gaitor: Florida International, No. 7 (5-10, 178)
Monday, December 27
AdvoCare V100 INDEPENDENCE BOWL
Air Force vs. Georgia Tech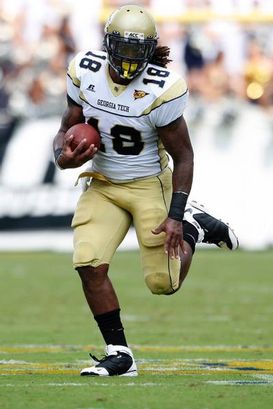 ICONAllen is a tough guy to bring down in the open field.
RB Anthony Allen: Georgia Tech, No. 18 (6-0, 231)
A big, thickly built running back who is an absolute load to bring down in space. Runs hard in the open field and showcases the ability to get up to speed quickly and accelerate into daylight. However, while he does run well for a guy his size, he doesn't exhibit a real second gear in space and isn't going to outpace angles at the next level.
Has the ability to consistently break tackles because of his size, power and overall angry running demeanor, as he keeps his legs chopping through contact. But, he runs too high once he gets into space and isn't real shifty when asked to break down and make a defender miss. Was consistently asked to work from space in Georgia Tech's triple- option attack where he could press big creases and accelerate toward daylight. However, he doesn't seem to be real instinctive or shifty running between the tackles.
Impression: Possesses good size and physicality as a runner, but he doesn't have the kind of big-play ability most of his highlights would indicate. Strikes me as more of a reserve-type power back in the NFL.
CB Mario Butler: Georgia Tech, No. 2 (6-1, 182)
A tall, lean corner who, although is a bit high in his drop, showcases good overall balance in his footwork, which allows him to cleanly change directions and quickly get out of his breaks. Loves to use his long arms to be physical down the field with wideouts and looks comfortable when asked to play on an island. Showcases some physicality off the line in press man and does a nice job using his length to force defenders toward the sideline, using it as an extra defender. Possesses a good feel for the pass game and consistently is able to quickly get his head around and locate the ball vertically.
However, because of his high back-pedal, he will struggle to quickly get back up to speed when asked to turn and run and will lose a step down the field or initially out of his breaks giving up some separation. But, he does possess a good feel in zone coverage, loves to keep his eyes in the backfield and does a nice job feeling the routes around him and closing on the throw.
Isn't a real physical tackler and looks content at times to simply stay blocked.
Impression: He's long and physical, and although he does play a bit high, the guy has the natural balance and body control to make an NFL roster and compete as a sub package guy.
S Mario Edwards: Georgia Tech, No. 33 (6-1, 216)
A big, well-built safety prospect who showcases decent straight-line speed for his size, but not NFL-caliber free safety speed. Isn't the most instinctive of defensive backs and really struggles to find the football quickly on any type of misdirection play. Has a tendency to take himself out of the action and commit far too quickly inside to the run game vs. any kind of play fake.
Isn't real instinctive vs. the pass game, either, and it takes him far too long to read and diagnose plays from the deep half. Plus, he's a long-legged kid who struggles to get up to speed quickly and doesn't even have the range to make plays on bucket throws when he's lined up on the boundary and passes are to his side of the field. Possesses some natural thump as a tackler and is surprisingly patient when asked to attack downhill and run his feet through the alley. Plays under control when asked to break down and does a nice job of not overrunning the football and wraps up well on contact.
Impression: Possesses good overall size for the position, but his lack of range really limits his ability to play in an NFL secondary.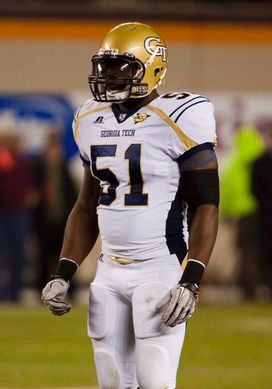 ICONJefferson will struggle to play in space at the next level.
ILB Brad Jefferson: Georgia Tech No. 51 (6-1, 244)
A short, stocky inside linebacker who lacks ideal fluidity even in tight areas and struggles to quickly change directions in all areas of the game. Displays a decent feel vs. the pass game, especially in man coverage where he can read routes well and stay in the back pocket of receivers, consistently getting early jumps on the route. However, the more space he's asked to play in the less effective he is and isn't a guy who can turn and run down the field with athletic tight ends. Seems to get caught ball watching at times in zone and isn't real rangy when asked to quickly click and close on a throw.
Showcases a good thump taking on blocks downhill vs. the run game. Takes on lead guys with good leverage and has the ability to stonewall blockers in the hole. However, isn't real long armed and isn't a guy who uses his hands well enough to shed on contact. Is a limited athlete who doesn't exhibit much of a first step in pursuit and when asked to close on the football off his frame. Also, is pretty inconsistent with his instincts. Has a tendency to run himself out of some plays, struggles to consistently key off the correct linemen and lacks the type of athleticism or change of direction skills to quickly redirect and get himself back involved. Is a good wrap-up tackler in a phone booth who brings his legs and can create a jolt on contact, but lacks the ability to consistently reach and tackle ball carriers off his frame or in space.
Impression: A solid college ILB, but lacks the range and/or fluidity to hold up in space and doesn't have the kind of instincts to consistently make up for it in the NFL.
Others worth noting…
DE/OLB Anthony Egbuniwe: Georgia Tech, No. 41 (6-4, 252)
Follow me on twitter: @WesBunting