December 18, 2010 -
National Football Post
Bowl Mania: prospect breakdowns
A breakdown of some of the key prospects to watch for in the opening weekend of bowl season…
NEW MEXICO BOWL
BYU vs. UTEP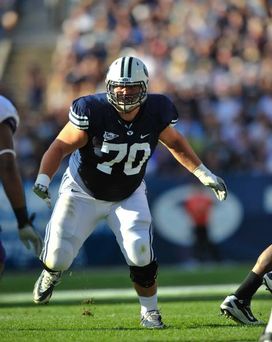 ICONReynolds looks better suited to play inside or at right tackle at the next level.
OT Matt Reynolds: BYU, No. 70 (6-6, 322)
A thickly build offensive line prospect who has a sloppy mid-section. Needs to cut down some of the unnecessary stomach girth and doesn't look real long armed on tape. Possesses good coordinated in pass protection when asked to mirror in space or through contact. Showcases natural fluidity in his hips and can re-direct when need be as long as he has his feet under him. Has improved a bit with his mechanics this season, doing a better job trying to tighten up his footwork and keep his base down, but that's still a work in progress. Allows himself to get too upright at times, gets overextended with his feet and can be slow to re-direct and mirror, especially off the snap. Also, needs to improve his overall hand location into blocks, is more of a catcher off the edge, doesn't showcase a real jarring punch and too often gets his hands outside the frame of defenders, exposing his chest -possesses the natural strength at the college level to get away with it, but he still has some work to do in that area-. Lacks ideal range when asked to reach speed off the edge. Is routinely forced to open up his hips and lunge into defends, attempting to push them past the pocket. He does understand angles, but lacks the athleticism to hold up on the left side at the next level.
Is at his best in the run game when asked to step and seal on the edge. Does a great job quickly getting into defenders, locking out with his strong hands and finishing blocks on the perimeter. Possesses the coordination to stick to defenders through the play and likes to finish blocks, showcasing a bit of a mean streak through the play. Has some initial pop in the run game as well, displays the flexibility to sit into his stance, keep his pad level down and can create a jolt on contact when asked to play in a phone booth. However, the more space he's asked to block in the less effective he is. Has a tendency to allow his pad level to rise when forced to reach defenders off his frame and really struggles to stay engaged through slide down blocks, as his feet really seem to get heavy and he lacks ideal athleticism. Showcases good body control when asked to breakdown in space and seal at the second level, but again displays only average range on the move.
Impression: An over hyped college left tackle who looks better suited to play inside at guard or as a right tackle. Is a bit older than most prospects as well and looks more like a guy who has some starting potential, but needs to clean up his technique/pad level in order to have a chance.
Others worth watching…
SS Andrew Rich: BYU No. 22 (6-3, 218)
QB Trevor Vittatoe: UTEP, No. 10 (6-2, 220)
uDROVE HUMANITARIAN BOWL
Northern Illinois vs. Fresno State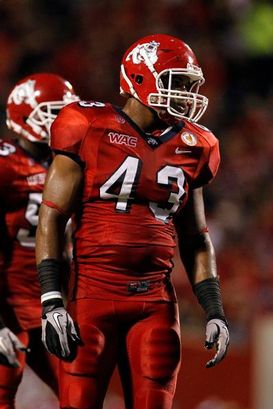 ICONCarter has the ability to rush the passer off the edge.
OLB Chris Carter: Fresno State, No. 43 (6-2, 240)
An undersized defensive end prospect who displays a long set of arms but doesn't look capable of playing with his hand on the ground at the next level. Doesn't have the type of girth to consistently hold up at the point of attack in the run game. Plus, he doesn't look real comfortable trying to coil up and sit into his stance. Seems a bit stiff and doesn't really keep his butt down off the football, playing with his shoulders down and butt up as he fires off the edge.
Seems to be better suited to rush more so from a two-point stance. Displays good initial explosion off the snap and has the burst to consistently threaten the edge. But, allows his pad level to get too upright at times when trying to flatten out and can be easily pushed past the pocket because of his struggles to routinely dip his shoulder on the edge. Does display some lateral quickness though and suddenness on his inside move and stunt. Does a nice job using his length to pick his way through traffic, is sudden to slip and accelerates well inside. Gets a bit sloppy with his hand placement into contact with opposing linemen off the edge, getting his paws outside the frame of the blocker. However, looks much more comfortable on the stunt dropping his pad level into contact, getting his hands inside and working his legs through the bull. Does have some counter ability off his initial speed rush, but can be a bit slow at times to disengage. Has a sudden spin he can go to as well and uses his hands/length well at times to keep himself clean, but he does need to develop further learning to disengage once engaged.
Impression: His initial burst will certainly give him a chance and he does have some upside because he still plays with a higher pad level and is inconsistent with his counters. But the guy knows how to pressure the QB and should be more effective standing up as a 3-4 rush backer.
QB Ryan Colburn: Fresno State, No. 15 (6-3, 220)
A smart, fifth-year senior who does a nice job managing the huddle, getting his offense in and out of plays and has a confident demeanor about his game. Showcases good anticipation and timing in the underneath pass game and gets the ball out of his hands quickly. However, isn't a real physically gifted quarterback, is a lefty who has a bit of a slingshot delivery. Doesn't seem to easily grip the football, has a tendency to try to really rear back at times when going down the field and drops his throwing arm down to more of a three-quarters type release. Doesn't spin a real clean football either and struggles to really cut is loose on a line. Passes seem to frequently sputter on him vertically when he tries to fit the ball into tight areas, causing some throws to sail.
Looks clean in his drop from under center, maintains good balance and can transfer his weight well from his back foot to his front foot. However, again, the ball really takes a while to get outside the numbers, giving opposing defenders a chance to routinely jump on the play. However, to his credit, his ball placement is above average and he looks very efficient throwing receivers open in both the short and intermediate pass game and displays good touch down the field as well. Is an above average athlete for the position, has the ability to buy time in the pocket and create yards with his legs if given the opportunity. Does a nice job keeping his eyes down the field in the face of pressure and can extend plays at times. But, needs to be set in order to be accurate with the football. Balls really seem to come out of his hands poorly and inaccurate if he can't drive off his back foot, which again limits his effectiveness on the move in the pass game.
Impression: A tough kid who has some poise and moxy to his game. Unfortunately, the lefty is limited physically and doesn't seem to have the skill set needed to play in the NFL.
Others worth watching…
OT Kenny Wiggins: Fresno State, No. 60 (6-7, 315)
FB Vince Pascoe: Fresno State, No. 49 (6-1, 245)
OG Andrew Jackson: Fresno State, No. 69 (6-5, 295)
RB Chad Spann: Northern Illinois, No. 28 (5-9, 198)
R+L CARRIERS NEW ORLEANS BOWL
Ohio vs. Troy
RB DuJuan Harris: Troy, No. 32 (5-7, 195)
A thick, compact runner who possesses a well-built frame and has the type of girth to effectively take a pounding between the tackles. Is a balanced runner who has the ability to sharply get in and out of his breaks and possesses the type of body control to consistently make a man miss and accelerate up the field. Runs low between the tackles, plays behind his pads and doesn't give defenders much of an area of hit. Has the ability to churn his legs through contact, bounce off would-be tackles and work his way through contact. Exhibits an explosive first step when asked to burst out of his breaks and into daylight. Demonstrates a good first step and above-average top-end speed, but lacks an elite second gear to his game. Has the ability to reach the edge and quickly press space but isn't going to outrun angles in the open field. Exhibits only average feel and vision inside. Is at his best making defenders miss and accelerating toward daylight, but at times will slow his feet trying to decipher information and get caught up going east/west behind the line. Works his legs hard and does a nice job slithering his way through seams but isn't the most instinctive of runners reading blocks and picking his way through traffic.
Can catch the football out of the backfield, but lets too many throws get into his frame and doesn't look real natural overall as a receiver. Understands blitz pick-up and routinely puts himself in good position on contact. However, lacks ideal size and can be overwhelmed on contact.
Impression: I like his wiggle, compact build and ability to accelerate into space. Offers enough to potentially get himself into a camp and fight for a roster spot.
WR Jerrel Jernigan: Troy, No. 3 (5-9, 190)
Packs some good girth and overall muscle tone into his 5-9 frame. Exhibits a stronger lower half and has a real feel and savvy about the pass game. Does a nice job setting up routes off the line, changing speeds and cleanly accelerating in and out of his breaks. A very gifted underneath route runner who possesses some suddenness off the line to slip press, good footwork when asked to change directions and keeps his feet under him to generate a good burst out of his breaks. Consistently is able to generate good separation for himself initially in the underneath pass game vs. both off and press man. However, is at his best with the ball in his hands. Is very impressive after the catch, possesses a good first step to his game, can outpace defenders at the second level and displays rare balance for his size. Routinely is able to bounce off would-be tacklers, stay on his feet and continue to create.
However, he isn't nearly as polished as a route runner down the field in the pass game. Isn't as tight as a route runner, but has the burst to still separate vertically down the field on the seven and nine routes vs. the Sun Belt competition. But, isn't asked to run many sharply breaking routes and does need to add a little more polish to his game in the intermediate pass game. Tends to simply try to outrun defenders out of his breaks. Isn't the most natural of pluckers either and lets the ball get into his frame too often. However, does look comfortable as a wildcat quarterback, works well between the tackles, can pick his way through space and is just really savvy in all areas of the game. Simply a natural football player.
Impression: I don't think he's a guy you want to line up outside the numbers, but as a potential slot man, he's one of the best the draft has to offer. His athleticism/short area quickness will routinely allow him to create separation vs. a two way go at the next level.
Others worth watching…
CB Julian Posey: Ohio, No. 9 (5-11, 187)
DT Ernie Hodge: Ohio, No. 95 (6-0, 292)
FS Steven Jackson: Ohio, No. 42 (6-0, 202)
Follow me on twitter: @WesBunting