May 15, 2012 -
National Football Post
Breaking down NC State QB Mike Glennon
QB Mike Glennon: NC State (6-6, 232)
What I like…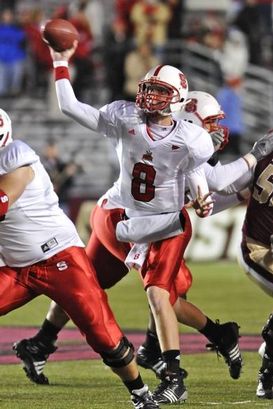 Glennon can make all the throws from the pocket.
- Possesses great height for the position, can easily see over the line of scrimmage and find throwing lanes.
- Displays a high, over the top delivery and rarely sees passes get knocked down.
- Possesses a big set of hands and a strong arm. Can really spin the football with "plus" velocity on all levels of the field.
- Showcases the ability to use his long legs/length to get away from the line of scrimmage when under center and settles himself well.
- Showcases the ability to bend his knees, set his feet and transfer his weight well, generating torque from the pocket.
- When he does throw with proper lower body mechanics his accuracy and anticipation are both above-average short/intermediate.
- Understands route concepts and keeps his feet active when trying to align his body with secondary receivers.
- Does a nice job recognizing the blitz, finding his "hot" man on the blitz side and getting the ball out to his intended target.
- Trust his arm and isn't afraid to rip the football into tight areas in the short and intermediate pass game in order to give his receivers a chance to move the chains.
- Showcases the ability to look off defenders and manipulate defenders in the secondary.
- Will work his way back across the field at times going through progressions.
- Can keep plays alive with his legs because of his big arm and can generate enough torque from his lower half on the move to fit the ball into tough spots even when he isn't set.
- Showcases the ability to spin the football vertically down the field on bucket throws.
- Threw for 31 touchdowns as a junior and completed over 60% of his passes.
- Took over for Russell Wilson this past year after the transfer and as a first time/full time starter threw for over 3,000 yards and led the Wolfpack to a Bowl victory.
What I didn't like…
- Is a limited athlete with heavy feet once he's asked to flush from the pocket.
- Doesn't do a great job avoiding pressure inside the pocket because of athletic limitation and has a tendency to drop eye level when he feels pressure.
- Doesn't show much foot quickness getting away from the line of scrimmage in his drop, his long legs help, but isn't real quick to set.
- Has a traditional over the top type delivery, but lets the ball get away from his frame, which slows his release up even more.
- Has a tendency to get caught throwing flat footed at times, especially from the gun, causes his ball placement to really suffer in both the short and intermediate pass game.
- Needs to do a better job staying balanced from the waist down in order to keep his rhythm, because his longer release and slower feet at times really hurt his accuracy in all areas of the game.
- Will trust his arm too much at times and spin the football into congested areas.
- Has a tendency to make up mind up prematurely when going vertically down the field, not looking for safeties over the top and forcing the ball into coverage.
- Struggles to keep plays alive with his feet on the move. Is routinely caught/tripped up from the backside.
- Doesn't have a real thickly built frame and will fall off throws in order to protect himself from pressure.
- Needs to speed up his thought process in the pocket in order to avoid his accuracy struggles because of foot quickness and release.
The Breakdown….
NC State QB Mike Glennon is your typical tall, strong-armed pocket passer who has some limitations because of his lacking foot quickness and athleticism. There is no doubt he can make all the throws from a solid base. However, his ball placement really struggles when he gets lazy with his footwork and throws flat-footed.
Now, in tighter areas like the pocket he does displays the ability to slide his feet at times and stay in balance when looking for secondary receivers. However, his eye-level long term will be the key, as he has a tendency to get caught staring at pressure which really takes away from his ability to keep drives alive.
I'd say watching him as a junior I liked his tape and upside a little more than Cardinals 6th round pick Ryan Lindley. However, if he doesn't improve his footwork and eye-level as a senior I think he will ultimately end up warranting a similar grade as Lindley, as more of a reserve only and later round pick.