May 31, 2012 -
National Football Post
Breaking down Notre Dame RB Cierre Wood
RB Cierre Wood: Notre Dame (6-0, 215)
What I like…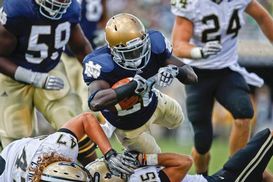 ICONWood has a good feel inside.
- Possesses an NFL frame with the girth/size to be a starting caliber back.
- Presses the line of scrimmage well, has a good first step and eats up grass quickly.
- Showcases the ability to accelerate through the hole. Reaches top end speed quickly.
- Doesn't tip toe his way behind the line, if he sees a hole he makes up his mind quickly and gets north to south.
- Showcases good balance and foot quickness when asked to pick his way through the line of scrimmage.
- Exhibits a natural feel setting up blocks, cutting back against the grain and playing fast in tight quarters.
- Exhibits the "make you miss" ability to create on his own in tight areas and consistently make something out of nothing.
- Possesses the balance and keeps the base needed to change directions cleanly at full speed and side step a defender in space.
- Looks natural running from the gun as well. Is patient letting blocks set up and accelerating toward daylight.
- Is a very impressive perimeter runner, has the speed/balance to turn the corner, but looks natural cutting back against the grain and getting up the field once he locates a crease.
- Is an impressive pass protector. Showcases a great feel picking up blitzing backers, can drop his base and slide through contact or cut them down quickly at the point.
- Is natural catching the ball out of the backfield as well and can play three downs in the NFL.
- Showcases a second gear in the open field, looks like a 4.45 guy who can accelerate past angles and create the big play.
What I didn't like…
- Attacks the line of scrimmage a bit upright and doesn't keep his pad level real low initially.
- Drops pad level when changing directions, but when accelerating stays upright and exposes his frame.
- Doesn't have a great base under him consistently when trying to run with power and is easier to wrap up on.
- Tends to get caught chopping his feet when nothing is open at the line of scrimmage and isn't the type of back who can burrow his way through a crease and keep offenses ahead of the chains.
- Will leave some yards on the field trying to be too patient waiting for holes to open.
- Will take his fair share of bigger shots because he gets upright, causing him to put the football on the ground.
- Doesn't break a ton of tackles through contact, tends to lose his base strength/balance and will get tripped up easily at times.
Overall…
Notre Dame RB Cierre Wood possesses the size, speed, and lateral quickness to make his fair share of plays in the NFL. He exhibits impressive footwork when picking his way through the line of scrimmage and can routinely make defenders miss.
Now, there are some concerns about his (at times) higher pad level and natural power running between the tackles. However, if paired with a more physical back in a two back system, there is no reason to think Wood can't be effective creating big plays through the line of scrimmage and into the open field in the NFL. Looks like a potential starter to me, but could really take off in more of a zone scheme.