June 01, 2012 -
National Football Post
Breaking down Oklahoma State RB Joseph Randle
RB Joseph Randle: Oklahoma State (6-1, 192)
What I like…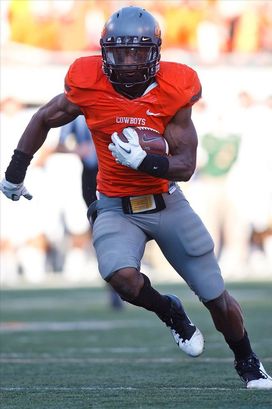 ICONRandle can create in space.
- For a taller back does a nice job running with good forward lean and pad level when pressing the hole.
- Showcases natural patience allowing blocks to set up behind the line of scrimmage.
- Displays above-average foot quickness when asked to pick his way through a phone booth.
- Can sink his hips, stay balanced and get out of his breaks inside.
- Looks very comfortable running from the gun. Showcases good vision and feel deep in the backfield before accelerating toward daylight.
- Exhibits a solid initial first step when asked to get up to speed.
- Keeps pad level down once he gets into the open field and doesn't expose his frame a ton to big hits.
- Showcases good vision/feel in space as well, knows how to set up blocks at the second level and weave his way for additional yards.
- Demonstrates an excellent feel in blitz pick-up. Is quick to recognize free linebackers, drops pad level and can slide through contact.
- Is a "plus" pass catcher who can pluck off his way.
- Showcases enough wiggle to make a defender miss in space initially and create some additional yards in the open field.
What I didn't like…
- Runs consistently from the gun and because of his spread offense, often is given the opportunity to run through massive holes inside.
- Isn't the most explosive self-starter, has a solid, but not great first step.
- Lacks ideal power/explosion through the line of scrimmage. Isn't a guy who is going to be able to break many tackles through contact.
- Doesn't showcases the ability to really accelerate away from defenders once he gains a step on them laterally.
- Maxes out quickly in the open field. Looks like a 4.55 guy in space and seems to tighten up quickly.
- Lacks ideal wiggle when he hits full throttle and is more of a weaver in the open field who lacks the speed to simply outpace angles.
- Doesn't strike me as a big play threat running from a tradition I-formation/single back set in the NFL, needs to be given touches in space at next level.
Overall…
I love the fact that Oklahoma State RB Joseph Randle showcases a willingness to do the dirty work in blitz pick-up, as he's an effective blocker who will also catch the football out of the backfield. Randle is very natural running from the gun, especially in the draw game and should be able to play a similar role in the NFL.
However, he's not the most dynamic of lateral/quick-twitch athletes inside and doesn't possess the physical make-up to break a ton of tackles in the NFL.
Therefore, I see Randle more as a reserve/third down back only who can make plays in space in the run or pass game, as well as keep his QB clean if asked pick up a blitzing backer. But, in my view not as an NFL starter.