June 12, 2012 -
National Football Post
Breaking down Tennessee WR Da'Rick Rogers
WR Da'Rick Rogers: Tennessee (6-3, 215)
What I like…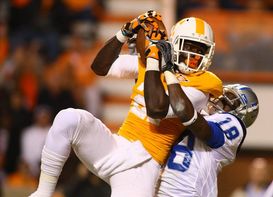 ICONRogers knows how to box out defenders.
- Is a man-child with "plus" power, girth and size for the position.
- Is a bear to bring down after the catch, has the power to break tackles and isn't afraid of contact over the middle of the field.
- Possesses a good first step for his size off the line and gets up to speed quickly.
- Showcases natural footwork and body control as a route runner.
- Exhibits the ability to sink his hips and cleanly/sharply get out of his breaks creating a burst for himself.
- Isn't limited to just vertical routes, can run sharply breaking routes and uses his big frame well to box out corners.
- Exhibits a unique combination of quickness and power/size to make plays in the slot as well. Can run corners off his route and use a subtle bump to gain a step a separate.
- Uses his hands and big frame well down the field when corners want to be physical. Showcases good body control and routinely can fight through contact and gain inside position.
- Showcases enough quicks and power to get corners off balance when they try to press and will get into his route quickly.
- Isn't afraid to work the middle of the field. Looks natural snapping his head around quickly, finding the football and going up to make a play.
- Knows how to work the three step gain and use his burst/size to gain a step inside and create.
- Possesses a strong frame with strong hands and will hold onto the football through contact.
- Gets up field quickly after the catch and exhibits the power/balance to break tackles in space.
- Has the size and willingness to mature into a "plus" NFL run blocker.
What I didn't like…
- Isn't a dynamic vertical athlete, seems to max out quickly and isn't a guy who can routinely get behind defenders. Plays like a 4.5 guy.
- Lacks elite short area explosion once he gains a step and is routinely going to have to play with NFL corners in his back pocket.
- At times seems to struggle to stay on the same page with his quarterback as to when to break off routes and find the football down the field.
- Will have lapses in concentration when open and put the football on the ground.
- Doesn't have the initial burst vertically to consistently force corners to open up their hips and be scared of him over the top. Allowing them to sit on his routes.
- Isn't overly shifty/dynamic with the ball in his hands. Isn't going to make many defenders miss.
- Has had some off the field issues.
Overall…
Tennessee wide out Da'Rick Rogers isn't a guy who is going to threaten NFL defenses vertically and he's not a guy who is going to separate a ton out of his breaks.
However, he possesses a big body with natural strength and power, and knows how to box defenders away from the play. But, more importantly there is a natural balance to his game as a route runner and he showcases the foot quickness and flexibility to drop his pad level and cleanly get out of his breaks on sharply breaking routes.
Therefore, I can see him becoming a starting caliber "X" on the outside in the NFL and also create for teams from the slot down the seam, as he's fearless over the middle of the field. Projects as a solid second round type talent as of now.