May 26, 2012 -
National Football Post
Breaking down Texas A&M RB Christine Michael
RB Christine Michael: Texas A&M (5-11, 215)
What I like…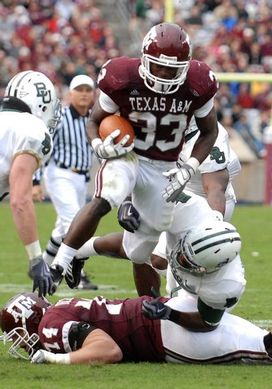 ICONMichael runs hard in all areas of the game.
- For a back that's 5-11, he does a great job pressing the hole with a low pad level.
- Does a nice job making himself small, balling his frame up and limiting the amount of area defenders can wrap on him.
- Is a compact runner with good balance and natural width through his running base.
- Possesses the power/balance to cleanly side step contact at full speed and/or bounce off would be tackles.
- Presses space quickly in the backfield and gets through the hole in an instant.
- Is a deliberate runner, is decisive making his mind up quickly, attacking the first hole he sees with a low pad level and getting all he can get.
- Doesn't leave many yards on the field.
- Showcases good cut back ability inside. Keeps his feet under him, is explosive changing directions and accelerates well out of his breaks.
- Displays some "make you miss" ability when he gets squared up on as well. Showcases solid lateral quickness to side step a defender and accelerate up the field.
- Displays "plus" speed in the open field and is a big play threat. Plays like a low 4.4 guy.
- Runs with authority and power in all areas of the game. Will break is fair share of tackles at the line of scrimmage because of his strength and ability to run aggressively behind his pads.
- Keeps his legs churning through contact and seems to wear defenders down as the game goes on.
- Looks natural plucking the football out of the backfield and creating in space.
- Averaged 6.0 yards per carry as a junior and was clearly the more impressive prospect on Texas A&M in comparison to teammate Cyrus Gray, who was drafted in the 6th round in 2012.
What I didn't like…
- He's coming off an ACL tear and his medical will be a concern.
- Hasn't ever been able to carry an overly heavy load throughout his career, with his most carries coming during his freshman season with 166.
- Will get lose with the ball at times when he gets into the open field, allowing it to get away from his body.
- Isn't a big time "make you miss" athlete in the open field. Is at his best when running at speed.
- Does everything well, but isn't overly dynamic in any area of the game, more of a solid, meat and potatoes type of back.
Overall…
Outside of the medical concerns, there aren't too many negatives to the game of Texas A&M RB Christine Michael. He's not the most dynamic of lateral athletes. However, he certainly has enough wiggle to make defenders miss in a phone booth and in space. He accelerates well, runs hard, possesses good vision and feel inside, and can create the big play in space.
He might not be as physically imposing or as sudden as some of the other top-tier running back prospects in the class. But, he has a game that is built for the NFL as he doesn't take many negative runs, keeps teams ahead of the chains and can break a big play at anytime either running between the tackles or toward the edge.
He's a guy who needs to prove he's healthy. However, if he can do that, looks like a prospect who could end up going somewhere in the 2nd/3rd round range and end up being a steal as a potential starting caliber NFL runner.