May 20, 2011 -
National Football Post
Breaking down the 2012 CB class
An early look at some of the top cornerback prospects for the 2012 NFL draft.
Seniors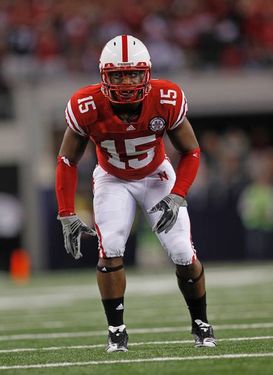 ICONDennard can consistently manhandle receivers off the line.
Chase Minnifield: Virginia (6-0, 185)
Minnifield needs to continue to add some weight to his frame and get a bit stronger. However, he's fluid/polished in his drop, clean when asked to turn and run, and knows how to play the football. If he can get a bit more physical off the line this year, he has the makings of a legit first-round prospect.
Alfonzo Dennard: Nebraska (5-10, 195)
You want to know why Big 12 offenses were so willing to throw at Nebraska CB Prince Amukamara this past year? Because Dennard was playing opposite him. Watching Dennard on tape it's obvious how physical this guy is in press coverage. He gets a bit overextend at times and will lose his balance, but he can turn and run, and has the makings of playing both inside and out at the next level.
Janoris Jenkins: North Alabama (5-11, 186)
Jenkins is as good in off/zone concepts as any cornerback I saw on tape from 2010. He instantly is able to click and close on the football in front of him and has a great feel for the pass game. Has a little Asante Samuel to his game. However, character concerns are the main reason why he could fall further in the draft than his talent would dictate.
Coryell Judie: Texas A&M (5-11, 188)
A speedster on the outside who can turn and run with receivers, tracks the football and is tough to separate from on all areas of the field. Plus, he gives you an added bonus as a return man as well.
Underclassmen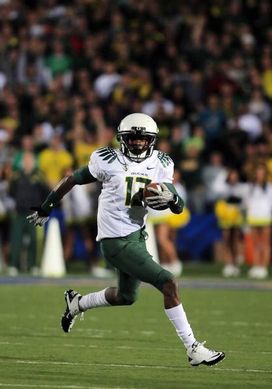 ICONHarris loves to create with the ball in his hands.
Cliff Harris: Oregon (5-11, 180)
A playmaker who can cleanly get out of his breaks and loves to range and get after the throw. Still has a tendency to give up too many plays, but should take that next big step this year as a junior.
Dre Kirkpatrick: Alabama (6-2, 192)
At 6-2 his frame and length is intimidating off the line as he has the ability to re-route and locate the football quickly in press. However, for his size he's also very agile when asked to mirror and could mature into the SEC's next top-tier shutdown corner this coming season.
Stephon Gilmore: South Carolina (6-0, 194)
Gilmore is the one guy who could challenge Kirkpatrick as the SEC's top corner next year as he has lockdown ability in his own right. He's talented, makes plays on the football vertically and loves to compete. However, consistency is key for him as he gave up far too many plays last season for someone with his skill set.
Greg Reid: Florida State (5-8, 185)
He's undersized and might not ever be able to play on the outside at the next level. However, he possesses good change of direction skills, closes quickly on the throw and is willing to stick his head in and tackle. He also offers good return ability as well and should be able to mature into a very capable slot man.
Follow me on twitter: @WesBunting