May 18, 2011 -
National Football Post
Breaking down the 2012 DL class
An early look at some of the top defensive line prospects for the 2012 NFL draft.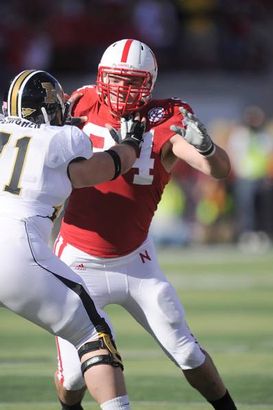 ICONCrick needs to do a better job keeping his pad level down.</p>
DE Quinton Coples: North Carolina (6-6, 282)
Coples played big in the absence of the suspended defensive linemen from UNC this past season, leading the Tar Heels with ten sacks. Possesses the frame to mature into a very capable three-down lineman at the next level, but looks best suited to play outside than at defensive tackle.
DL Jared Crick: Nebraska (6-6, 285)
A high-motor, try-hard guy who plays through the whistle and is the kind of lineman coaches love. Displays some natural change of direction skills and uses his hands well to shed inside, but needs to learn to play with a more consistent pad level.
<strong>DT Josh Chapman: Alabama (6-1, 310)
A strong anchor player inside who is tough to move off the football and can eat up blocks at the point. Seemed to really come into his own last year and looks capable of taking that next big step in 2011.
DT Kheeston Randall: Texas (6-5, 295)
An athletic, long-armed tackle who has all the tools you're looking for in a big-time defensive end prospect. Has yet to put it all together as a pass rusher yet, which is obvious by his one sack in 2010. However, he's explosive off the football, can fight through blocks and make plays off his frame.
DE Vinny Curry: Marshall (6-4, 252)
An explosive edge pass rusher who possesses a great first step, can threaten the corner and closes quickly on the quarterback. Finished the season with 12 sacks and could stand up in a 34 as well.
DL Armond Armstead: Southern Cal (6-5, 295)
Armstead possesses a unique combination of size, power and coordination and has played both inside and out for the Trojans during his career. He should get a lot of looks as one of the draft's top five-techniques. However, potential medical issues could be a factor in his draft stock going forward.
Underclassmen
DT Jerel Worthy: Michigan State (6-3, 305)
A strong, explosive interior defender with a good first step, can threaten gaps inside and also possesses some natural anchor in the run game. Should have an even better 2011 season now that he will be 100 percent healthy from a hyperextended knee.
DE Donte Paige-Moss: North Carolina (6-4, 258)
Plays with a mean streak, is explosive off the edge and performed well considering he was supposed to be more of a reserve in 2010. Runs himself out of plays at times; however, the talent is there for him to dominate once the game starts to slow down for him a bit.
DT Marcus Forston: Miami (6-3, 300)
A talented interior presence who gets off the ball quickly, runs well in pursuit and finished the 2010 season with 12 tackles for loss. Looks like the next big time defensive line prospect to come from of "The U."
Follow me on twitter: @WesBunting