May 21, 2011 -
National Football Post
Breaking down the 2012 LB class
An early look at some of the top linebacker prospects for the 2012 NFL draft.
Seniors
LB Courtney Upshaw: Alabama (6-2, 265)
A powerful backer who generates a lot of force on contact, can take on blocks inside and creates turnovers at the point. Has the physical skill set to get looks as a starter in both a 34 and 43 front.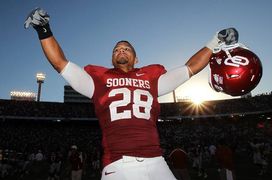 ICONLewis is a classic 43 backer.
OLB Travis Lewis: Oklahoma (6-2, 232)
A cover 2-type backer who runs well in pursuit, is fluid/coordinated in his drop and quickly closes toward the football. Possesses a little more pop at the point of attack than given credit for, but looks like an ideal weakside guy.
LB Zach Brown: North Carolina (6-2, 230)
Started only four games this past year. However, is a freak of an athlete, is gifted in space and has the ability to buzz sideline-to-sideline and make plays in all areas of the game.
ILB Tank Carder: TCU (6-2, 237)
One of if not the best tackling linebackers in the country. Carder can consistently make plays in a phone booth as well as tackle in space. He's a better athlete than given credit for and he plays fast because of his read and react skills and ability to quickly diagnose plays.
Underclassmen
LB Don'ta Hightower: Alabama (6-4, 258)
Another powerful Alabama backer who can anchor on contact, tackle vs. the inside run and offers some pass rush ability as well off the edge. There isn't much this guy can't do when attacking downhill, just needs to stay healthy.
ILB Luke Kuechly: Boston College (6-2, 235)
A tackling machine who reads and reacts as quickly as any linebacker in the county. Is consistently around the football and looks like a solid, 100-plus tackler inside at the next level.
ILB Manti Te'o: Notre Dame (6-2, 245)
Te'o has improved his instincts and overall feel of the game each of the past two seasons. He plays with some nasty and isn't afraid to take on blocks and get dirty inside. He's a bit short, but plays with natural leverage and can create a pop on contact as a tackler.
ILB Vontaze Burfict: Arizona State (6-3, 245)
I love how much the game means to him, as the guy plays like a wild animal on the field. Burfict likes contact, runs well in pursuit and has a nose and passion for getting after the football. However, learning to control that rage will be key for him as he continues to mature.
Follow me on twitter: @WesBunting