May 16, 2011 -
National Football Post
Breaking down the 2012 OL class
An early look at some of the top offensive line prospects for the 2012 NFL draft.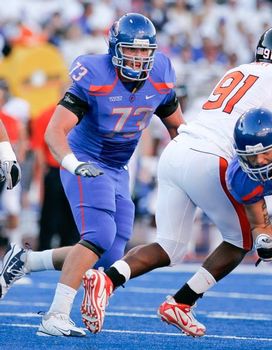 ICONPotter looks comfortable at the second level.
OT Levy Adcock: Oklahoma State (6-5, 318)
A strong, coordinated blocker who possesses good bend and keeps his base down consistently in pass protection. Displays some nasty in the run game as well and looks like a guy who can consistently get a good push off the football on the right side at the next level.
OT Nate Potter: Boise State (6-6, 295)
Needs to continue to add girth and get stronger, especially in the base. However, he displays natural athleticism off the edge, can bend at the knees and consistently gains leverage for himself in the pass game. Is a balanced/smooth move player as well in the run game and looks like one of the top OT prospects in the senior class.
OC Michael Brewster: Ohio State (6-5, 295)
Brewster was one of the top center prospects I saw on tape all of last year. He snaps and steps quickly off the line, can shoot his hands instantly, turning defenders from the play, as well as slide naturally in pass protection. I would like to see him play with heavier hands when asked to stick to blocks through contact, but he should improve in that area as a senior.
OL Kelechi Osemele: Iowa State (6-5, 335)
Plays left tackle at Iowa State and will likely be forced to kick inside to guard at the next level. However, he possesses a strong lower half, natural balance when asked to redirect and slides his feet in pass protection; possesses a lot of upside as an in-line guy as well.
OT Mike Adams: Ohio State (6-8, 305)
A tall, lean, long-armed offensive tackle who possesses above-average range toward the edge and is tough to turn the corner on. Adams will miss the first five games of the season due to suspension, but the talent and upside is there for him to get a look as a potential early pick if he plays well in his return.
Underclassmen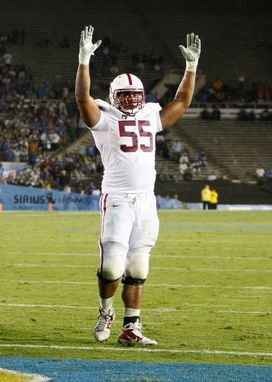 ICONMartin has the skill set to fly up draft boards with a big year.
OT Riley Reiff: Iowa (6-6, 300)
A former tight end prospect out of high school who has smoothly transitioned to offensive tackle over the past two seasons. He's a gifted athlete with natural range/balance in his drop and can bend, creating leverage for himself in all areas of the game. I expect him to take that next big step this season under the Iowa coaching staff and become one of the nation's top offensive line prospects.
OT Matt Kalil: USC (6-6, 295)
Kalil isn't as physically gifted as the Cowboys 10th overall pick from 2011, Tyron Smith. However, he still played well enough to keep Smith from moving over to the left side of the Trojans O-line this past season. Kalil possesses good bloodlines, is technically sound for his age and looks like the Trojans next big time O-line prospect.
OT Jonathan Martin: Stanford (6-6, 305)
The blind-side protector for Andrew Luck on the Stanford offense. He possesses a good-looking frame, is rangy/coordinated in pass protection and will get after it in the run game as well. Another candidate to make a move toward the top of NFL draft boards as the potential first OT off the board come April 2012.
Follow me on twitter: @WesBunting