May 09, 2011 -
National Football Post
Breaking down the 2012 QB class
An early look at some of the top quarterback prospects for the 2012 NFL draft.
Seniors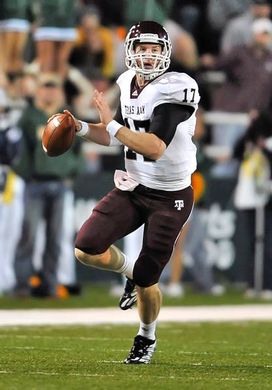 ICONDon't sleep on Texas A&M QB Ryan Tannehill in 2011.
Ryan Tannehill: Texas A&M (6-4, 220)
In my mind he's the most intriguing senior quarterback prospect in the class. Tannehill only has seven starts under his belt as a QB. However, he's decisive, accurate and a gifted athlete inside/outside the pocket. He displays a real understanding of the game and I expect him to take off this year as a QB prospect.
Ryan Lindley: San Diego State (6-3, 218)
A tall, lean quarterback prospect with a great arm, but will need to prove he can still be efficient with a new head coach and two new receivers to throw to come September. However, the tools are there.
Brandon Weeden: Oklahoma State (6-4, 220)
He's older than most prospects and doesn't have a ton of experience. However, the guy can really spin the football and easily makes all the throws. Physically, I don't think there's too much separating him from former Missouri QB Blaine Gabbert to be honest.
Kirk Cousins: Michigan State (6-3, 205)
A tough, savvy Big Ten quarterback who knows how to move the chains, is accurate with the football and consistently wins football games. He's not as naturally gifted as some of the other top QB prospects on the list, but he just finds a way to get the job done.
Nick Foles: Arizona (6-5, 245)
Foles possesses great size, can make all the throws and completed over 67 percent of his passes last year as a junior. However, the biggest question I have concerning him is… Can he win football games down the stretch? He lost his final five games of the year last season.
John Brantley: Florida (6-3, 220)
I'm not ready to write off the kid yet. He was thrown into a tough situation at Florida trying to replace Tim Tebow in an offense that wasn't an ideal fit for him. However, with Charlie Weis now calling plays, I think the kid has a chance to mature into a legit NFL quarterback prospect.
Terrelle Pryor: Ohio State (6-6, 235)
He's a better thrower of the football than many give him credit for. However, he is slow to decipher information, doesn't have a natural feel for the pass game and struggles whenever he can't improvise or make his mind up before the snap. Looks more like a developmental/late round QB prospect to me at this stage.
Underclassmen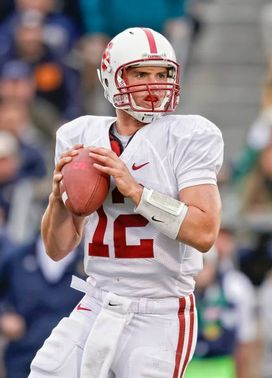 ICONLuck is the best QB prospect I have yet to see.
Andrew Luck: Stanford (6-4, 235)
Simply put: He's the best QB prospect I have ever seen. He can make all the throws and displays impressive accuracy on all levels of the field. Watching him get his team in and out of plays and deciphering information flawlessly is what really has me intrigued.
Matt Barkley: USC (6-2, 220)
If there's one guy who could challenge Luck for the top spot it's USC's Matt Barkley. Barkley has started for the Trojans since his freshman year, is efficient in a pro-style offense and even as a freshman was a leader of men. Look for him to take that next step this season in year two under Lane Kiffin.
Landry Jones: Oklahoma (6-4, 220)
Some scouts I've talked with think it's Jones who could end up challenging Luck as the number one overall pick. I'm not nearly that high on him, but you can't ignore the kid's skill set.
Follow me on twitter: @WesBunting