May 11, 2011 -
National Football Post
Breaking down the 2012 RB class
An early look at some of the top running back prospects for the 2012 NFL draft.
Seniors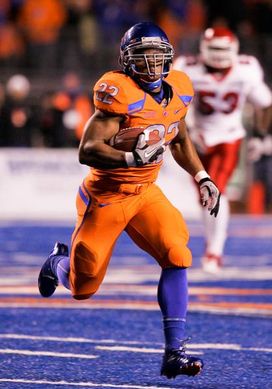 ICONMartin's thick build makes him tough to bring down.
Doug Martin: Boise State (5-9, 201)
Martin looks like a Coke machine the way he's put together. Thick through the lower half and mid-section, and there's really no place to wrap up on him as he runs low while keeping his pad level down. He possesses solid speed, but it's his ability to sharply change directions, maintain balance and accelerate which is really impressive. He plays very fast/quick in tight quarters and can consistently make defenders miss. Looks poised for a monster year.
Cyrus Gray: Texas A&M (5-10 198)
A shorter, compact runner who is very comfortable running between the tackles from I-formation sets, picks his way through the line of scrimmage and is patient inside. Possesses a natural second gear to his game and accelerates quickly out of his breaks. Looks a little stiff in the hips laterally, but can catch the football out of the backfield and has the talent to be part of a solid one-two punch in the NFL.
Dan Herron: Ohio State (5-10, 205)
Herron's quicker than he is fast in tight areas. And he does a nice job setting up blocks inside, lowering his pad level into contact and likes to finish runs. Displays good short-area quickness and footwork when asked to make a man miss and accelerate. Isn't a dynamic athlete, but is a strong, no-nonsense type runner who will give you an honest days work inside.
Jeffery Demps: Florida (5-8, 190)
Demps is simply lightning in a bottle every time he gets his hands on the football. At only 5-8, he possesses a compact frame and the straight-line speed to consistently outrun angles and create big plays in space. He catches the football well out of the backfield as well, but even more impressive was his improved patience and feel running inside last season. Looks like a dynamic sub-package option in the NFL.
Underclassmen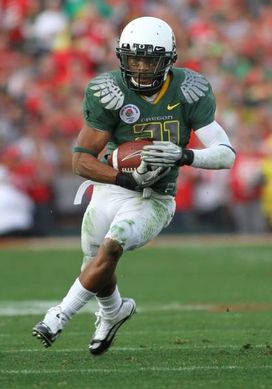 ICONJames is dynamic with the ball in his hands.
Trent Richardson: Alabama (5-11, 220)
A powerful back who runs hard and possesses a rare blend of power and speed. Isn't the same type of natural runner that former Tide standout RB Mark Ingram was. But he'll likely get drafted higher because of his more impressive 40 time.
LaMichael James: Oregon (5-9, 185)
Say what you want about the Oregon offense, but James possesses impressive short-area quickness inside, can consistently make defenders miss and accelerates well toward daylight. He's undersized, but the guy has some very good natural running skills.
Knile Davis: Arkansas (6-0, 220)
Davis rushed for over 130 yards per game during the final nine games of the season last year and possesses an intriguing combination of size and speed. He had a 4.37 40-time during Arkansas' offseason testing. Looks like a potential star in the SEC come 2011.
Andre Ellington: Clemson (5-10, 190)
Another dynamic, change of pace type prospect at the next level. Ellington is shifty, can make defenders miss and can run away from the pack in space. Plus, he's also comfortable catching the football out of the backfield.
Follow me on twitter: @WesBunting