May 13, 2011 -
National Football Post
Breaking down the 2012 WR class
An early look at some of the top wide receiver prospects for the 2012 NFL draft.
Seniors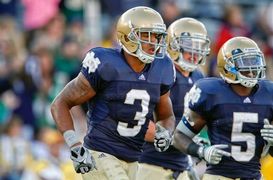 ICONFloyd uses his big frame well to create separation.
Michael Floyd: Notre Dame (6-3, 228)
Coming into 2010 I thought Floyd, based off his tape, was right on par with A.J. Green and Julio Jones as a prospect. However, he looked a bit heavier this past year and wasn't quite as fluid/explosive when asked to separate. He got himself into some trouble this offseason as well and is currently suspended indefinitely from the football team. However, he knows how to make plays on the football and if he can put it all back together, the guy has the ability to be a very high draft pick.
Jeff Fuller: Texas A&M (6-3, 215)
Fuller is a guy who doesn't even need to be open to still make plays on the football. He's a strong, powerful wideout with great size and the coordination to consistently adjust to the throw. He possesses sneaky speed down the field as well and has performed extremely well vs. some of the best cornerback prospects in the nation from this past year.
Greg Childs: Arkansas (6-3, 217)
Childs is another wideout who doesn't have great top-end speed. However, he uses his big frame well to create separation for himself and even when covered up he can still win in jump ball situations for his quarterback. He's working his way back from a torn patella tendon he suffered last year, but if he can fully recover he should be one of the more productive receivers in the SEC again in 2011.
Jarrett Boykin: Virginia Tech (6-2, 218)
I might be more of a fan of Boykin than most, but every time I watched Virginia Tech tape last year this guy showed up in a big way. He's a strong, well-put-together wideout with a massive set of hands and plucks everything in sight. He possesses powerful strides down the field, can track the football vertically and is really physical and tough to bring down after the catch. Is the one senior wideout who I think could be poised for a major rise up draft boards this coming season.
Juron Criner: Arizona (6-4, 210)
A tall, lean wideout who possesses good coordination in the pass game and is very effective working the three-step game. He isn't a burner, but has deceptive strider speed down the field and knows how to make plays on the football at its highest point.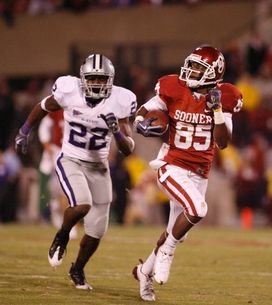 ICONBroyles is creative after the catch.
Ryan Broyles: Oklahoma (5-11, 185)
Broyles is slippery, sudden and knows how to separate out of his breaks and create after the catch. He isn't the most physical of wideouts and struggled with some of the better press corners the Big 12 had to offer off the line this past year. However, you give this guy a two way go from the slot at the next level and he will make plays.
Underclassmen
Justin Blackmon: Oklahoma State (6-1, 208)
Watching Blackmon this past year I thought he would have been the number three receiver off the board behind only A.J. Green and Julio Jones. He plays with power and explosion in all areas of the game. Lacks great straight-line speed, but shrugs off defenders vertically, tracks the ball well and can highpoint throws. Will again be one of the most productive receivers to stop in the county and looks like a starter early in his NFL career because of his ability to create after the catch.
Alshon Jeffery: South Carolina (6-4, 232)
A massive wideout with great body control and coordination for a prospect of his dimensions. Possesses good short-area quickness out of his breaks, knows how to box out defenders and does a great job making himself big and extending for the football. A mismatch nightmare for corners down by the goal line as well.
Follow me on twitter: @WesBunting