January 06, 2012 -
National Football Post
Breaking down the game of Wisconsin OC Peter Konz
Breaking down the game and assigning a grade to Wisconsin center Peter Konz…
What I like…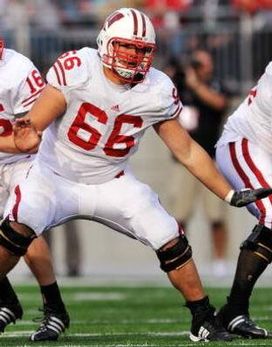 ICONKonz displays good awareness inside.
- Possesses a strong, well put together frame with natural girth through his lower half, despite his height.
- Showcases natural bend when asked to sit into his stance. Keep his knees bent, base down and looks natural keeping his pad level low into his stance.
- A smart kid who helps make all the line calls and exhibits impressive awareness working in tandem with his guards in the pass game.
- Keeps his head on a swivel, locates blitzing linebackers and is quick to adjust.
- Showcases natural change of direction skills and foot quickness when asked to re-direct and mirror.
- Drops pad level quickly and even if he does give up initial leverage works his hands well and has the ability to re-set his hands and anchor on contact.
- Showcases the natural power in his lower half, length and hand placement to gain leverage and anchor out vs. bigger tackles once he gains leverage.
- Is heavy handed and sticks well once engaged.
- Snaps and steps quickly in the run game.
- Doesn't waste much motion extending his arms and getting his hands into contact at the point of attack vs. the run.
- Generates a good snap through the hips into contact when blocking down on defenders off his frame.
- Showcases the power to consistently wash out defensive linemen on contact off his frame.
- Understands angles and is quick to get around blocks inside, create leverage with his hands and seal.
- Even when overwhelmed on contact in the run game, is quick footed and able to get his body around and seal defenders from the play.
- Showcases good short area quickness when asked to chip, get out into the second level and reach a target.
- Possesses a toughness about his game, likes to finish and will play till the whistle.
- Is a tough kid who is willing to play through pain.
What I don't like…
- Despite his ability to bend, is a taller center who will allow defenders to get under his pad level at times off the snap.
- Isn't the most consistent of punchers in pass protection, would like to see more of a snap into contact.
- Can be rocked backward at times initially in pass protection and put on skates, doesn't quickly recover when trying to re-set his feet and anchor.
- Will get overextended at times into contact initially when trying to get physical in pass protection.
- Lacks elite power off the snap and at times can give up leverage and be worked into the backfield vs. the run.
- Looks a bit limited on the move. Is asked to pull and get around the edge, but lacks ideal range in the open field.
- Tends to pop upright a bit through contact as an in-line blocker when trying to finish and will lose balance and fall off blocks though the play.
Impression: For a taller center showcases impressive flexibility, as he typically gains leverage on contact and uses his length to gain proper hand placement. Has some limitations because of his height and will allow defenders to get under him at times.
However, for the most part is able to quickly re-set his hands, sink his hips and keep the inside of the pocket clean in pass protection.
Showcases an good snap through the hips in the run game, is routinely able to create a push inside and drive opposing nose tackles away from the play and/or seal. Looks like a "plus" run blocker in the NFL in more of an angle scheme.
Follow me on twitter: @WesBunting
Check out the NFP Draft Page here...