October 05, 2011 -
Barry Dorey
Breaking down the game of Wisconsin WR Nick Toon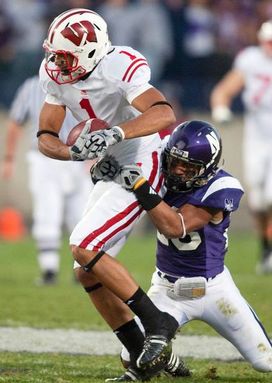 ICONToon can be tough to bring down after the catch.
WR Nick Toon: No. 1 (6-2, 215)
A tall, physically put together wide out with a good-sized frame, long arms and strong hands. Possesses an sudden element to his game off the line laterally. Knows how to set up receivers, uses his short area quickness to beat press, shrugs off contact well and can separate quickly away from his man. Doesn't have a great burst in and out of his breaks, but is sharp, uses his body well to shield defenders and adjust cleanly to the football. Has a tendency to chop his feet and will waste some motion when trying to get out of his breaks. But, widens/tightens his angles as he sees appropriate giving the QB more room to throw in all areas of the game. Does a nice job adjusting to throws, using his long arms to pluck off his frame and securing the catch. Gets a bit lazy at times letting throws get into his frame, but for the most part is a sound plucker.
His combination of power and short area quickness allows him to make create somewhat for himself after the catch. Isn't a burner who can outrun angles and consistently make plays vertically behind corners. But secures the catch well, drops his pad level and can break tackles through contact. Isn't a real gifted vertical threat, but does have some jump ball ability. Is balanced, can be physical and will go up and make a play on the ball at its highest point. Hasn't been overly productive however, which a lot has to do with the offense and in a different scheme his numbers could be vastly different.
Impression: I like his size, short area quickness and ability to adjust to the football. Isn't a guy who is going to create consistently down the field. But knows how to gain enough separation, pluck and create after the catch. Looks like a guy who can play on the outside as a legit number two wide out running the inward breaking routes, but isn't ever going to be a dynamic playmaker.
Grade 6.8: Contributes first year, but may take time to become a starter… Has the ability to become a starter and will be expected to assume a starting role.