November 24, 2011 -
Barry Dorey
Breaking down the Texas A&M "big three"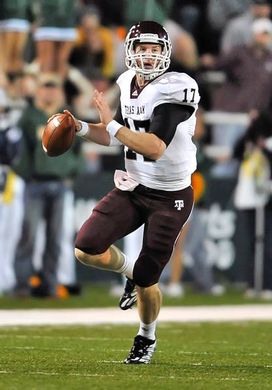 ICONTannehill has all the tools to be a franchise QB in the NFL.
QB Ryan Tannehill: Texas A&M (6-4 222)
A former high school quarterback who made the move to wide out as a freshman and led the team in receptions during the 2008 and 2009 seasons. Made the move back to quarterback in 2010 and led the team to six straight victories at the end of the regular season. Is simply a natural football player who has an impressive feel of the game. Despite not having a ton of experience as a college quarterback, did a great job quickly getting away from center, settling his feet into the three-step game and was balanced/accurate getting the ball out on time. Possesses a quick release, and exhibits some natural torque from his wrist that allows him to really spin the football. Has a good arm, not elite, but his ability to cleanly spin the ball and transfer his weight off his back foot allows him to make all the throws. Can stick the deep out, displays consistent plant leg placement when striding toward his target and his ball placement/accuracy are very good in the short/intermediate pass game. At times gets a bit upright in the pocket, which will take away from his base and ability to really generate power from his legs, but torques well at the waist and his lower body mechanics should continue to improve with experience.
Is a natural athlete who has a good feel in the pocket, Keeps his eyes down the field when he feels pressure, looks natural stepping up in the pocket and will deliver the football in the face of pressure. Isn't afraid to stare down the barrel of the shotgun and take a lick. Can create with his legs once he breaks contain, isn't overly shifty, but has good enough straight-line speed to do damage in the open field. The game really started to slow down for him toward the end of the year as he did a better job recognizing blitzes with his pre-snap reads, got the ball out on time and used his eyes well to work the entire field. Is decisive in the pocket and has the ability to routinely go through progressions across the field.
Gets a bit sloppy with his vertical passes down the field. Does a nice job looking off defenders, but will throw blind into coverage and seems to fall off bucket throws, dropping his elbow in the process. I wasn't overly impressed with his touch down the field at this stage. Also, needs to do a better job taking some velocity off throws underneath, at times puts a little too much on passes underneath when throwing in rhythm, causing a lot of dropped passes because his receivers can't adjust. Throws well on the move when he squares his shoulders, at times gets lazy though and will throw off balance causing passes to sail.
Impression: He's smart, athletic, can make all the throws and the team really responds to him. His flaws are correctable and it's crazy to think where this guy could be in five years with more experience and coaching. A potential franchise quarterback in my mind.

RB Cyrus Gray: Texas A&M (5-10 200)
A compact back who carries a lot of girth/natural muscle tone through his frame. Does not look thin by any measure and possess the kind of frame that can handle a pounding. Runs with good forward lean, presses the line of scrimmage quickly and is quick to decipher information. Possesses good balance and body control in tight areas with the quickness to change directions, break a tackle and accelerate through contact. Creates a lot of yards after contact and can run through arm tackles inside.
Looks a little more explosive laterally when cutting off his right foot than his left and isn't an overly dynamic make you miss athlete in space. Will get a but "weavey" off his left foot at times, especially on perimeter runs and will chop his feet in order to catch his balance. However, is patient setting up blocks, churns his legs through contact and accelerates well out of his breaks. Showcases good natural power when asked to fight for yards inside. Has a good sense when plays are clogged up, takes what the defenses gives him and does a nice job making himself small and churning his legs through contact inside. Has experience running from both I-formation sets and from the gun. Looks more natural with a full back in front of him where he has more time to decipher info and pick up speed. Plus, he's more sudden/shifty attacking forward than standing flat-footed and having to make a defender miss. Demonstrates good cut back ability at the line and in space. Can put back-to-back cuts together off both feet inside and accelerates into daylight.
Possesses good straight-line speed, not elite. At times will bounce runs prematurely to the edge and has the initial burst to gain a step, but won't consistently outpace angles in the NFL. However, on perimeter runs does a nice job keeping his pad level down when turning the corner, keeping his feet under him and exploding toward space, using his balance to side step defenders at full speed and break tackles in the process.
Is a plus blocker for the position as well, keeps his pad level down, recognizes his target and generates a good snap into contact. Is also coordinated in the pass game, but isn't going to be used in the slot to beat man. However, is a plus receiver in the screen game as he locates the ball quickly, squares his shoulders and will create.
Impression: An instinctive, well put together back with natural running skills inside. Isn't ever going to be a cowbell back at the next level and isn't overly dynamic in the open field. But can be productive in a two back system in the NFL.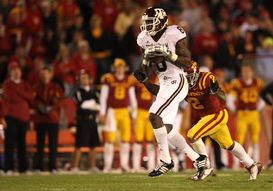 ICONFuller knows how to go get the football.
WR Jeff Fuller: Texas A&M (6-4 220)
A physically imposing wide out with a tall frame, thick trunk and impressive overall muscle tone through his legs and calves. Physically the guy right now is built like a legit NFL receiver. Possesses a solid first step off the line for his size, builds speed as he goes and possesses that powerful stride down the field vertically. Isn't a burner who eats up the cushion overly quickly, looks like a 4.5 guy. However, once he gets his wheels turning he is a tough cover and seems to find a slight second gear when he needs to track the football. Does a nice job stemming his route and not drifting. For his size displays impressive balance and bend as a route runner. Keeps his feet under him, drops his pad level and sinks his hips well out of his breaks. Does a nice job getting initial separation on the deep out and not wasting much motion out of his breaks when accelerating. Turns and locates the throw quickly, is coordinated when asked to adjust and uses his big hands and long arms well to pluck the football.
Displays solid shiftiness off the line vs. press coverage. Doesn't do a great job using his hands and length to be physical, but has the initial quickness to gain a step and get into his r oute. However, does a very good job being physical through contact down the field. Uses his hands and length well to fight through contact and routinely delivers a sneaky bump into contact, knocking corners just slightly off balance. Is the kind of target who can routinely go get the football even when covered up. Consistently works back toward the throw, uses his body to shield and adjust naturally to the play. Will win routinely in jump ball situations and looks like a power forward the way he adjusts and fights through contact.
Possesses the size and power to consistently win in the run game on the outside. Has strong hands, long arms and will stick to blocks and stay engaged through contact. Exhibits some short area quickness after the catch and does have a burst initially, but doesn't break as many tackles as his frame and skill set would lead you to believe.
Had a really poor senior year. Didn't separation a ton on sharply breaking routes and didn't exhibit the same type of initial burst of his game. Still displayed the ability to put his body between the corner and throw, but had far too many drops as a senior as well.
Impression: A talented kid who looked like one of the draft's best receiver prospects as a junior, but his game has fallen off as a senior. A lack of focus, dropped footballs and questionable separation skills could cause him to fall.
Follow me on twitter: @WesBunting
Check out the new NFP Draft Page here...