May 21, 2012 -
National Football Post
Breaking down Wisconsin RB Montee Ball
RB Montee Ball: Wisconsin (5-9, 212)

What I like…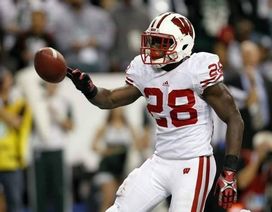 Ball has the ability to play three downs in the NFL.
- Possesses natural thickness and girth through his base and legs. Will be able to hold up physically in the NFL.
- Presses the line of scrimmage quickly, doesn't waste time prancing in the backfield.
- Showcases a good first step initially when asked to get through the hole.
- Displays a good initial burst out of his breaks/cuts in order to get back up to speed quickly.
- Exhibits nifty footwork at the line of scrimmage. Displays the ability to side step defenders in a phone booth and pick his way through contact.
- Looks natural reading blocking lanes and being patient to set up blocks in front of him, both inside on power plays and/or toward the edge.
- Showcases "plus" vision inside, feels his way through the line and can be sharp/sudden with his footwork when asked to change directions and find daylight.
- Gets back up to speed quickly out of his breaks and accelerates well into the second level.
- Lowers his pad level into contact, doesn't shy away from defenders and routinely finishes runs.
- Looks natural in blitz pick-up, is patient shooting his hands into contact, sits into his base and can anchor.
- Is a natural receiver out of the backfield. Can pluck the football off his frame and showcases the ability to set up linebackers as a route runner underneath.
- Was extremely productive as a junior in 2011 rushing for over 1,900 yards and 33 touchdowns.
- Was able to carry a heavy load for the Badgers in 2011, stay healthy and be a workhorse type back.
- I loved his dedication to the program to cut weight as a sophomore and have such an impressive junior season. You can tell he has a passion for the game.

What I didn't like…

- With so many college carries he has a lot of wear and tear on his body already.
- Ran behind one of the best offensive lines in the country with the opportunity to run through a lot of big holes, which made the decision making process easy for him.
- Tends to get a bit upright when asked to change directions, limiting his power and balance through contact.
- Doesn't have great power inside, routinely falls forward, but doesn't have the strength to consistently break a ton of tackles in the NFL.
- Doesn't look overly creative/sudden in the open field. Doesn't make a ton of defenders miss in space and can be wrapped up on easily.
- Lacks great straight-line speed. Gets up to speed quickly, but maxes out quickly as well. Looks like a 4.55 guy.

Overall...

I love the fact that Ball recommitted himself this past off-season, lost the needed weight, added quickness and had one of the most productive seasons ever as an NCAA running back. Even more impressive was the fact he did it against opposing defenses that knew the run was coming and would consistently load the box to stop him. Ball showcases a good feel between the tackles, natural quickness picking his way through traffic and has enough lateral quickness and power to break/slip tackles at the line and make his way into the open field.

The biggest concern I have with Ball was the same many had with former Wisconsin RB Ron Dayne coming out. How many of those rushing yards did Ball really manufacture on his own? The Wisconsin offensive line was as good as they come in college football with all five having the skill set to get drafted at the next level and a couple being top-end picks. Therefore, they routinely opened up gaping holes for Ball inside to run through and made his life much easier than most NCAA backs. Now, there is obviously still a lot of talent to Ball's game, but I don't see him as elite caliber prospect at the position and he looks more like a second/third round type talent who would be best served in a two-back stable at the next level. But should be able to come in and be productive because of his ability to play three downs from day one.