September 22, 2011 -
Barry Dorey
Breaking Loose
How To Shake The 0-2 Blues
Whether you've incurred two gut-wrenching defeats, or served as cannon fodder for a pair of seismic blowouts, there's a singular shame that goes with starting a season at 0-2. In a matter of speaking, it's the fantasy equivalent of walking around with a Scarlet Letter on your favorite NFL jersey. (Marketing idea for Madison Avenue?) But all hope is not lost for the momentarily downtrodden ... provided they accept the grim reality that -- in highly competitive 12- 14- or 16-team leagues -- an 0-3 club faces long odds of winning a championship. So, let's roll up our sleeves and focus on a few quick tricks for Shaking The 0-2 Blues ... and getting a much-needed victory in Week 3:
1. Trade for back-end guys in RB handcuffs. While some jittery 0-2 owners are busy conceiving unrealistic, low-ball offers for Rashard Mendenhall, LeGarrette Blount or even Chris Johnson (on track for a big-time Week 3 breakout), how about brokering deals for less-heralded talents like Jonathan Stewart, Michael Bush, C.J. Spiller, Dexter McCluster, Thomas Jones, rookies Delone Carter, Roy Helu and the Mile High version of Wally Pipp, Bronco Knowshon Moreno? Now, in some leagues, McCluster only has WR-eligibility ... but he still may possess the greatest backfield potential for the Chiefs in Jamaal Charles' season-long stead. Whatever the case, these eight players have the skills, time and opportunity to become flex-spot difference-makers from this point forward.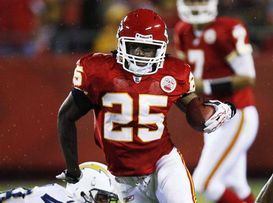 Jamaal Charles owners have fallen on tough times...which could make them a bit desperate.
2. Throw a lifeline to the guy/gal who lost Jamaal Charles for the season. By no means am I suggesting that you try to fleece Charles' owner with an insulting offer. After all, it's only Week 3, and in standard 12-team leagues ... a resourceful, creative individual should be able to compensate for the punch-in-the-gut effect of Charles tearing a knee -- virtually untouched -- against the Lions. In my diplomatic world, I advocate trading viable bench depth at RB in bulk -- like Helu, Ben Tate, Joseph Addai, James Starks as a tandem -- to land a premier receiver. For example, in one 12-team league -- where the other owners are all lifelong acquaintances -- I'm happy to help one of my best friends bolster his post-Charles rushing corps (two backs + Percy Harvin) ... as a means of extracting Mike Wallace or Greg Jennings from his deep group of receivers. In September, it's beneficial to craft win-win trades for both sides -- even when you're holding all the cards. You may need that owner again at the November trade deadline.
3. Explore a 2-for-1 blockbuster with an elite running back. There's nothing desperate about trading away a great back (Adrian Peterson, Ray Rice, Chris Johnson, LeSean McCoy) for a high-end receiver (Calvin Johnson, Andre Johnson, Roddy White, Hakeem Nicks, Larry Fitzgerald) AND secondarily elite runner like Mendenhall, Matt Forte, Maurice Jones-Drew, Ahmad Bradshaw, Frank Gore or Ryan Mathews. It's the cleanest, simplest way to diversify your starters with prime RB/WR talent -- as long as the shipped-off superstar doesn't rush for 1,700 yards in the next 14 games.
4. Consider trading name-brand receivers with inefficient catches-to-targets ratios. Yes, two weeks does not a season make; but it's an adequate sample size for gauging which QB-WR relationships might be less fruitful than originally expected back in August. Austin Collie and Pierre Garcon (91 combined yards) are flailing in Indy; Devin Hester, Lee Evans and Plaxico Burress are likely more bust than boom; Jerome Simpson, Mike Sims-Walker and Mohammed Massaquoi are prone to bouts of wild inconsistency; Dez Bryant (thigh) may not be healthy enough to carry the freight during Miles Austin's unplanned break (hamstring); and while Dwayne Bowe (5 catches, 101 yards, 1 TD in Week 2) is now the Chiefs' undisputed star ... fantasy owners should be disturbed by Kansas City's frightening 0-2 start, QB Matt Cassel's meek progression curve without Charlie Weis and the volatility surrounding head coach Todd Haley and O-coordinator Bill Muir (whose potential pratfalls have already been documented here).
5. Replace a kicker and/or defense on your roster. Scared to take a flier on Cincinnati's Mike Nugent (5 field goals) or San Francisco's David Akers (11-for-11 in FGs/PATs)? Both kickers have workable schedules (full of NFC West opponents) and they'll likely serve as clean-up hitters for offenses that struggle to consistently reach the end zone. Bottom line: Don't be afraid to immediately forsake big names like Lawrence Tynes, Jay Feely, Ryan Longwell for emerging legs such as Alex Henery, Josh Scobee or Graham Gano -- not to be confused with the immortal Gary Gnu, of The Great Space Coaster fame. (Old joke wasted on young viewers.)
As for defenses, be leery of high-profile teams that aren't prodigious in sacks (Ravens, Chargers, Colts, Buccaneers) or creating takeaways (Saints, Rams, Steelers); and don't fall in love with a special teams if you cannot identify their punt- and kick-returners within 10 seconds.
Week 3: QB Locks For 275 Yards and/or 3 TDs
1. Tom Brady @ Buffalo
2. Drew Brees vs. Houston
3. Matthew Stafford @ Minnesota
4. Matt Ryan @ Tampa Bay
5. Cam Newton vs. Jacksonville
6. Philip Rivers vs. Kansas City
7. Kevin Kolb @ Seattle
8. Michael Vick -- IF he plays vs. N.Y. Giants
RB Locks For 120 Total Yards and/or 2 TDs
1. Chris Johnson vs. Denver (mark him down for 152 total yards and 1-2 TDs)
2. LeSean McCoy @ N.Y. Giants
3. Adrian Peterson vs. Detroit
4. Maurice Jones-Drew @ Carolina
5. Rashard Mendenhall @ Indianapolis
6. Matt Forte vs. Green Bay
7. Ray Rice @ St. Louis
8. Michael Turner @ Tampa Bay
9. Shonn Greene @ Oakland
10. Ryan Mathews vs. Kansas City
WR Locks For 110 Yards and/or 1 TD
1. Larry Fitzgerald @ Seattle
2. Kenny Britt vs. Denver (fingers crossed on hammy)
3. Deion Branch @ Buffalo
4. Vincent Jackson vs. Kansas City
5. Devery Henderson vs. Houston
6. Calvin Johnson @ M innesota
7. Andre Johnson @ New Orleans
8. Reggie Wayne vs. Pittsburgh
9. Preston Parker vs. Atlanta (super-sleeper pick)
Kicker Locks For 3-Plus Field Goals
1. Rob Bironas vs. Denver
2. Rian Lindell vs. New England
3. Nick Folk @ Oakland
4. Mason Crosby @ Chicago
5. Ryan Longwell vs. Detroit
6. Sebastian Janikowski vs. N.Y. Jets
7. John Kasay vs. Houston
Talking Points
1. Antonio Gates has been reduced to a mere mortal so far -- but that'll change. Yes, Gates attracted only one target (and zero catches) in the Chargers' made-for-TV showdown with the Patriots in Week 2; but he also had eight catches and 13 targets in San Diego's opener against Minnesota. So, there's no point in sounding any warning bells just yet. Assuming Gates (537 catches/69 career TDs) and his foot problems of last year are no longer a concern, there's zero reason to believe the future Hall of Famer won't recapture his typically stellar form. He's too freaking talented and a major part of the Chargers offense to fall off the map at age 31. As a result of his sluggish start, Gates' trade-market price has diminished since August -- perhaps more than Dallas Clark -- and that's great news for the fantasy owner who waited until Round 10 to grab a decent tight end and has sufficient RB/WR depth to execute an early blockbuster. Better act fast, though, since Gates has 32 catches, 393 yards and four TDs in his last five games against the Chiefs (the Chargers' Week 3 foe).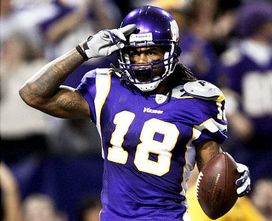 Is former Viking Sidney Rice ready to make his debut for the Seattle Seahawks?
2. Seahawks coach Pete Carroll says Sidney Rice is running at 'full speed' and looks 'phenomenal' in practice. Thanks to Carroll's candid interview with Pat Kirwan/Tim Ryan of Sirius NFL Radio on Wednesday, I am suddenly optimistic that Rice (labrum damage) can overcome his shoulder woes and attempt to resurrect the dormant Seattle offense in Week 3 (home opener vs. Arizona). Which begs the questions: What are the chances of Rice drawing at least eight targets and scoring one TD against the Cards' susceptible pass defense? Should I give Rice a week to find his proverbial sea legs -- a la Jeremy Maclin after a truncated preseason? The conservative verdict: In 16-team leagues, Rice is a solid play as the WR2 or WR3; for 12-teamers, he's only a flex consideration ... until Week 4.
3. The 2-0 Jets are mired in fantasy limbo. It's not like anyone had QB Mark Sanchez (517 yards/4 TDs -- ranked 13th), RB LaDainian Tomlinson (104 total yards) or WR Plaxico Burress (zero catches in Week 2) tabbed for consistent fantasy greatness this early in the season ... and WR Santonio Holmes (9 catches/112 yards/1 TD) and RB Shonn Greene (88 total yards/1 TD) have been marginally proficient, to date, in starring roles. But right now, the club's greatest contributors are at tight end (Dustin Keller -- 11 catches/162 yards/2 TDs), kicker (Nick Folk -- 5 field goals) and defense/special teams (ranked No. 1 in some standard-scoring leagues) ... which isn't a bad thing. As one of the league's most athletic tight ends, Keller has already scored two more TDs than Weeks 5-17 of last year, and his 14 targets through two games isn't that far off from his per-outing average of 8.3 in his final six games last season. If any Jet starter needed to blaze a quick start, it's Keller; and if any runner could use an ideal opponent for Week 3, it'd be Greene against the Raiders. Incidentally, in two career games within the state of California, Greene has amassed 276 total yards and three touchdowns.
Target Practice
These 24 wideouts have accured 16 or more seasonal targets (at least 8 per game):
1. Miles Austin, Cowboys -- 24 Targets
2. Brandon Marshall, Dolphins -- 24 Targets
3. Steve Smith, Panthers -- 24 Targets
4. Kenny Britt, Titans -- 23 Targets
5. Wes Welker, Patriots -- 23
6. Mike Thomas, Jaguars -- 21
7. Andre Johnson, Texans -- 20
8. Steve Johnson, Bills -- 20
9. Mike Wallace, Steelers -- 20
10. Deion Branch, Patriots -- 19
11. David Nelson, Bills -- 19
12. Reggie Wayne, Colts -- 19
13. A.J. Green, Bengals -- 18
14. Vincent Jackson, Chargers -- 18
15. Jeremy Maclin, Eagles -- 18
16. Hakeem Nicks, Giants -- 18
17. Jerome Simpson, Bengals -- 18
18. Nate Washington, Titans -- 18
19. Calvin Johnson, Lions -- 17
20. Santana Moss, Redskins -- 17
21. Roddy White, Falcons -- 7
22. Dwayne Bowe, Chiefs -- 16
23. Larry Fitzgerald, Cardinals -- 16
24. Greg Jennings, Packers -- 16
How To Succeed In Fantasy Without Really Trying
I added this mini-section to today's column at the last second: On Wednesday night, my Twitter bud CLykinsBlog dropped a bombshell of a question: I was offered this 1-for-4 trade. I would give up Tom Brady for Ben Roethlisberger, Roddy White, Matt Forte and Santana Moss. What should I do? Here's my reply:
Unless Brady is primed for another 50-TD season, you roll the dice on getting four immediate starters at three crucial positions! Even if this trade didn't involve Forte (324 total yards, 1 TD; 15 receptions) ... I'd still ponder a blockbuster that offers Big Ben (17,574 yards/112 TDs in his last 75 games), one top-3 receiver (White) and arguably the best fantasy talent on a vastly improved offense (Redskins' Moss). But alas, Forte is the key component to this megadeal, for which I say: Run, don't walk, to accept this one ... because Owner B either had the greatest draft in the history of drafts (calling for Brady to be the final piece of the championship puzzle) OR that Brady man-crush will inevitably mark his fantasy demise in 2011. Whatever the case, enjoy the fantasy 4-pack of immediate starters, and feel free to use the 'old' starters as trade chips. Perhaps to land a quarterback in Brady's class. HA!
The Relentless Pursuit Of Perfection
Here's my idea of a perfect fantasy lineup for Week 3:
QB Philip Rivers
RB Chris Johnson
RB Ray Rice
WR Andre Johnson
WR Larry Fitzgerald
Adrian Peterson
TE Rob Gronkowski
PK Mason Crosby (Packers)
D/ST San Diego Chargers
Questions From The Audience, Part I
broOUTbro: Should I trade Hakeem Nicks/Big Ben for Fred Jackson/Miles Austin -- since I already have Matthew Stafford and good WR depth?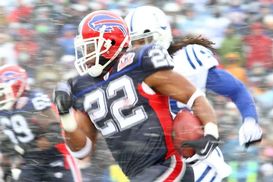 ICONF-Jax has opened up the 2011 season red hot.
Answer: Unless your squad has an easy walk to the fantasy playoffs, I don't see the rationale in prioritizing F-Jax (257 total yards, 2 TDs) and Austin (likely out until Week 6) over a top-5 receiver (Nicks) and top-10 quarterback (Roethlisberger). Am I missing something here? Do you have supreme confidence this buy-low swap for Austin (three TDs in Week 2) will be the Steal Of The Year come Week 16? It's an interesting proposition on both sides ... but I'd want Nicks and Big Ben for the time being.
yinzers85: Pierre Garcon is getting dropped like crazy and I badly need help at wide receiver. Who should I drop him for -- Eric Decker, Denarius Moore, David Nelson, Lee Evans, Danario Alexnder, Jerome Simpson, Nate Washington, Brandon LaFell?
Answer: In the wake of Simpson's package-based run-in with police officials, perhaps we should take him off the board in the interim, huh? After that, I'd prefer D-Moore (5 catches, 146 yards, 1 TD in Week 2), Washington (11 targets and 99 yards last week) and Nelson (14 catches, 149 yards, 1 TD) over the Peyton-deprived Garcon.
The_Blue_Team: Someone just dropped Brandon Lloyd for Eric Decker. I have no WR depth. Do I drop Marshawn Lynch, Ryan Grant, Darren Sproles, Jonathan Stewart to get Lloyd?
Answer: To me, this is only a scenario of dumping either Grant or Sproles; and with that, I'll pose a better question: When the rash of bye weeks hits next month, which back will have greater meaning to your fantasy life -- Sproles or Grant? If this was a PPR league, Sproles would be the no-brainer keeper choice. But for standard leagues, I'm inclined to retain Grant ... and hope that his time-share with James Starks includes goal-line touches. As for Lynch ... let's give him a home game first before signing the death certificate. Thanks!
DrewJunior2: should I trade Reggie Wayne for Steven Jackson in my PPR league? I have LeSean McCoy/Jahvid Best at RB and Calvin Johnson, Santonio Holmes, Santana Moss at receiver.
Answer: Let's assume Jackson returns for Week 3, and that he'll be a prominent part of the Rams' passing offense under O-coordinator Josh McDaniels. Even at 28, Jackson is a reliable threat for 1,650 total yards, 7 TDs and 51 catches ... but it's still not enough to unseat Wayne (11 catches, 172 yards, 1 TD; 19 targets), who remains a solid block of PPR gold even with Kerry Collins as his quarterback. At this point, 95-100 receptions remains a possibility for Wayne ... and that's enough to gain a slight edge over Jackson.
Running With The Moon
Here's my top-40 listing of running backs in standard-scoring leagues ... from this point forward:
1. Adrian Peterson, Vikings
2. Ray Rice, Ravens
3. LeSean McCoy, Eagles (my preseason love for Shady wasn't misguided)
4. Darren McFadden, Raiders
5. Chris Johnson, Titans (don't sleep on your only chance to buy-low on CJ this season)
6. Matt Forte, Bears (NFL-high 20 targets amongst rushers)
7. Michael Turner, Falcons
8. Peyton Hillis, Browns (the lone wolf in Cleveland's middling offense)
9. Rashard Mendenhall, Steelers
10. Ryan Mathews, Chargers
11. Maurice Jones-Drew, Jaguars
12. Jahvid Best, Lions
13. Arian Foster, Texans (low ranking has everything to do with Hammy-gate)
14. Tim Hightower, Redskins
15. Fred Jackson, Bills
16. Steven Jackson, Rams
17. Ahmad Bradshaw, Giants
18. Beanie Wells, Cardinals
19. BenJarvus Green-Ellis, Patriots (excellent nose for the end zone)
20. Mike Tolbert, Chargers
21. Frank Gore, 49ers
22. Cedric Benson, Bengals
23. Ben Tate, Texans
24. LeGarrette Blount, Buccaneers
25. Joseph Addai, Colts
26. Shonn Greene, Jets
27. James Starks, Packers
28. Felix Jones, Cowboys
29. Pierre Thomas, Saints
30. DeAngelo Williams, Panthers (still finding his niche with Mr. 400, Cam Newton)
31. Willis McGahee, Broncos
32. Knowshon Moreno, Broncos
33. Michael Bush, Raiders
34. Daniel Thomas, Dolphins
35. Mark Ingram, Saints
36. Jonathan Stewart, Panthers
37. Brandon Jacobs, Giants
38. C.J. Spiller, Bills
39. Darren Sproles, Saints
40. Roy Helu, Redskins
Questions From The Audience, Part II
fanfootballpro: Someone offered me Larry Fitzgerald/Shonn Greene for Michael Turner? Should I make this move? My wideouts are Percy Harvin, Lee Evans, Sidney Rice and my other tailbacks are Steven Jackson and Ben Tate.
Answer: If Ben Tate (251 total yards, 1 TD in 2011) should buckle under the pressure of leading the Texans' rushing attack, while Arian Foster deals with a dicey hamstring, then this trade could be a Debbie Downer by season's end. But I think that Fitzgerald and Greene can easily surpass Turner's production in 2011 ... with Greene being in the same ballpark as Turner (yardage-wise) and Fitzgerald returning to the realm of 95 catches/1,200 yards and double-digit TDs. This is probably a win-win for both sides, and yet, it's eminently doable for your top-heavy squad.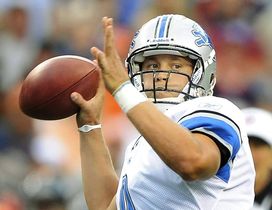 Stafford's stock is sky high right now.
mjnorton19: I have Tony Romo/Matthew Stafford as my QBs and feel like Stafford is wasting away on the bench. I'm willing to trade either; who would you deal?
Answer: Norton, you shouldn't have to apologize for drafting well in August; you also don't need to reward your fellow owners for their questionable selections at such a crucial spot. Romo (687 yards/4 TDs) and Stafford (599 yards/7 TDs) are both top-10 QBs and will likely retain their lofty statuses throughout the se ason. Yes, it's a bummer that only one can start each week ... but there's also no need to rush into a trade. Bottom line: Deal whichever one yields the bigger haul in return (3-for-1 deal?) ... but don't move mountains to broker an immediate swap. Simply post a message to every league owner, detailing how Romo and/or Stafford are available ... and then sit back and watch the offers eventually stream in. Unless you're in love with one specific team's roster, give everyone a chance to drive up the price, Scott Boras-style. (In the interim, Stafford should be starting over Romo and his fractured rib.)
MoharvII: I put Tom Brady up for sale and was offered Maurice Jones-Drew/Greg Jennings in return. Should I pull the trigger? I need RB/WR help, and Ryan Fitzpatrick is my backup QB.
Answer: Comparatively speaking, this Brady return is a pittance for what one owner may get for the game's most prolific QB (Big Ben, Matt Forte, Roddy White, Santana Moss). But that aside, you could do worse than MJD (204 total yards/1 TD) and Jennings (9 catches/144 yards/2 TDs) in 12- or 14-team leagues -- especially with Fitzpatrick coolly riding the bench. My advice: If you absolutely, positively need this deal to replenish your roster and strengthen the starters' base ... accept it and don't look back. However, given Brady's otherworldly pace in the first two weeks, you should expect one more significant piece to seal the deal. Namely a top-10 quarterback.
ScottBSheldon: Where do you have Fred Davis and Kellen Winslow ranked for the season? I'm thinking of picking Davis up and dropping Winslow on potential alone.
Answer: I currently have Winslow ranked ahead of the lean-and-mean Davis (11 catches, 191 yards, 1 TD); but at this point, it's a virtual coin flip between the two on a weekly basis. In a perfect world, I'd want both players to solidify a position that's absolutely crucial to title contention come November ... but if I could only choose one, I'd cautiously stick with Winslow (10 catches/110 yards), who'll remain the Bucs' No. 2 receiving option for the foreseeable future.
An award-winning fantasy writer with Sports Illustrated (2008-2010) before joining the National Football Post, Jay Clemons' Fantasy Philanthropist Blog can be found here every Monday and Thursday during the regular season. Clemons can be reached, day or night, via Twitter.