March 22, 2011 -
National Football Post
Brooks Reed: the next overdrafted workout warrior?
I want to start this piece by saying that I'm a Brooks Reed fan. You can check back to my summer scouting report on the guy where I not only gave him a draftable grade, but a potential starting caliber grade as well. And that was at the time where he was getting no love in media circles and just received the lowest possible draftable grade from the national reports. So I am a fan of Reed and think in the right situation the guy can be a capable pass rusher in the NFL.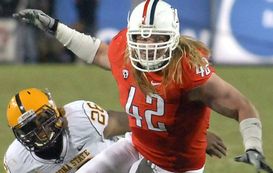 ICONYou can't ignore Reed's motor.
On tape it's obvious the guy possesses an explosive get off, can consistently threaten the edge and has a motor that runs nonstop. Plus, he has some quickness/strength with his hands, plays with a decent pad level and this season developed a nifty little spin to counter off that speed rush as well. He's the kind of guy who I can see both 34 and 43 teams being interested in and just letting him fly off the edge in pass rushing situations like his hair is on fire and making opposing offensive tackles' lives miserable for four quarters because of his willingness to play through the whistle.
And I think if you're a team in need of an explosive pass rusher who can come in and give you quality reps early in his NFL career and potentially develop into a starter — more likely as a 34 OLB — then Reed is a guy I would target in that mid-round range (rounds 3 and 4).
However, after blowing up the recent NFL Combine with one of the fastest 40 times, ten-yard splits and bench press numbers, Reed is now getting some potential buzz as a first- round pick and is drawing comparisons to Packers OLB Clay Matthews.
And my response...just go back and look at the tape.
The biggest reason why I don't consider Reed an upper echelon prospect and pass rusher is because of his lack of fluidity and change of direction skills off the edge. On tape when he does reach the corner he lacks the ability to drop his pad level and really flatten out on the corner, consistently allowing his pad level to remain high, and opposing blockers can easily push him past the QB. Thus, he makes a lot of his plays on the edge due to second effort.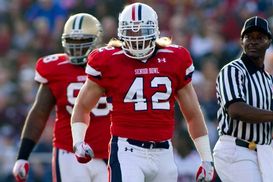 ICONThe post-season has been good to Reed.
Plus, on tape he never really changes directions as pass rusher. Reed is a linear guy who can be effective with his first step off the snap or when shooting the C-gap inside of the opposing tackle and will work a spin move off his rush. However, overall on tape I don't see any resemblance of the ability to work a sudden up and under or inside out move in order to get his blocker off balance and then accelerate.
Now, does that mean he can't be successful in the NFL? No. It just means he's a bit limited with his potential pass rush arsenal. And much like pitchers in baseball trying to keep batters off balance, pass rushers in the NFL have to be able to do the same thing. However, if a pitcher only has a fastball then the batter eventually will figure out it's coming, much like a pass rusher with a linear speed rush where the opposing tackles are going to get comfortable blocking them off the edge because there isn't much of a counter.
Again, I still think there is a place in the league for Reed and in the right situation I could definitely see him in a year to two developing into a reliable NFL pass rusher with starting capabilities.
However, if you're looking for a dynamic pass rusher off the edge who can get to the quarterback in a variety of ways and win his individual matchups on a consistent basis and who warrants a first-round pick, then Reed does not fit that bill.