October 14, 2011 -
National Football Post
Cal WR Marvin Jones keeps on rising
After another solid 6-catch, 89-yard performance last evening, Cal receiver Marvin Jones just keeps on plugging away without much fanfare or praise. He's not even the most productive wide out on his own team up until this point, but possesses the overall skill set to mature into a better quality NFL wide out than college player in my view.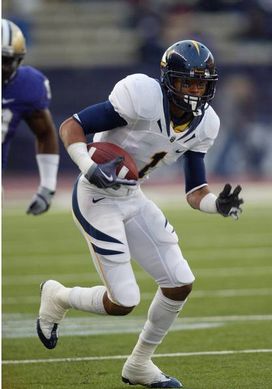 ICONJones continues to get better.
What stands out most about Jones' game is that despite his size (6-2, 202-pounds) he exhibits the burst and short area quickness of a receiver much smaller. Jones does a really nice job using his short area quickness to cleanly change directions in tight areas, maintains balance well and has a natural burst to his game out of his breaks. He's not a burner, as he plays like a legit 4.5 guy. However, he reaches top end speed quickly and I really like his fluidity, balance and ability to separate initially as a route runner.
Now is he dynamic enough to ever mature into a legit number one receiving option on a NFL team? No. He's not that type of prospect. But as a mid/late round guy this is the type of receiver who can earn a spot on a roster, play early in the slot and be a sharp, dependable route runner that will consistently move the chains.
His short area quickness shows up on the outside as well, as he displays the ability to use his shimmy to slip press, get up to speed and win vertically in jump ball situations. Therefore, as he gets a bit stronger and fills out physically, I do think he has the talent to play some on the outside as well.
Again, he's not a guy who at any point is going to get a ton of press throughout the draft process. However, he's one of my favorite receivers in the class and has the makings of maturing into very solid NFL wide out.