October 27, 2011 -
Jay Clemons
Calm before the storm
A Pre-Trade Deadline Checklist
Here are seven simple steps for fantasy GMs to follow for the weeks leading up to the trade deadline (traditionally Week 11 or 12):
1. Perform an honest assessment of your roster. Consider this a must-do ritual from this point forward -- at least twice a week. Do not get fooled into believing marginal players will magically turn on the jets; and if you've had a hole at QB, RB, WR, TE or the RB/WR flex the first seven weeks ... you'll likely be exposed in Weeks 8-16, as well.
1a. Perform an honest assessment of your fellow owners' rosters. Keep in mind that not every owner obsesses about improving his/her starting lineup; and not every GM has the capacity to pull off a creative trade. That's where you come in: Do their homework and concoct a win-win deal for both parties.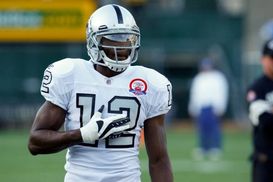 ICONGet aggressive if a player like DHB lands on the waiver wire.
2. Take advantage of a GM's bye-week desperation. With byes to the Falcons, Packers, Bears, Raiders, Buccaneers and Jets, be on the lookout for an owner stealthily placing talents like Julio Jones, Darrius Heyward-Bey, Michael Bush, Josh Freeman, Mike Williams, Dustin Keller, or James Jones on waivers for just one week ... to fill a short-term hole at kicker, defense, quarterback or wide receiver. And if your lineup is set for Sunday, feel free to grab the productive names above, as a means of stashing 'em for the stretch run. Tell me you wouldn't love Julio Jones (17 catches/254 yards/24 targets for Weeks 3/4) as a WR4 ... with the intention of starting him during the fantasy-playoff period of Weeks 14 (@ Carolina), 15 (vs. Jacksonville) and 16 (@ New Orleans)?
3. Never let an owner with a losing record control the tone of trade negotiations, especially when dealing with superstars. Before the downtrodden, perhaps desperate GM submits a blockbuster offer, let them know which star player(s) absolutely must be included in their proposal. Rule of thumb: A club that's destined for a lonely Week 14 should never hold the hammer when haggling ... and don't be afraid to use your hammer when things get sticky.
4. Be the aggressor when offering trades. There's nothing worse than NOT having control of an intense negotiation. Don't let the other owner gain the upper hand by throwing out names, in hopes that you'll bite out of desperation (or boredom).
5. Make full use of technology during trade season. There's obviously nothing wrong with exchanging offers, via email. But in this age of texting, iPhones, IMs and Twitter -- where immediacy reigns -- it's likely more productive to initiate real-time, back-and-forth dialogue when invoking serious talks. Plus, it allows for owners to be upfront with their intentions, asking specific questions like: What will it take to get Greg Jennings? OR Do you prefer to have Ryan Fitzpatrick or Matt Ryan during the fantasy playoffs? OR ... Of your three main flex options -- BenJarvus Green-Ellis, Santonio Holmes, Steve Johnson ... which one is untouchable? And with these complex questions come immediate answers, with very little time wasted on roundabout trade offers that don't cut to the core of what Owner A wants ... or Owner B needs. At the very least, this form of communication sets the table for future discussions ... enabling owners to put a face (or voice) on a previously faceless (or voiceless) owner in their league.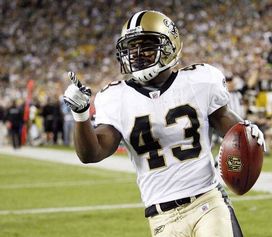 Darren Sproles could make for a valuable piece of trade bait.
6. Don't be afraid to sacrifice your bench. The lesson here is quite simple: Amazing bench depth will serve you no purpose during the playoffs. So, if you have three high-end running backs (Rashard Mendenhall, Darren Sproles, Steven Jackson) and the DeMarco Murray/Felix Jones handcuff, Weeks 8-9-10 represents the optimum time to package that enviable depth into a blockbuster deal that addresses other key starting slots. Sure, you'll be sweating bullets if a stud runner goes down to injury ... but hey, there's a risk-reward aspect to every challenge in fantasyland -- just don't look back!
7. Don't hesitate to ask the real burning questions. If the playoffs started today, could my squad hold up and flourish for three straight weeks? Can my starters realistically catch fire at the right time and win a championship? If the answer's 'No' ... then it's time to get to work!
Week 8: QB Locks For 275 Yards and/or 3 TDs
1. Drew Brees @ St. Louis
2. Cam Newton vs. Minnesota
3. Eli Manning vs. Miami
4. Tom Brady @ Pittsburgh
5. Ben Roethlisberger vs. New England
6. Michael Vick vs. Dallas
7. Philip Rivers @ Kansas City
RB Locks For 120 Total Yards and/or 2 TDs
1. Ray Rice vs. Arizona
2. Arian Foster vs. Jacksonville
3. Ahmad Bradshaw vs. Miami
4. Fred Jackson vs. Washington (Toronto)
5. Frank Gore vs. Cleveland
6. Jonathan Stewart vs. Minnesota
7. LeSean McCoy vs. Dallas
8. DeMarco Murray @ Philadelphia
9. Knowshon Moreno vs. Detroit
10. Chris Johnson vs. Indianapolis
11. Ryan Mathews @ Kansas City
It's A Little Known Fact ...
... That in five regular-season games against the Steelers, Tom Brady has averaged 337.5 yards and 2.4 TD passes. Using the same sample size, Ben Roethlisberger boasts per-game averages of 233 yards and two TD passes against the Patriots.
Passing Fancy
Here's a revised listing of my always-fluid rankings for starting QBs, 1 through 32:
1. Aaron Rodgers, Packers (still the gold standard of fantasy signal-callers)
2. Tom Brady, Patriots
3. Drew Brees, Saints (should feast on another Suck For Luck squad this week)
4. Michael Vick, Eagles (the last iconic face for our QB Mount Rushmore)
5. Tony Romo, Cowboys
6. Cam Newton, Panthers (a virtual lock for 275 yards and/or 3 TDs every week -- monsoons aside)
7. Eli Manning, Giants
8. Matthew Stafford, Lions
9. Ben Roethlisberger, Steelers (789 yards passing/9 TDs in his last three games)
10. Matt Schaub, Texans
11. Philip Rivers, Chargers
12. Ryan Fitzpatrick, Bills
13. Matt Ryan, Falcons
14. Mark Sanchez, Jets
15. Jay Cutler, Bears
16. Josh Freeman, Buccaneers (should see a spike in passing numbers while the Bucs search for a tailback)
17. Joe Flacco, Ravens
18. Matt Cassel, Chiefs (Steve Breaston and Jon athan Baldwin need to step it up)
19. Sam Bradford, Rams (a potential fantasy gem for the stretch run ... if he can get on the field)
20. Kevin Kolb, Cardinals
21. Tim Tebow, Broncos
22. Andy Dalton, Bengals
23. Matt Hasselbeck, Titans (has lost a sizable chunk of fantasy goodwill in recent weeks)
24. Colt McCoy, Browns
25. Alex Smith, 49ers
26. Tarvaris Jackson, Seahawks
27. Carson Palmer, Raiders (strange but true: Darrius Heyward-Bey holds the key to CP's fantasy livelihood)
28. Christian Ponder, Vikings
29. Curtis Painter, Colts
30. Matt Moore, Dolphins
31. John Beck, Redskins
32. Blaine Gabbert, Jaguars (a cannon-armed rookie can only do so much when throwing to Jason Hill)
Week 8 Pre-Revelation
Sunday's Bengals-Seahawks clash might be the perfect litmus test for Andy Dalton. For 14- or 16-team leagues where franchise quarterbacks are at a premium, Dalton (1,311 yards passing, 7 TDs) represents a rock-solid play during the fantasy-playoff period of Weeks 15 (@ St. Louis) and 16 (vs. Arizona). Throwing out his marginal NFL debut in Week 1, Dalton is averaging 15.3 fantasy points per game -- a respectable number that can easily be duplicated against the Rams and Cardinals, if A.J. Green (29 catches/453 yards/4 TDs), Jerome Simpson (22 catches/353 yards), TE Jermaine Gresham and RB Cedric Benson are running at full capacity in December. So, why is this weekend's cross-country trip so vital for Dalton's future? Well, Seattle's pass defense has surrendered 250 yards per game (13th worst in the NFL) ... and 263 at Qwest Field. If Dalton can hit that ballpark range -- while accounting for two TDs -- it'll serve as more evidence that he deserves a Week 15 start over Mark Sanchez, Josh Freeman, Joe Flacco, Kevin Kolb or Matt Cassel.
WR Locks For 110 Yards and/or 1 TD
1. Dwayne Bowe vs. San Diego
2. Steve Smith vs. Minnesota
3. DeSean Jackson vs. Dallas
4. Wes Welker @ Pittsburgh
5. Larry Fitzgerald @ Baltimore
6. Mike Wallace vs. New England
7. A.J. Green @ Seattle
8. Anquan Boldin vs. Arizona
9. Marques Colston @ St. Louis
10. Malcom Floyd @ Kansas City (sleeper pick)
Kicker Locks For 3-Plus Field Goals
1. Neil Rackers vs. Jacksonville
2. Billy Cundiff vs. Arizona
3. Rian Lindell vs. Washington (Toronto)
4. David Akers vs. Cleveland
5. Josh Scobee @ Houston
6. Lawrence Tynes vs. Miami
You Gotta Be Cruel To Be Kind
As much as I enjoy answering round-the-clock texts, emails and Tweets (@ATL_JayClemons) from the fantasy masses ... here are three questions that will gleefully go unanswered: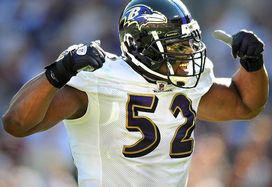 Ray Lewis anchors a Baltimore defense that has been outstanding for fantasy owners this season.
1. "Which do you like -- Defense A or Defense B?" -- Unless we're talking about the Ravens, Jets, Bears, 49ers, Packers, Lions or Patriots ... every D/ST is a dime-a-dozen entity from week-to-week. Sure, kick-returning dynamos tend to inflate a middling defense's value ... but everything is relative over the course of 17 weeks -- so why even try to speak intelligently about crapshoots? Personally, I like to grab a free-agent team that has the good fortune of facing the Rams, Colts, Dolphins, Seahawks or Browns on a given Sunday. Short of trading for the Magnificent Seven above, it's the only bankable strategy for D/ST viability.
2. "Which kicker do you like during the byes?" -- While every point certainly counts in fantasyland, it's quite unnecessary to speculate on kickers from week to week; if you're really jonesing for a Sunday steal in free agency ... simply go to your league page and click on "Players" then "Kickers." Once there, you'll see a listing of talents -- either ranked by seasonal points or projected points for that particular week. Either way, you're golden with pretty much anyone topping these lists. One last thing: If you can spare the Week 8 bench space, I highly recommend grabbing Oakland's Sebastian Janikowski (on bye) -- easily the most bankable asset among his positional peers.
3. "What do you think of this trade -- Defense A for Defense B?" -- For starters, I wouldn't want to be in a league where owners execute 1-for-1 swaps involving defenses. Seriously, what are you trying to accomplish here? Are you really trying to outfox a fellow owner ... on the hope/prayer that Minnesota might convert a Cam Newton sack/fumble into a touchdown this weekend? Really?
Target Practice
These 30 wideouts have collected at least 30 receiving targets (at least 6 per game) since Week 3:
1. Wes Welker, Patriots -- 52 Targets
2. Roddy White, Falcons -- 52 Targets
3. Calvin Johnson, Lions -- 50 Targets
4. Mike Williams, Buccaneers -- 49 Targets
5. Pierre Garcon, Colts -- 43
6. Darrius Heyward-Bey, Raiders -- 42
7. Greg Jennings, Packers -- 42
8. Steve Smith, Panthers -- 40
9. Reggie Wayne, Colts -- 38
10. Anquan Boldin, Ravens -- 37
11. Larry Fitzgerald, Cardinals -- 37
12. Brandon Marshall, Dolphins -- 37
13. Dwayne Bowe, Chiefs -- 36
14. Michael Crabtree, 49ers -- 35
15. Plaxico Burress, Jets -- 34
16. Brandon Lloyd, Rams -- 34
17. Antonio Brown, Steelers -- 33
18. Early Doucet, Cardinals -- 33
19. Jason Hill, Jaguars -- 33
20. Jeremy Maclin, Eagles -- 33
21. Hakeem Nicks, Giants -- 33
22. Mike Thomas, Jaguars -- 33
23. Danario Alexander, Rams -- 32
24. Michael Jenkins, Vikings -- 32
25. Greg Little, Browns -- 32
26. Steve Johnson, Bills -- 31
27. Mike Wallace, Steelers -- 31
28. Eric Decker, Broncos -- 30
29. A.J. Green, Bengals -- 30
30. Devin Hester, Bears -- 30
Pennies On The Dollar
Here are 10 preseason stars who can be had, via trade, for less than 60 percent of their August values:
1. RB Chris Johnson, Titans (too much talent to ignore down the stretch; the easy schedule helps, too)
2. WR Percy Harvin, Vikings (a true safety blanket for Christian Ponder)
3. RB Peyton Hillis, Browns (no major injuries here ... and Colt McCoy needs his 2010 production)
4. WR Mike Williams, Buccaneers (Tampa Bay will have no choice but to air it out in the coming weeks)
5. TE Antonio Gates, Chargers (there's still time to pry Gates from skeptical owners)
6. WR Mario Manningham, Giants (eventually ... he'll break out of his 5-catch, 56-yard, zero-TD shell)
7. QB Philip Rivers, Chargers (gotta love San Diego's sked from Weeks 14-16: Buffalo, Baltimore, Detroit)
8. RB Shonn Greene, Jets (it's not like LaDainian Tomlinson will bump Greene anytime soon)
9. WR Roddy White, Falcons (a targets machine ... despite missing the 100-yard mark in 14 of his last 15 games)
10. RB Rashard Mendenhall, Steelers (pass-happy Pittsburgh will get conservative during the winter months)
Inside The Numbers
In odd-numbered games this season, Ravens QB Joe Flacco is averaging 306 yards passing, 2 TDs and 0.33 INTs; in even-numbered outings, Flacco's averaging 166 yards passing, 0.66 TDs and 1.33 interceptions. This week's clash with Arizona is Baltimore's SEVENTH game of the year ... so, start him with confidence!
The Relentless Pursuit Of Perfection
Here's my idea of a perfect fantasy lineup for Week 8:
QB Drew Brees
RB Arian Foster
RB LeSean McCoy
WR Mike Wallace
WR Dwayne Bowe
RB/WR Frank Gore
TE Jimmy Graham
PK Billy Cundiff (Ravens)
D/ST Houston Texans
YouTube Memory Lane
I cannot end today's Philanthropist without spreading some YouTube cheer, courtesy of a few epic NFL clips from the 1970s and 80s:
1. 1976 -- Monday Night Football's Alex Karras croons the Jets' theme song, penned by first-year coach Lou Holtz.
2. 1979 -- Steelers linebacker Jack Lambert unleashes a nasty helmet-to-helmet shot on Broncos receiver Haven Moses.
3. 1979 -- The Raiders stage one of the greatest comebacks in franchise history ... against the Saints on Monday Night Football.
4. 1983 -- Redskins rookie (and future Hall of Famer) Darrell Green sprints past five teammates to halt Tony Dorsett's potential breakaway TD. If memory serves, Dallas rallied from a 23-3 deficit to win 31-30 at old RFK Stadium.
5. 1985 -- The famed 'Snow Bowl' at Lambeau Field, as the Packers stifled Steve Young and the Bucs amid blizzard conditions. One fan's sign reading, We Must Be Nuts says it all here.
An award-winning fantasy writer with Sports Illustrated (2008-2010) before joining the National Football Post, Jay Clemons' Fantasy Philanthropist Blog can be found here every Monday and Thursday during the regular season. Clemons can be reached, day or night, via Twitter.