October 06, 2011 -
Barry Dorey
Cal/Oregon: Top prospects worth watching tonight
A breakdown of the top five senior prospects worth evaluating tonight…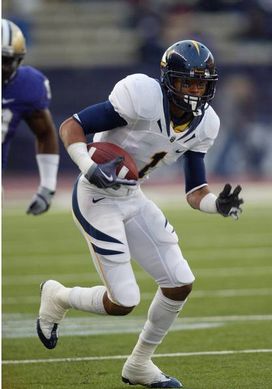 ICONJones is one of the more underrated receivers in the draft.
1. DE Trevor Guyton: Cal (6-3, 289)
A guy who can fill a number of roles on a defense, but he's a naturally powerful kid who can anchor and overwhelm vs. the run game. Needs to improve hands and awareness, but the upside is there for him to move up boards in a big way with a strong senior year.
2. OT Mitchell Schwartz: Cal (6-5, 325)
Displays solid athletic ability, but looks better suited to play on the right side in the NFL vs. less speed. A nice mid/later round developmental type draft pick who could eventually fight for playing time.
3. WR Marvin Jones: Cal (6-2, 200)
Possesses good size, good body control and hand eye coordination, and for his size and a pretty fluid athlete as well. Isn't a dynamic athlete, but should be able to find a way to make and earn playing time on an NFL roster.
4. TE David Paulson: Oregon (6-3, 242)
A natural pass catcher who can make plays down the field, but isn't a real gifted straight-line athlete. Is tight hipped as a route runner, can't win consistently as a blocker and looks nothing more than a late round/FA option who will be limited in what he can offer an offense.
5. ILB Mychal Kendricks: Cal (5-11, 242)
A thick, tough high motor player who doesn't stay blocked for long when rushing the passer. However, he's not a natural pass rusher and I can't see him holding up routinely on the outside in either a 3-4 or 4-3 front. Might be limited to more of an inside guy from a physical standpoint, but is a special teams/reserve only to me.