June 07, 2012 -
National Football Post
Can Cal WR Keenan Allen go in the top ten?
WR Keenan Allen: California (6-3, 206)
What I like…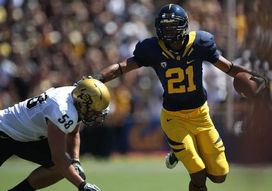 ICONAllen can create in the open field.
- Is a tall, long-armed receiver with a naturally big frame that he can continue to grow into.
- Moves like a much smaller receiver though, showcases good balance and sudden footwork out of his breaks.
- Looks natural dropping his pad level and staying in balance on sharply breaking routes.
- Exhibits the ability to generate a burst initially off the line and out of his breaks creating separating for himself as a route runner.
- Knows how to use his big frame once he gains a step to box out corners and go get the football.
- He uses his frame well to shield defenders and absorb contact when asked to hang onto the football.
- Exhibits a savvy working the three-step game. Can set up routes, plays quick in tight areas and will box out on the throw.
- Possesses a unique combination of size, power and short area quickness off the line vs. press coverage. Uses his length well to fend off corners and has the quicks to gain a step and accelerate.
- Can be very physical after the catch when he wants to break a tackle.
- Looks sudden for a receiver of his size with the football in his hands, can slip a tackle and get up the field.
- Is a more mature route runner than you would expect for his size/age. Isn't limited to just running vertical routes in the NFL, can drop pad level and separate running the entire route tree.
- Possesses the coordination/body control to adjust to the football and snatch off his frame.
- Showcases a wiliness to play in the slot and work the middle of the field.
- Will extend his long arms and pluck off his frame down the seam in traffic.
- Possesses the size to win as a blocker in the NFL.

What I didn't like…
- Lacks elite top end speed. Possesses a good first step, but maxes out quickly and looks like a 4.5 guy.
- Concentration will plague him when asked to pluck the football. Too often he wants to run before he secures the grab.
- Gets content to trap balls against his frame. Gives defenders more of an angle to get their hands on the throw in the three-step game.
- Needs to play like a bigger receiver with the football in his hands and get north/south quicker, too often takes negative runs dancing with the football.
- Will get a bit sloppy with his footwork at times running sharply breaking routes underneath and simply just drift into his routes, which limits his separation.
Overall…
Cal wide out Keenan Allen isn't just a big body who can box out corners and win down the seam on vertical routes. He's also a guy who showcases an explosive first step for his size and natural balance and coordination as a route runner. He looks to have the skill set to run the entire route tree at the next level and should mature into a bonafide "X" receiver.
He needs to improve his concentration and do a better job catching the football consistently. However, physically the guy has the entire skill set to win off the line, separate on just about any route and create with the ball in his hands.