May 12, 2012 -
National Football Post
Can Georgia QB Aaron Murray challenge Matt Barkley?
The Breakdown…

QB Aaron Murray: Georgia (6-1, 212)

What I like…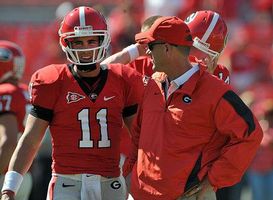 Murray has developed quickly at Georgia.
- Displays a natural feel for the game, is able to work from under center, quickly decipher information and get the ball out on time.
- Is a smooth athlete with clean footwork in his drop, which allows him to stay in balance when delivering the throw in the three and five step game.
- Generates good torque from his lower half into throws.
- Can decipher information in his drop and let go of the ball quickly and accurately in the short/intermediate pass game.
- Gets his feet around quickly and aligns his body well with the target when he locates a secondary read.
- Displays good touch down the field and knows how to drop a pass into the outstretched arms of the receiver. Is comfortable throwing receivers open down the field.
- Keeps his throwing motion the same in all areas of the game.
- Is a good athlete who can buy time in the pocket with his legs, keeps his eye level down the field and is consistent staying in balance when asked to step up and deliver.
- Showcases a quick release, gets the ball out of his hands in an instant and is always set to throw with a strong base under him.
- Holds the ball high in his drop, doesn't have much of a wind up and the ball comes out around his ear.
- Possesses a natural feel for the offense, works his way through progressions well, can locate secondary targets across the field and stays in rhythm with his lower half when doing so.
- Displays "plus" accuracy when his feet are set both in the short and intermediate pass game.
- Understands how to manipulate a defenses with his eyes, looks off defenders one way in order to open up space on the opposite side.
- Spins a clean football and showcases enough arm strength needed to threaten defenses outside the numbers in the NFL.
- Anticipates routes well in the intermediate pass game. Can deliver the deep out and skinny post on a dime when he stays in rhythm.
- Works the play action game well, hides the football, snaps his head around quickly and looks natural coordinating his frame and being decisive with the football on the move.
- A seasoned signal caller who started all 13 games as a freshman, has handled the adversity well of playing early in the SEC and has continued to improve each year.
- Can create something out of nothing, has a Houdini element to his game by pulling plays out of his hat with pressure around him.
- He's a tough kid who isn't afraid of contact and will hang in the pocket and deliver the throw.

What I didn't like…

- Isn't the most physically impressive of quarterback prospects. Lacks ideal size (6-1) and will have some trouble seeing over the line of scrimmage.
- Tends to rush throws at times when he finds a throwing lane, gets upright on his toes, doesn't transfer his weight and his accuracy struggles because of it.
- Doesn't have an elite arm, spins a clean football, but doesn't have the physical skill set needed to be late with a throw.
- Deeper bucket throws will hang on him down the field.
- Needs to do a better job feeling pressure from the backside in the pocket.
- Consistently keeps eye level down the field, but needs to improve awareness around him.
- Will take some unnecessary punishment on the move, would like to see him do a better job protecting himself.
- When pressure starts to bare down on him will at times try to run away from it instead of stepping up cleanly in the pocket.

The Breakdown…

When watching Georgia signal caller Aaron Murray, I don't see much of a difference between his game and the one of USC's Matt Barkley. Both lack ideal physical skill sets, but both make up for it with their abilities to decipher information quickly, be accurate with the football and move the chains consistently in the short/intermediate pass game.

However, the one area I would give Murray the advantage is in his ability to move around in the pocket, quickly re-set his feet and create on the move. They both throw well on the move in the play action game. But Murray's ability to create with his legs and his overall foot quickness in the pocket when aligning himself up with secondary targets allows him to not only be more accurate consistently than Barkley, but create more second lives as well. Which in my mind, long term, makes Murray the better overall prospect than Matt Barkley.