June 11, 2014 -
Greg Gabriel
Can Manning & the Giants rebound from a horrible 2013?
2013 was an uncharacteristic season for a Tom Coughlin-coached football team, as the New York Giants finished with a 7-9 record. Legitimate franchise quarterback Eli Manning had his worst season as a pro, completing only 57 percent of his passes while throwing an astounding 27 interceptions with just 18 touchdowns.
There were many "experts" who thought the 2013 season was going to be the end of the line for Coughlin, but he instead was given a one-year extension. Having known and worked with Tom for a number of years, I know the competitor that he is and he was not about to retire after a season like 2013.
The Coaching Staff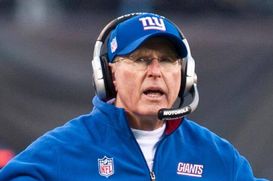 Coughlin made several changes following last year's 7-9 campaign.
Coughlin made significant changes on his offensive coaching staff. Let go were long time offensive coordinator Kevin Gilbride, the dean of tight end coaches Mike Pope and running backs coach Gerald Ingram. Ingram worked with Coughlin for over 20 years and so this had to be a difficult decision to make.
Brought in were Ben McAdoo as offensive coordinator, Danny Langsdorf as quarterback coach and Craig Johnson as running backs coach. McAdoo spent the last eight years in Green Bay, six as the tight end coach and the last two as quarterback coach under Mike McCarthy. Green Bay annually has one of the top offenses in the NFL and McAdoo knows the system well.
Langsdorf spend the last 11 seasons at Oregon State, including nine as offensive coordinator. He worked with McAdoo in New Orleans prior to joining Oregon State. Johnson is a long time NFL assistant at both Tennessee and Minnesota. Former quarterback coach Sean Ryan was moved to wide receivers and receivers coach Kevin Gilbride Jr. was moved to tight ends. Gilbride is the son of the former offensive coordinator.
Quarterbacks and Running Backs
As mentioned above, Manning is coming off his worst season as an NFL quarterback. He is also coming off recent ankle surgery, but should be a full go by training camp. With two Super Bowl Championships under his belt, Manning is a proven NFL commodity and the hope is that 2013 was an aberration. He should flourish in McAdoo's system.
Backing up Manning will be second-year man Ryan Nassib, who many felt the Giants stole in the fourth round last year. The third quarterback will be journeyman Curtis Painter.
The Giants have not had a true bell cow at running back for years and that will be the case again this season. The hope is that former first round pick David Wilson will come on in his third NFL campaign. Just in case that doesn't happen, the Giants signed former Oakland Raider Rashad Jennings, who ran for over 700 yards a year ago. New York also drafted Heisman finalist Andre Williams from Boston College, who ran for over 2,100 yards and 18 touchdowns last season. While Williams has proven run skills, he has yet to develop as a receiver.
Wide Receivers and Tight Ends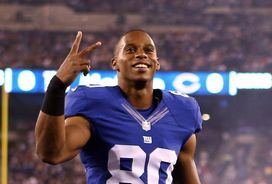 Leading receiver Victor Cruz is back, but Hakeem Nicks is now in Indy.
The Giants decided not to bring back Hakeem Nicks, one of their top receivers the last few years. They still have last year's leading receiver in Victor Cruz, who had 73 receptions and four touchdowns. Also back is third-year man Rueben Randle, who came on in his second year with 41 catches and six touchdowns. The man who will make up for Nicks' lost production is first round pick Odell Beckham from LSU. Beckham has the traits to be an outstanding NFL receiver as well as a top return man. If Manning comes back strong, Beckham could put up some big numbers.
The Giants used to be known for their tight ends, but in the last couple of years they haven't had a top one at the position. The projected starter is third-year man Adrien Robinson, who has yet to catch his first NFL pass. Behind him is blocking tight end Bear Pascoe. An interesting signing was veteran Kellen Davis. Davis has the size, speed and athletic traits to be a good NFL tight end. He has just never has been able to play with consistency.
Offensive Line
As a whole, this group did not play well in 2013 and as a result, some changes were made. The center will be either former Denver Bronco J.D. Walton or rookie Weston Richburg. Richburg is big, smart and athletic and has some nasty in his play.
Veteran Chris Snee will at right guard and the Giants signed veteran Geoff Schwartz to man the left guard position. Backing them up will be former Dolphin John Jerry.
Right tackle is in the capable hands of last year's top draft choice Justin Pugh. Pugh played very well as a rookie. The left tackle spot will consist of either veteran Will Beatty, who has had some injury concerns, or free agent Charles Brown. Brown was the Saints' second-round pick in 2010 but never lived up to expectations. The Giants are hoping that a change of scenery will help him.
On paper, the line has improved, but if the Giants are going to be successful on offense in 2014, this group has to come on strong.
Defensive Line
While the defensive line has been a constant in New York, their play slipped in 2013 and like other positions, changes were made.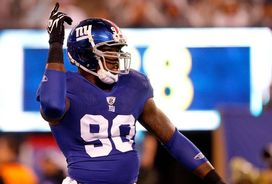 With Tuck in Oakland, JPP is now the veteran leader of the defensive line.
The two tackles will be last year's second-round pick Johnathan Hankins and former Packer and Eagle Cullen Jenkins. The main backups will be former Eagle Mike Patterson and third-round pick Jay Bromley form Syracuse. Don't be surprised to see Bromley work his way into significant playing time by mid-season.
At the end position, long time Giant Justin Tuck is gone. Former All-Pro Jason Pierre-Paul was bothered by injuries last year, but he is healthy again and should regain his old form. The left end will be either free agent signee Robert Ayers, a former first-round pick of the Broncos, or Mathias Kiwanuka, who plays well in spurts. Like the offensive line, this group has to come on strong for the Giants to be successful.
Linebackers
New York has a solid but unspectacular group manning this position. They are led by former Carolina Panther Jon Beason in the middle. Beason came to the Giants for the second half of the 2013 season and performed well.
On the outside are free agent signee Jameel McClain from the Baltimore Ravens and either Spencer Paysinger or Jacquian Williams. While McClain was a productive starter for the Ravens, this is his first year playing in a 4-3 scheme. Also in the mix is four-year veteran Mark Herzlich. Herzlich has played well in spurts.
Secondary
The only holdover at corner is former first-round pick Prince Amukamara. Amukamara has talent, but has not been totally consistent as an NFL player. The next three corners are all free agent signees. The player starting across form Amukamara will be Dominique Rodgers-Cromartie. While Rodgers-Cromatrie played well in Denver in 2013, he has experience in the NFC East having played for the Eagles in 2011 and 2012. DRC has excellent cover skills, but isn't the most physical player.
The nickel corner will probably be Walter Thurmond, who played in Seattle the last four seasons. Thurmond is another talented cover guy. The fourth corner and top reserve will be Zack Bowman, who has starter experience and is a valuable special team's performer.
The safety position is thin to say the least. After starters Antrel Rolle and Quinton Demps there isn't a proven NFL performer. Don't be surprised to see the Giants sign a veteran between now and training camp.
Conclusion
On paper, the Giants are an improved team, but there are still question marks. At this time, I don't see them challenging for the NFC East title, but they could very well compete for a wild card spot in the playoffs. Like every NFL team, if the Giants get off to a fast start and stay injury free, they will have a chance. The key will be Manning bouncing back to pre-2013 form, with both the offensive and defensive lines picking up their play.
Follow Greg on Twitter: @greggabe