October 28, 2010 -
National Football Post
Can Ponder get on track tonight?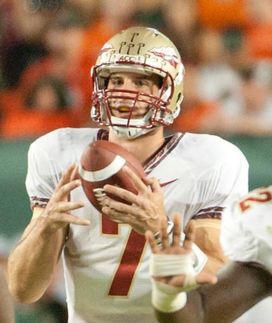 ICONPonder has had a tough time dealing with some bumps and bruises so far this year.
Why I really liked him
One of the most disappointing prospects of the season up until this point in my mind has been Florida State quarterback Christian Ponder. Coming into the year I thought Ponder was the best senior quarterback in the country. He's a smart, heady kid who had experience playing in a pro-style offense, did a nice job anticipating throws in the pass game, making decisions in the pocket and being on time with the football. However, what I loved most was his overall poise, as he's a good enough athlete to buy time for himself, keep his eyes down the field and create when plays break down. And despite his average arm, he did a good job quickly going through his progressions, was accurate with the football and showcased the type of mechanics to maintain his balance when re-setting his feet and always keeping the ball cocked and ready to throw. He also exhibited good touch down the field and when he had to really transfer his weight from his back foot to his front foot and make a tough NFL throw outside the numbers, he spinned a clean enough football to do so.
The struggles
Therefore, with all this high praise of Ponder based off his junior tape, why all the struggles as a senior? Like I said, he's a smart, hard-working kid who takes the game serious and it wasn't like he was off partying all summer and loafing around reveling in his high National grade.
Through seven games this season, Ponder has thrown for over 200 yards once — against Wake Forest — has completed only 60.4 percent of his passes, down from 68.8 percent last season, and tossed only 12 touchdown passes compared to seven interceptions. So what has gone wrong?
My take on the problem
Well, I have a couple theories at this stage, but each ultimately leads to the same conclusion for his struggles.
The first theory is that his shoulder he separated late last season vs. Clemson is simply not healed up all the way. He received a grade three separation and his shoulder is simply not back where it needs to be at this stage in order for him to be 100 percent effective.
The second theory is that even if his shoulder is healed up, he's still taken a number of shots this season, causing a bruised triceps injury vs. Oklahoma and a bursa sack injury on his elbow vs. Boston College, both of which would have caused a lot of irritation to him when asked to throw.
So, if you consider all the bangs and bruises he has suffered over the past two seasons to his throwing arm, it should come as no surprise that his arm strength looks zapped a bit compared to last season. And we have seen a direct result of his lacking arm strength this season as his vertical passes and bucket throws really seem to hang on him down the field and he's since been forced to throw more often in the short/intermediate pass game, which ultimately is allowing opposing defensive backs to not respect his long ball and jump more routes consistently underneath.
Another direct result of all the injuries in recent games is the fact that he really looks skittish in the pocket. Even when Ponder's arm is at 100 percent, he still doesn't have the type of zip to be late with a throw and fit the football into consistent tight windows. Therefore, he needs to rely on his ability to anticipate routes, keep his eyes down the field at all times, decipher defenses and information quickly and mentally be on top of his game in order to get the ball out on time. However, this year he consistently drops his eye level down even with the faintest amount of pressure, tries to buy time and create with his legs too quickly and/or will force the football into his initial read in order to get the ball out of his hands.
At times he looks like a guy who simply doesn't want to sustain another big hit, but at the same time he also knows he doesn't quite have the arm strength to make all the necessary throws even if he will stand in the pocket and try to scan the field. So instead he's been forced to scramble around and take off prematurely.
So can he bounce back?
The reason I liked Ponder so much coming into the year was because I believed he had that "it" factor. He was a smart, hard-working guy who bounced back in a big way as a junior and really made something out of himself. So he's not a prospect I would want to bet against, especially if it's something as simple as further rehabbing his shoulder, because he strikes me as a guy who will just get after it to make it stronger than ever.
The big concern I have, though, is will he ever get back to the point where he will consistently look down the barrel of the shotgun and take a lick in order to give his receiver every chance to catch a pass. The overall psyche and mental make-up of a quarterback is a tough matter to figure out. Personally, I think if you give this guy some time to sit back and re-wire his approach a bit in the NFL under a new coaching staff, he will have a chance. But if you're throwing him into the wolves right away, I think it could be a disaster.
Nevertheless, Ponder is said to be feeling as healthy as ever this week and will get a big chance tonight to bounce back after a long 12-day layoff. This is a big point in the season for him as a prospect, as he's been a fraction of the quarterback he was last season. But if he's able to play well from here on out, prove he's healthy and start making the type of throws and plays he proved he was capable of last season, I think he could solidify himself as one of the draft's top quarterback prospects and a potential top-100 pick. If not, it wouldn't shock me at all to see him slide into the mid/later portions of the draft come April.
NFL draft/college football questions? Get them answered at Wes.Bunting@nationalfootballpost.com
Follow me on Twitter: @WesBunting