August 02, 2011 -
Jay Clemons
Catch a falling star?
How To Dominate Your Draft, Part I
The optimum time to partake in a fantasy draft comes after the Week 3 slate of preseason games (Aug. 28), as a practical means of avoiding injuries with high-end draft picks. But with work/family obligations and logistical difficulties part of the mix, sometimes that's just not possible. But no worries here ... especially now that you have a slew of pre-draft tenets to consider:
1. Do Your Homework
Fantasy championships seldom fall in the laps of absentee or indifferent owners. In fact, a title earned in Week 16/17 is usually the culmination of hard work, roster discipline and excellent preparation in August. Here are three components to that process:
**Study at least four publications (outside of your bi-weekly commitment to the Fantasy Philanthropist): Get a sense of what the experts are saying -- and what they're not saying about cetain players. Find common ground among the pre-raft rankings and drafting trends.
**Continually monitor the Average Draft Position (ADP) rankings on various Web sites: Average draft positions afford you the chance to get the player you want at the value you need ... without the embarrassment of "reaching" for his services.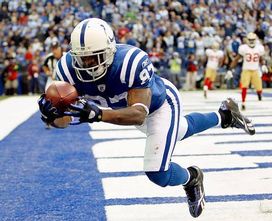 When will Reggie Wayne hear his name called on draft day?
Mock, mock, mock your way to building draft-day confidence: There's no disputing your childhood piano instructor's creed: Practice makes perfect. For example, let's say you have your heart set on taking Reggie Wayne as a WR1 in standard-scoring leagues, and after five or 10 mock drafts, you're stunned to learn that he's typically going high in Round 4 ("only" six TDs last year). With that inside knowledge, you can now focus on getting a stud running back in Round 3, knowing Wayne (111 catches/1,355 yards in 2010) will most likely be waiting for you on the flip side. (Note: Wayne will NOT fall to Round 4 in PPR drafts.)
2. Get To Know Your Fellow Owners
This process is incredibly simple: If you're in a league with friends, just stick to a methodical pre-draft plan of talking trash (like psyching out the competition for players slotted in Rounds 2-5); and in the interest of a little investigative journalism, find out which players will be taken in Round 1, pick-by-pick, just in case you're looking to trade down in the draft.
Now for the fun part. If you're playing in an online league with strangers, buddy up to 'em a few minutes before the draft. Find out where they're from (chances are they'll reach for a player from their hometown team -- it's human nature) and/or subtly coerce them into bragging about the best draft pick or trade they've made in recent times. The rationale: Fantasy owners tend to re-draft players who once led them to a title. You can use that loyalty as leverage for a draft-day trade (if applicable).
3. Come Armed With Cheat Sheets (1-2 pages max)
With 60-90 seconds between picks, you'll never have enough time to peruse a whole notebook of pre-draft insights once the clock starts ticking. Be orgzanized. Condense your notes. Economize on time. Rank players by specific numbers or color-coded schemes ... and above all else, DO NOT send me a Tweet while on the clock. Please have the courtesy to hit me up prior to the selection.
4. Limit Your Alcohol Intake During A Live Draft
Fantasy friends typically enjoy having a few drinks at a local watering hole on draft night. The rule of thumb here: Always consume less alcohol than the owners selecting before AND after you in a snake draft. You'll thank me in the morning ... unless you outdrank the other nine owners under the table.
The Lightning Round
I had time Monday morning to do a quick 12-team mock draft (5th pick overall). Here's my squad:
Round 1 -- RB Arian Foster, Texans (could've had Jamaal Charles too -- amazing!)
Round 2 -- WR Calvin Johnson, Lions (balance is the key)
Round 3 -- RB Ryan Mathews, Chargers (should I be worried about Mathews pulling a Haynesworth?)
Round 4 -- RB Shonn Greene, Jets (the principal player of the Ground & Pound movement)
Round 5 -- WR Brandon Marshall, Dolphins (wish I had waited until Round 6 ... just to see if he'd fall that far)
Round 6 -- RB Marshawn Lynch, Seahawks (1,110 yards/7 TDs not out of reach)
Round 7 -- RB Mikel Leshoure, Lions (lost a Round 7 game of Draft Chicken for Sidney Rice)
Round 8 -- WR A.J. Green, Bengals (the only rookie WR who's not a "sleeper")
Round 9 -- QB Matthew Stafford, Lions
Round 10 -- QB Sam Bradford, Rams (may the better QB log the majority of starts)
Round 11 -- TE Rob Gronkowski, Patriots
Round 12 -- RB Rashad Jennings, Jaguars (rock-solid handcuff for MJD ... or great trade bait)
Round 13 -- D/ST New England Patriots (elite scoring defenses are worth the Round 13 price)
Round 14 -- PK Sebastian Janikowski, Raiders
Round 15 -- D/ST Mohammed Massaquoi, Browns (my #1 sleeper for Round 12-or-later wideouts)
Round 16 -- TE Dustin Keller, Jets
The Great 48
In case you're wondering, here are the first four rounds of Monday's standard-scoring mock:
Round 1
1. RB Adrian Peterson, Vikings
2. RB Chris Johnson, Titans
3. RB Ray Rice, Ravens
4. QB Michael Vick, Eagles
5. RB Arian Foster, Texans (my pick)
6. RB Jamaal Charles, Chiefs (a potential top dog drops five slots -- BOOM!)
7. RB LeSean McCoy, Eagles
8. WR Andre Johnson, Texans
9. WR Roddy White, Falcons
10. RB Maurice Jones-Drew, Jaguars
11. RB Rashard Mendenhall, Steelers
12. RB Frank Gore, 49ers
Round 2
13. QB Aaron Rodgers, Packers
14. RB Michael Turner, Falcons
15. QB Tom Brady, Patriots
16. RB Steven Jackson, Rams
17. QB Drew Brees, Saints
18. WR Greg Jennings, Packers
19. RB Darren McFadden, Raiders
20. WR Calvin Johnson, Lions (my pick)
21. WR Larry Fitzgerald, Cardinals (gets a pre-draft reprieve thanks to Kevin Kolb)
22. RB Matt Forte, Bears
23. RB Peyton Hillis, Browns
24. QB Philip Rivers, Chargers
Round 3
25. RB DeAngelo Williams, Panthers
26. QB Peyton Manning, Colts
27. WR Hakeem Nicks, Giants
28. WR Mike Wallace, Steelers
29. RB Ryan Mathews, Chargers (my pick)
30. Q B Tony Romo, Cowboys
31. RB LeGarrette Blount, Buccaneers
32. WR DeSean Jackson, Eagles
33. RB Ahmad Bradshaw, Giants
34. WR Vincent Jackson, Chargers
35. WR Miles Austin, Cowboys
36. WR Reggie Wayne, Colts
Round 4
37. WR Mike Williams, Buccaneers
38. RB Cedric Benson, Bengals
39. WR Dez Bryant, Cowboys
40. WR Wes Welker, Patriots
41. RB Knowshon Moreno, Broncos
42. WR Dwayne Bowe, Chiefs
43. TE Antonio Gates, Chargers
44. RB Shonn Greene , Jets (my pick)
45. WR Marques Colston, Saints
46. RB Jonathan Stewart, Panthers
47. WR Jeremy Maclin, Eagles
48. RB Jahvid Best, Lions
From Sidney, With Love?
Some of my best fantasy friends hail from Seattle, the land of gourmet coffee (never once sipped the product), Microsoft, Frasier reruns, grunge music, Jack Sikma, Kenny Easley, Brandon Funston and the most competitive PPR league known to man (yours truly = defending champ). But I'm struggling to find numerous silver linings in Sidney Rice's high-profile signing with the Seahawks. Hmmm, perhaps some timely Revelations might change my mind: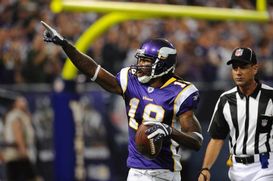 Can Sidney Rice produce big numbers with Tarvaris Jackson in Seattle?
What He'll Like: I sincerely hope that offensive coordinator Darrell Bevell's Minnesota-to-Seattle transfer wasn't just a strange coincidence. Surely, Rice (100 catches/10 TDs in his last 22 regular season games) enjoyed his time in Minneapolis with his past and present OC ... and hopefully, his move to the Great Northwest was a combination of big money, recruiting love and an unwavering belief in Bevell's coaching philosophy -- which cannot be overstated during a lockout-ravaged offseason.
What He'll Like, Part II: There was no more startling metamorphosis in the 2010 season than wideout Mike Williams, who finally slimmed down and got serious about football after languishing with Detroit, Tennesse and Oakland for a few years; and assuming Williams' offseason workouts were similarly stellar, there's no reason he won't meet or exceed last year's numbers (65 catches/751 yards) -- especially the two touchdowns.
What He'll Like, Part III: We'll let things play out during the preseason, but there's plenty of optimism surrounding the development of Golden Tate and Ben Obomanu -- presumably in the slot-receiver slots. From an athletic standpoint, Tate (21 catches/227 yards in 2010) and Obomanu (30 catches/4 TDs) are superior to the opposing teams' third- and fourth-best defensive backs. In fact, it's quite possible that Tate will assume the Percy Harvin role in Bevell's offense, making him a must-have sleeper pick in PPR leagues (Rounds 12-14).
What He'll Love: Anybody after Adrian Peterson may seem like a comedown for Rice, but he should be pleased with RB Marshawn Lynch's ability to keep opposing defenses honest on first and second down. In just four seasons, Lynch (4,146 total yards/24 TDs) has been all over the map ... but this year represents Lynch's best hope for stability and happiness -- without a golf cart. But with Seattle waving bye-bye to Matt Hasselbeck after 10 stellar seasons, it's reasonable to think Pete Carroll will re-emphasize a running attack of Lynch, Justin Forsett and Leon Washington.
What He'll Love, Part II: From a physical tools standpoint, the O-tackle pairing of Russell Okung and rookie James Carpenter could be the NFC's best in 2-3 years. Their upside -- at least from what one could gather on TV -- is off the charts; and let's not forget they'll be mentored by former Raiders head coach Tom Cable and sturdy free-agent signee Robert Gallery (now a guard).
What He May Or Not May Not Love: We saved this paragraph for second-to-last, but we're not sure how the Tarvaris Jackson/Charlie Whitehurst experiment at quarterback will affect the play of Rice, Lynch, Tate, TE John Carlson and any other Seahawk whose NFL existence may be tied to career clipboard holders. Or am I being a little too pessimistic about the duo's 4,491 passing yards, 26 TDs and 25 INTs in 44 combined appearances? Obviously, Bevell is one of T-Jack's biggest admirers, or the Seahawks would have never given respectable money and a starting promise to Jackson during the Great Free Agent Frenzy of 2011. For Seattle fans, let's hope Bevell's judgment is crystal clear here.
What Seahawks Fans Don't Want To Hear: Even if the Jackson/Whitehurst plan should be an unmitigated failure this season, the club simply has too much key-position talent to finish with a 3-13 or 4-12 record -- especially with Arizona, St. Louis, San Francisco on the schedule six times. In other words, there's a very-slim chance that Andrew Luck will be the Seahawks' purported savior at Seattle's 2012 training camp.
1st & 10, Do It Again
As part of a fantasy owner's desire to accurately forecast total yards, receptions and touchdowns amongst running backs, here's an underrated stat that directly affects the three primary categories: First downs earned off runs/receptions. Here's a top-30 listing of active rushers who expertly moved the chains in 2010:
1. Arian Foster, Texans -- 89 first downs
2. Maurice Jones-Drew, Jaguars -- 75 first downs
3. Michael Turner, Falcons -- 71 first downs
4. Jamaal Charles, Chiefs -- 70 first downs
5. Adrian Peterson, Vikings -- 70
6. BenJarvus Green-Ellis, Patriots -- 62
7. Ahmad Bradshaw, Giants -- 61
8. Rashard Mendenhall, Steelers -- 60
9. Steven Jackson, Rams -- 60
10. Cedric Benson, Bengals -- 59
11. Peyton Hillis, Browns -- 57
12. Chris Johnson, Titans -- 55
13. Ray Rice, Ravens -- 51
14. LeSean McCoy, Eagles -- 48
15. Darren McFadden, Raiders -- 45
16. Chris Ivory, Saints -- 44
17. Felix Jones, Cowboys -- 44
18. Matt Forte, Bears -- 42
19. Frank Gore, 49ers -- 42
20. Fred Jackson, Bills -- 42
21. Mike Tolbert, Chargers -- 42
22. LaDainian Tomlinson, Jets -- 42
23. Ronnie Brown, Free Agent -- 40
24. Shonn Greene, Jets -- 40
25. Brandon Jacobs, Giants -- 39
26. Thomas Jones, Chiefs -- 39
27. LeGarrette Blount, Buccaneers -- 38
28. Ryan Torain, Redskins -- 35
29. Knowshon Moreno, Broncos -- 34
30. Michael Bush, Free Agent / Jonathan Stewart, Panthers -- 32
Choose Your Quarterback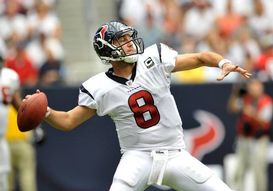 ICONWould you rather have Matt Schaub (above) or Tony Romo?
You wouldn't believe the vitriolic comments that hailed from my always-fluid QB rankings in Saturday's Philanthropist. For whatever reason, some readers were outraged to see Tony Romo trailing Houston's Matt Schaub and Pittsburgh's newly married man, Ben Roethlisberger -- as if Romo threw for 4,000 yards/29 TDs in some alternate universe last season. Hmmm, I must've missed the memo that says Romo is a lock for 30 TDs (a strata he's reached only once) or that neither Big Ben nor Schaub are capable of matching Romo ... yard-for-yard, touchdown-for-touchdown. But I'm a fair guy, even to those who are personally offended by any potential slights of Cardinals WR Andre Roberts. Here's a week-to-week breakdown of Romo vs. Schaub ... in case you should snag 'em both on draft day:
Week 1 -- Schaub (vs. Indianapolis) over Romo (@ N.Y. Jets)
Week 2 -- Schaub (@ Miami) over Romo (@ San Francisco)
Week 3 -- Schaub (@ New Orleans) over Romo (vs. Washington)
Week 4 -- Romo (vs. Detroit) over Schaub (vs. Pittsburgh)
Week 5 -- Schaub (vs. Oakland) over Romo (BYE)
Week 6 -- Schaub (@ Baltimore) over Romo (@ New England)
Week 7 -- Romo (vs. St. Louis) over Schaub (@ Tennnessee)
Week 8 -- Schaub (vs. Jacksonville) over Romo (@ Philadelphia)
Week 9 -- Romo (vs. Seattle) over Schaub (vs. Cleveland)
Week 10 -- Romo (vs. Buffalo) over Schaub (@ Tampa Bay)
Week 11 -- Romo (@ Washington) over Schaub (BYE)
Week 12 -- Romo (vs. Miami) over Schaub (@ Jacksonville)
Week 13 -- Schaub (vs. Atlanta) over Romo (@ Arizona)
Week 14 -- Romo (vs. N.Y. Giants) over Schaub (@ Cincinnati)
Week 15 -- Schaub (vs. Carolina) over Romo (@ Tampa Bay)
Week 16 -- Romo (vs. Philadelphia) over Schaub (@ Indianapolis)
Week 17 -- Schaub (vs. Tennessee) over Romo (@ N.Y. Giants)
Final Tally: Schaub wins by a nose, 9-8
How To Dominate Your Draft, Part II
1. Never take a QB in the first two rounds
**An exception to the rule: Either Drew Brees, Aaron Rodgers, Michael Vick, Peyton Manning or Tom Brady makes a guarantee -- in writing -- of 4,700 total yards and 34 total TDs. Otherwise, in leagues where QBs typically get 4-5 points per touchdown, you're better off committing to stud running backs or high-end receiving talents in Rounds 1 and 2. Bottom line: Fantasyland quarterback depth should never be a concern in 12- or 14-teamers.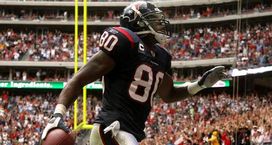 Andre Johnson has been producing some big numbers of the last few years.
2. Never be at the tail-end of a same-position draft run
Rather than grabbing the No. 12 running back in Round 2 -- just because everyone else is hurrying to fill that position -- how about snagging the No. 1 or 2 receiver instead? (Andre Johnson/Calvin Johnson/Roddy White -- depending on the scoring rules.) Good drafting is ALWAYS about great value.
3. Never draft a kicker until the last three rounds
By my count, there are 15 fantasy-friendly veteran kickers this season (and that doesn't include dynamic rookie Alex Henery). So, unless you're playing in a league with 16 teams or more ... wait to rescue these dime-a-dozen assets from the proverbial salt mine.
4. Never a take a defense until the last four rounds
Through the years, I have mellowed on this issue a bit. Defenses like the Steelers, Packers, Patriots, Eagles and Ravens have proven to be significantly better than middle-of-the-pack units ... and that's enough to warrant a 13th-rounder for an elite team. But only an elite squad.
5. Put on your George Costanza thinking cap and 'Do The Opposite'
The godfather of this strategy, Paul Charchian of LeagueSafe.com, has made a comfortable living from imploring owners to go against the grain at every turn and get high-end value at positions like receiver, tight end, and yes, quarterback. This theory is most effective in PPR leagues.
6. Never take climate-controlled teams for granted
Outside of a season-opening trek to Green Bay, the Saints will play every game from Weeks 2-17 in either a southern climate or domed stadium; and that is the greatest indicator of fantasy goodness for Drew Brees, Marques Colston, Jimmy Graham and RBs Pierre Thomas/Mark Ingram/Darren Sproles. The same holds true for QB Philip Rivers and the Chargers, who should encounter favorable weather conditions in 15 games -- with the possible exception of a Nov. 20 trip to Chicago.
Four Random Predictions For No Reason
1. Philip Rivers will lead the NFL in 300-yard passing games (7) ... and 400-yarders (3).
2. At 28, Kellen Winslow Jr. will notch 80-plus receptions for the third time in his quietly stellar career.
3. Jaguars backup tailback Rashad Jennings will rush for 700 yards and four TDs this fall.
4. I'll bet every cent I own that -- barring injury -- Ray Rice will amass 2,000 total yards. Do I dare say that Rice is a healthy lock for double-digit TDs?
I Tweet, Therefore I Am
For the hardcore, singularly focused fans of fantasy football, consider this mini-section as your unofficial pee break. Here are some highlights from my week on Twitter:
Somewhere in the world lies a sports nut who can recite the winning team -- and final score -- of every NFL Hall of Fame Game.
Aug. 1: You can officially start getting super-serious about fantasy football -- without fear of name-callig reprisal from wives/co-workers.
I have a rule -- the Darrell Jackson Rule -- against starting any WRs coming off substantial knee injuries ... so I probably won't draft T.O.
Not really sure how Peyton Manning accepting a $90M deal -- as opposed to $100M -- is major cap relief for the #Colts.
Since when did being a "diva" wide receiver become a deal-breaker for the attention-starved Jets? And why is that info coming out today? #freebraylon
I will fight anyone to the death who thinks Scott Mitchell is actually the No. 9 worst free-agent signing of all time (thanks, NFL Network). He was NOT historically bad ... just painfully mediocre: Aaron Ro dgers at age 26: 4,434 yards/30 TDs/7 INTs ... Mitchell at 26: 4,338 yards/32 TDs/12 INTs. #justsayin
The movie title, "The Rise of the Planet of the Apes" suggests the monkeys won't get a comeuppance from us humanoids -- until the sequel.
If you're a lawyer for @CocaCola ... closing that loophole in Santa Claus's non-exclusivity contract during the summer should be Job-1.
Facts About Plax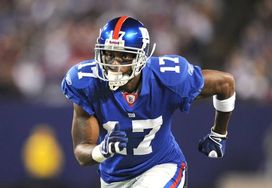 ICONWhat should we expect from Burress in his first year back?
1. Jets WR Plaxico Burress has never produced back-to-back games of seven or more receptions in nine NFL seasons (2000-08).
2. However, Plax has scored touchdowns in consecutive games 18 times!
Of course, it's up to you if the these facts mean anything on draft day ... since Burress, 34, hasn't played a down since the 2008 season and must fight for red-zone touches with Santonio Holmes, Shonn Greene, LaDainian Tomlinson and Dustin Keller.
It's All About The Slot: #9
The No. 9 slot in a 12-team draft is only beneficial to those with a death wish, meaning there's not a single time in the 16 rounds where you can pass on a fantasy stud and be absolutely certain that same player will be there seven or 16 picks later. It's mentally taxing, above all, conjuring up games of Draft Chicken with your fellow owners ... just to get one more starter-ready tailback or the perfect backup to Tom Brady (and I don't mean Ryan Mallett). Well, hath no fear or ambivalence about this perceived No Man's Land; here's a strategy to dominate a draft with the No. 9 selection:
Round 1, Pick 9: Motive -- Best overall player
1st option: RB Ray Rice, Ravens ... 2nd option: RB LeSean McCoy, Eagles
Round 2, Pick 16 overall: Motive -- Best RB/WR available
1st option: RB Matt Forte, Bears ... 2nd option: RB Frank Gore, 49ers
Round 3, Pick 33 overall: Motive -- Best WR or QB available
1st option: QB Tom Brady, Patriots ... 2nd option: WR DeSean Jackson, Eagles
Round 4, Pick 40 overall: Motive -- Best TE/WR available
1st option: TE Antonio Gates, Chargers ... 2nd option: RB Jonathan Stewart, Panthers
Round 5, Pick 57 overall: Motive -- Best elite RB or WR
1st option: RB Shonn Greene, Jets ... 2nd option: RB Marshawn Lynch, Seahawks
Round 6, Pick 64 overall: Motive -- Best receiver or top-tier running back
1st option: RB Javhid Best, Lions ... 2nd option: WR Anquan Boldin, Ravens
Round 7, Pick 81 overall: Motive -- Best WR available (great upside and/or Brady handcuff)
1st option: WR Chad Ochocinco, Patriots ... 2nd option: WR Jerome Simpson, Bengals
Round 8, Pick 88 overall: Motive -- Best WR available
1st option: WR Mario Manningham, Giants ... 2nd option: WR A.J. Green, Bengals
Round 9, Pick 105 overall: Motive -- Best WR available
1st option: WR Braylon Edwards, Cardinals (?) ... 2nd option: WR Mike Sims-Walker, Rams
Round 10, Pick 112 overall: Motive -- Best player available
1st option: QB Sam Bradford, Rams ... 2nd option: QB Kevin Kolb, Cardinals
Round 11, Pick 129: Motive -- Best upside-RB available
1st option: RB Mikel Leshoure, Lions ... 2nd option: RB DeMarco Murray, Cowboys
Round 12, Pick 136: Motive -- Best talent available (permission to grab an elite defense)
1st option: D/ST New England Patriots ... 2nd option: D/ST New Orleans Saints
Round 13, Pick 153: Motive -- Best TE or upside-WR available
1st option: TE Kellen Winslow Jr.Brandon Pettigrew, Lions
Round 14, Pick 160: Motive -- Best kicker available
1st option: PK Mason Crosby, Packers ... 2nd option: PK Alex Henery, Eagles
Round 15, Pick 177: Motive -- Best upside threat at receiver
1st option: WR Mohammed Massaquoi, Browns ... 2nd option: WR Donnie Avery, Rams
Round 16, Pick 184: Motive -- Best WR/RB available
1st option: WR Donnie Avery, Rams ... 2nd option: RB Jason Snelling, Free Agent
I Cannot Leave Without Congratulating ...
... The great Randy Moss on his retirement after 13 electrifying NFL seasons -- minus the double-bagel games (0 catches/0 yards) with the Raiders (2005-06). For my money, Moss (14,858 career receiving yards, 153 TDs) is one of the five greatest receivers in league history; but when it comes to a singular memory of The Freak ... it begins and ends with Planet Clown. See ya on the TV side, Randy!
An award-winning fantasy writer with Sports Illustrated (2008-2010) before joining the National Football Post, Jay Clemons' Fantasy Philanthropist Blog can be found here every Monday, Wednesday and Friday. Clemons can be reached, day or night, via Twitter.