September 23, 2011 -
National Football Post
Cincinnati RB Isaiah Pead: What kind of NFL back can he be?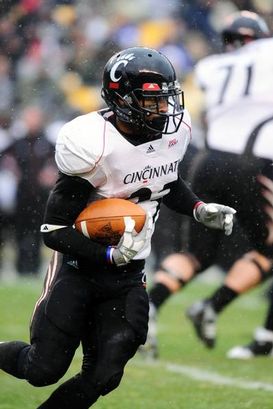 ICONPead looks like a back who will be effective on 3rd down.
There are a number of talent evaluators inside scouting circles who believe Cincinnati RB Isaiah Pead is not only one of the top running back prospects in the nation, but also deserves a mention as a potential late first/second round pick.
However, after watching him again last night after breaking him down on tape this summer, I don't see the guy as much more than a reserve type runner in the NFL. Now, to his credit Pead is an explosive back. He presses the line of scrimmage quickly, displays the ability to instantly get up to speed and consistently is able to outpace angles toward daylight. He's a big play threat every time he can get to the edge as he showcases the balance/one-cut ability to stick his foot in the ground, side step a defender at full speed and finish his run.
And for those reasons I think he'll be a nice fit as a potential 3rd down back who can work in the draw/screen game and be effective on those more linear off-tackle runs.
Nevertheless, when breaking him down he's not a back who can really create on his own in tight areas inside. When there is a substantial hole at the line of scrimmage, he reads it quickly and instantly bursts toward daylight. But, when he needs to pick his way through traffic laterally and rely on his short area quickness/fluidity he isn't nearly as effective.
He's a perfect example of a "space runner" or a guy who is at his best running strictly toward daylight. And because of his impressive speed he has the ability to routinely outpace angles toward the edge and leave college defenders in the dust. Something he won't be able to get away with in the NFL.
With that being said he did catch the football well out of the backfield and despite some inconsistencies in pass protection he looks like a willing blocker who should improve with some time.
Therefore, when evaluating Pead as an NFL prospect I see a guy who can be dynamic at times when asked to play in space and looks like a nice change of pace type option for an NFL offense. However, he's not an NFL caliber starting caliber back in my view since he doesn't have the frame needed to take a ton of pounding and isn't a guy who I can see creating for himself consistently in tight areas inside.