February 26, 2011 -
National Football Post
Combine afternoon notes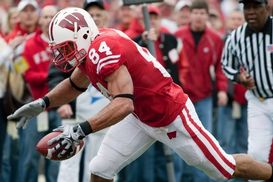 ICONKendricks knows how to get open.
• Once again Southern Cal tight end Jordan Cameron continued to build on his solid senior year with another good post-season performance. He ran in the 4.5 range, looked natural plucking the football off his frame and displayed good flexibility when asked to sit into his stance. He could be the next former basketball guy to make a jump into the top-100 picks.
• I still think Wisconsin TE Lance Kendricks is the most natural pass catching senior in the draft. He ran in the 4.7 range, looked very impressive during drills and plucked the football well throughout. He possesses a nice combination of body control, fluidity and straight-line speed and just seemed very comfortable throughout the day.
• There's no doubt in my mind that Nevada tight end Virgil Green had one heck of a workout from a physcial standpoint. He was timed in the low 4.6 range in the forty and was tops among the group in the vertical jump and broad. However, when I watch the guy run routes and try to change directions he looks tight hipped, is routinely forced to gear down and is more of a vertical route runner only. He can certainly get down the seam and make plays on the football, but when asked to play as a short area athlete I can see him struggling to separate in the NFL.
• Michigan State tight end Charlie Gantt isn't a real impressive initial starter. He struggled all day to get out of his stance, is slow to get up to speed and doesn't have a second gear. He's a smooth, coordinated prospect who looked natural plucking the football, but as an athlete, he's limited and will have a tough time beating man coverage in the NFL.