February 28, 2011 -
National Football Post
Combine confidential: room service!
INDIANAPOLIS—Day 6 at the 2011 NFL Scouting Combine in Indianapolis finds Wes Bunting and Joe Fortenbaugh surrounded by empty room service trays in a Hilton hotel room just up the street from the legendary St. Elmo steak house.
Bunting is beginning to show signs of an oncoming cold after putting his nose to the grind for the last six days, while Fortenbaugh continues to offer him unwanted analysis from Sunday night's Academy Awards.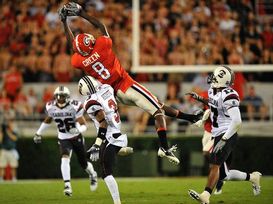 ICONOh yeah, we also talk about A.J. Green (above) and Julio Jones.
That's life on the road for the NFP.
The good news is that the guys hunkered down in their hotel room Monday afternoon and decided to put together a podcast detailing and analyzing the key storylines from the action that has taken place over the last few days at Lucas Oil Stadium.
Is Cam Newton still the draft's top quarterback prospect? Did Mark Ingram's 4.6 40-yard dash hurt his stock value? Is Marcell Dareus a better defensive tackle prospect than Nick Fairley? How much damage did Bunting and Fortenbaugh do in room service tabs over the last few days?
All good questions that need answers.
Take a listen and let us know what you think.
Follow us on Twitter: @WesBunting @JoeFortenbaugh