February 27, 2011 -
National Football Post
Combine notes: breaking down QBs and WRs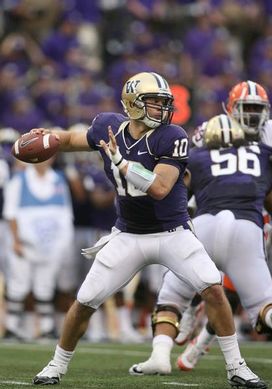 ICONLocker was good, but still not great.
Overall, I thought Washington QB Jake Locker threw the best of any quarterback in group one. He showcased good touch down the field, had a strong arm and spinned the football cleanly on all levels of the field. The only time he was a bit inconsistent with his accuracy was on the dig route where he not only had to take his five step drop from under center, but also get the ball out on time. Again, it seems like anytime Locker is asked to process any info into a route his accuracy runs cold.
Arkansas QB Ryan Mallett really looks effortless when asked to spin the football. He definitely had the strongest arm on display, but lacked great touch/accuracy underneath. Plus, with his longer release his overall timing and ball placement was overall pretty poor at times as well. Not a great workout for the Arkansas signal caller.
It was pretty clear that Alabama WR Julio Jones was the better athlete on the field when compared to Georgia wide out A.J. Green. He was more explosive vertically and kept his speed better out of his breaks on vertical routes.
With that being said, of all the bigger wide outs working out, I still thought Georgia receiver A.J. Green was the most fluid of the bunch. He stumbled twice out of his breaks on the out, but you can tell he's loose hipped and is a guy who will be able to run the entire route tree cleanly in the NFL. In my view he will be the best route runner of the bigger wide out bunch.
It was a bit alarming to see Miami WR Leonard Hankerson once again put the football on the ground. The ability to consistently catch the football is the one attribute that has dogged him in the past and he seemed uncomfortable throughout the day quickly locating throws in the gauntlet and securing catch after catch. Overall, it wasn't a real impressive workout for him.