March 01, 2011 -
National Football Post
Combine notes: breaking down the DBs
The one position in the NFL where 40 times matter the most in my view is at the defensive back position. Therefore, here are some of the winners and losers from today's defensive back workouts in group one.
Winners…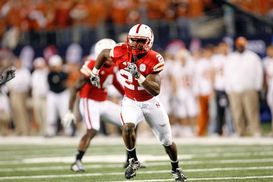 ICONAmukamara proved he has the straight-line speed to play on the outside in the NFL.
CB Prince Amukamara: Nebraska
One of the biggest questions surrounding Amukamara coming into the Combine was: how fast is he? Well, the Nebraska corner came through in a big way on Tuesday running in the low 4.4 range and proving he has the speed to consistently play on the outside in the NFL.
CB Brandon Harris: Miami
Harris looked a lot thicker up close than he did on tape and at 5-10, 191 pounds, his 4.43 40 proves he has the straight-line speed to turn and run with receivers at the next level. Plus, he gets up to speed quickly, is fluid out of his breaks and plays just as fast as his 40 time would indicate.
CB Chimdi Chekwa: Ohio State
Even with a brace on his wrist, the former Buckeye defensive back still laced the track with a sub 4.4 time and proved he's one of the fastest defensive backs in the class. He's a bit raw and isn't real comfortable in off coverage. However, at his size and with his make-up speed, this week definitely will give him a boost in his draft stock.
FS Chris Culliver: South Carolina
We didn't get to see much of Gamecock defensive back Chris Culliver this year because of injury. However, when watching him on tape the one thing that really stands out is his range. He posted a 4.36 time today, which was one of the fastest of all the defensive backs in the class. And in this weaker/slower safety group, he could see a real spike in his stock because of his workout Tuesday.
Losers…
CB Kendric Burney: North Carolina
Small and slow is never a good combination for a defensive back in the NFL, especially at corner and that is exactly what Burney is. He was clocked in the low 4.8 range and looks now like nothing more than a late round/free agent guy who needs to play in a cover two type scheme only, because the guy won't be able to turn and run with receivers in the NFL.
FS Quinton Carter: Oklahoma
Carter ran a disappointing 4.63 40-time Tuesday, which really doesn't do anything at all to separate himself from the rest of the safety class. He's a tighter hipped safety who doesn't take the best of angles, but on tape he at least looked like a guy who could run in the 4.5 range. However, with his performance today I expect him to get mixed right in with the rest of the mid-round safety class.
SS Ahmad Black: Florida
I've been saying for months that I love Black as a football player, but small and slow isn't a good combo for any prospect. And at 5-10, 184 pounds and running in the high 4.7 range, he now looks like nothing more than a late-round nickel-type defensive back.