February 28, 2011 -
National Football Post
Combine notes: breaking down the DL
Taking a look at which prospects stood out during day three of the NFL combine workouts.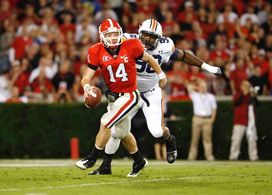 ICONFairley has the athleticism to track down the passer.
• I will admit being slightly turned off when I first saw the overall physical make-up of Auburn DL Nick Fairley and his leaner lower half. However, watching him change directions, sink his hips and bend into and out of his breaks was nothing short of striking. Plus, the big guy posted a 40 in the low 4.8 range at nearly 300 pounds and displayed some real natural power on his punch during drills. If I had to pick number one overall, I am leaning toward Fairley as that guy.
• Another standout Monday was California DL Cameron Jordan, who I talked about last week as a guy who might not have the greatest of combine numbers and could fall slightly because of it. However, he posted a very solid low 4.7 40 and looked very fluid and comfortable during position drills. Jordan was able to cleanly change directions for a big guy, possessed good natural flexibility and can really generate a burst out of his breaks. He looked surprisingly natural in space as well and is definitely a prospect who could end up going in the top 10 because of it.
• Iowa defensive end Adrian Clayborn didn't have the same type of straight-line speed as some of the other top defensive ends in group one. However, for a big guy, 4.8 is just fine. But where Clayborn really stood out was when asked to work his way through position drills, fluidly changing directions, sinking his hips and getting up to top-end speed quickly. Looks like a lock for the first round after this workout.
• On the other side, Purdue DE Ryan Kerrigan did shock me a bit with his 40 in the high 4.6 range and is a better straight-line athlete than I anticipated. However, he still looked tight hipped and stiff when asked to turn and run, too often allowing himself to get upright and didn't get up to speed quickly out of his breaks. His ball skills were solid during linebacker drills, but again he's more of a linear athlete in my view who needs to win with his hands and motor at the next level. Doesn't warrant a first-round pick in my view.
• I've received a lot of e-mails from readers asking why I have Oklahoma DE Jeremy Beal listed as a free agent on our rankings. Well, in my view he's simply not a very good athlete or natural pass rusher and Monday proved that. He posted a 5.0-plus 40 time, was stiff and tight hipped during linebacker drills and I just don't see him having the ability to consistently create pressure off the edge at the next level.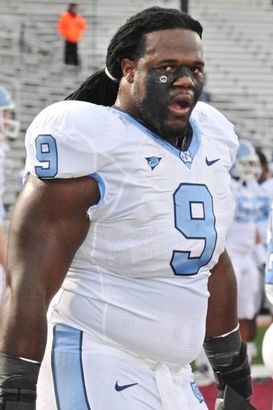 ICONAustin has helped his draft stock this post-season.
• The same can be said about TCU DE Wayne Daniels, who the NFP also has listed as a free agent. He's a conversion player who is too small to play DE in the NFL, but lacks the range and overall fluidity to play in space. He ran in the 5.0-plus range as well today, struggled to change directions throughout and doesn't look like a guy who can reach the passer at the next level.
• Again, I wasn't real impressed with Miami DL Allen Bailey. He didn't run nearly as well as I anticipated (4.7 range), was tight-hipped during drills and doesn't look much more than a solid anchor, but reserve type lineman only.
• Finally, I have been critical of North Carolina DL Marvin Austin throughout the draft process and made the statements during the year that I would not have the guy on my draft board. Nevertheless, he has done nothing but improve his draft stock in my view since the postseason started. The guy has a strong, impressive looking frame, ran in the low 4.8 range Monday and showed good natural power and explosion throughout position drills. Now, my grade isn't going to change on him and I still wouldn't add the guy to my board even if I was part of an NFL team. However, because of his postseason workouts and impressive physique, I could see the guy coming off the board in the second-round range.