February 25, 2011 -
National Football Post
Combine notes: day 2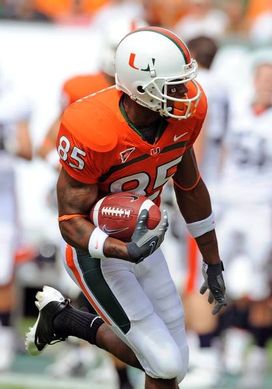 ICONHankerson could end up sneaking into the first round.
• I thought it was interesting that Miami WR Leonard Hankerson said the best corner he faced during his time at Miami was former Oklahoma Sooner Brian Jackson. Jackson is a long-armed, physcial DB who is the type of guy that could give Hankerson trouble getting off the line at the next level.
• Georgia wide out A.J. Green confessed that one of the main aspects of his game that he needs to improve is preparation. Not exactly the kind of answer you want to hear from a potential top ten pick. Pair that with his less than impressive physique at the weigh-in and it wasn't a great start to the Combine for Green.
• Southern Cal OT Tyron Smith admitted that he did play at 285-pounds this past year. He said he met with the Steelers, Browns and Saints and is anticipating repping 225 pounds 35 times this week.
• The Steelers also met with Florida OC Mike Pouncey.
• John Clay --RB from Wisconsin-- said he lost 30 pounds (some say closer to 40) in order to get down to 230 for the NFL combine.
• Improving his explosion was the biggest reason why Alabama RB Mark Ingram got down to 215 pounds for the Combine.
• Illinois RB Mikel Leshoure said he hopes to run in the low 4.5 range, but said his fastest 40 time so far has only been 4.57.