February 24, 2011 -
National Football Post
Combine notes: day one
Some new, notes and observations from what I heard at the NFL Combine during day one.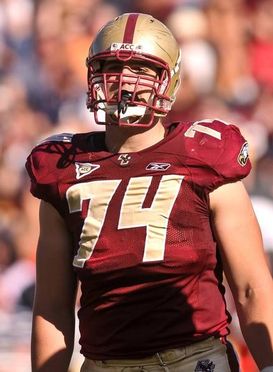 ICONCastonzo thinks he can also play guard.
Boston College OT Anthony Castonzo admitted that he played better at guard than he expected at the 2010 Senior Bowl. He said he thinks he's good enough in that area to play inside in the NFL as well.
The two top defensive ends that OT Chris Hairston saw during his time at Clemson where during practice everyday —and not any where else in the ACC-- citing Gaines Adams and Da'Quan Bowers.
Small school center prospect Brandon Fusco talked about his transformation from the 240-ponder he was out of high school to the 306 pound prospect he is today. He carries himself extremely well, has a muscular build and definitely looks the part. Some scouts think he might even look too good and do have some concerns about potential steroid use.
Wisconsin OT Gabe Carimi declared himself the best tackle in the draft this afternoon. He's a smart kid, doesn't take himself too serious and trust his talents. I like that in an offensive lineman and don't have any qualms with what he said.
As cool, clam and comfortable as Mississippi State OT Derek Sherrod was at the podium today, he still didn't believe that Carimi was the better prospect. I like Sherrod's confidence; he's comfortable in front of others and to me seems to definitely possess the overall intelligence needed to handle the rigors of playing on the blindside on an NFL offensive line.