February 07, 2013 -
Erik Oehler
Compare & Contrast NFL Prospects – NFP Version 1.0
As many NFL teams prepare to hold pre-combine draft meetings there will be a lot of debates going on about different player's value as their skill sets are evaluated and compared to others who play their position. Obviously, the top players at each position will be compared as team's try to determine which players best fit their offensive and defensive schemes. Today we compare LSU's two junior defensive ends/pass rushers Barkevious Mingo and Sam Montgomery and try to determine where they fit best in the NFL.
From their physique to the way they play the game, they are drastically different in nearly every area. Although both are estimated (As they are both underclassmen their actual height will not be determined until they are measured at the Combine) to be 6'5, they have different physiques. Mingo is a long and linear looking athlete with a wiry muscular appearance, while Montgomery is a thick and muscular defender who looks like he spends a lot of time in the weight room and definitely is a guy you want leading you team off the bus. Their appearances directly correlate to the style that they play.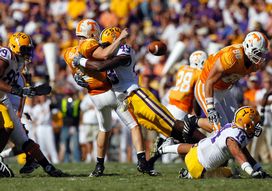 US PRESSWIRELSU's Barkevious Mingo delivers hard hit to Tennessee QB Tyler Bray.
Mingo is a premier athletic talent who combination of explosiveness, quickness, agility, balance and flexibility give him the talent to defeat blocks easily when he has space to move. He relies on his initial quickness off the ball and speed to threaten the corner as an edge rusher. His agility allows him to change directions in a flash and he combines that with his good hand use to try and beat the pass blocker with a variety of secondary pass rush moves. The big issue is that that Mingo tends to get upright and gives up leverage often and combined with his thin frame he can be tied up and easily eliminated from the play if the offensive tackle can "get a good fit" on him. Much more effective rushing the passer from a wide alignment and chasing down running plays in pursuit, he is does not consistently produce when he does not attack the play aggressively which is too often. Additionally, if the pass blocker stops his initial attack, he has a tendency to get upright, does not stay after pass rush consistently and ends up "chicken fighting" with OT. Mingo's lack of ideal bulk (He reportedly played in the high 230's and low 240's in 2012) hinders his ability to get a push when he bull rushes and to hold ground vs run blocks. While Mingo's game is based around his athleticism and he flashes game changing production, Montgomery plays a different, but more consistent game.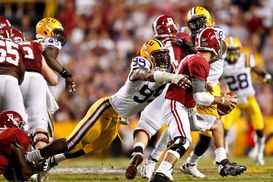 US PRESSWIRELSU's Sam Montgomery about to tackle Alabama's AJ McCarron.
Thickly built with long arms, Montgomery is much more of a power player than an explosive one. Although his first step off the ball is good, he lacks the elite burst and speed to threaten the corner consistently and does not show burst out of change of direction to beat OT back inside. Rather than trying to beat OT with speed and quickness, he is much more productive when as a power rusher when he maintains leverage and uses hands aggressively. While he lacks the explosive secondary pass rush moves to cleanly beat OT if his initial rush is stopped, he consistently keeps feet moving and stays after rush which allows him to get some pressure on the QB through sheer effort and hustle. Although Montgomery is a drastically differently pass rusher than Mingo, the biggest difference between the two is against the run. Montgomery does a good job of taking on run blocks on running plays to his side, maintains his responsibility, uses his long arms to keep blocker at an arm's length and can free up to make the tackle. While he lacks Mingo's uncommon chase speed, he was consistently productive coming down the line to make tackles on running plays within the tackle box.
There is no doubt in my mind that based on film evaluation, Montgomery has the better chance of being a solid, dependable starting defensive end in the NFL, but Mingo has the potential to be a more impactful player because of his rare physical talent. I believe Mingo would be best suited to playing outside linebacker in a 34 scheme where he could line up wider and farther away from the OT, which would allow him to rely upon his athleticism to defeat pass blocks. Additionally, lining up wide and in a two point stance would allow Mingo time to read and react to the play before having to take on and defeat a block. While I am confident that Montgomery could be a productive outside linebacker in a 34 scheme because he would be outstanding against the run and a solid pass rusher, his best position would be as a base 43 defensive end who can shut down the run to his side of the field and will get pressure on the QB through effort, technique and strength despite lacking elite athletic traits. Mingo is likely to be drafted higher, but if I were making the selection I would choose Montgomery as I feel he is a more complete all-around player who should be able to challenge for a starting job as a rookie. Mingo reminds me a little of former Titans' pass rusher Jevon Kearse and current Bengals' pass rusher Aaron Maybin, while Montgomery is more like the Ravens Paul Kruger.
Email Russ at Russelllande@yahoo.com and Follow Russ on Twitter @RUSSLANDE