February 14, 2013 -
Erik Oehler
Compare & Contrast NFL Prospects – NFP Version 2.0
As many NFL teams are in the middle of pre-combine draft meetings, there are many debates going on about different player's value as their skill sets are evaluated and compared to others who play their position. Obviously, the top players at each position will be compared as team's try to determine which players best fit their offensive and defensive schemes. Today we compare two of the top inside linebackers, Notre Dame's Manti Te'o and Georgia's Alec Ogletree, and try to determine where they fit best in the NFL. LSU fans do not fret as we will breakdown how your own Kevin Minter matches up with which of these linebackers we feel is best in the coming weeks.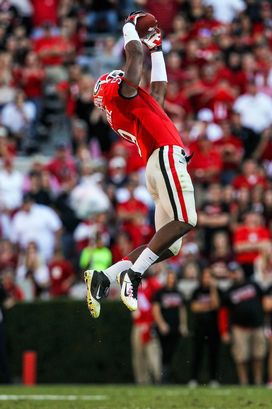 US PRESSWIREGeorgia linebacker Alec Ogletree skies to make an interception.
Although Te'o and Ogletree are definitely different players with varied skill sets, they have both received a lot of national attention as likely first round picks in the upcoming 2013 NFL Draft. Before we breakdown each player's physical skill set, it is important to note that both players have some questions surrounding things that happened off the field.
In Te'o's case everyone knows that he was involved with what turned out to be a phony girlfriend that he met online. While this incident has led to a ton of media speculation about it hurting Te'o's draft stock, sources around the league have told us that they believe Te'o was in fact duped and did not play a role in orchestrating this incident and therefore his draft stock will not change at all. Considering that people at Notre Dame speak about Te'o as a once in a generation type young man with outstanding character, leadership and work ethic, it is no surprise that this incident is not considered a big deal.
On the other hand, Ogletree has been in trouble two different times at Georgia, once when he was arrested for theft as a freshmen and subsequently suspended for one game and then this past season when he was suspended to start the season for reportedly failing a drug test. These issues no doubt raise concerns about Ogletree's maturity and decision making, but according to numerous NFL personnel that I spoke with Ogletree is not considered a bad kid and that his draft stock will not be drastically affected. Even though character is a vital component to player success in the NFL, the physical tools they both bring to the table are why they are both expected to be first round picks.
Although Te'o has received more national attention and hype as a premier prospect and likely top ten selection, I, along with many NFL scouts, have never considered him to be a premier athlete and playmaker. More of a smooth and fluid athlete with good playing speed, Te'o is not a quick twitch explosive athlete. His combination of good athleticism, feet and football intelligence/instincts are what make him so productive playing off the ball in pass coverage. Reading and reacting to the quarterback and identifying the route combinations, Te'o gets and maintains proper positioning and is able to close to make plays on the ball to break-up and intercept passes. Quick to read the run, he gets started towards the ball carrier fast and has the speed to chase down plays in pursuit. A strong player, Te'o shows no hesitation stepping up and taking on blockers strong at the point of attack, but his struggles to consistently shed quickly hinder his ability to make many plays when he has to take on and shed a block to do so. Although he missed three tackles against Alabama, the reality is that when Te'o stays over his feet and under control he can be a sound tackler. However, his lack of elite athleticism is going to cause him to miss some tackles at times, as happens with the majority of inside linebackers in the NFL.
While Te'o is very productive in coverage and chasing down running plays, he is not an impact pass rusher and this limits his draft value in my eyes as that trait is extremely valuable in today's NFL where pressuring the quarterback is so vital to defensive success. Te'o is likely the more instinctive of the two linebackers, but Ogletree's rare athleticism allows him to more than make up for it.
While Ogletree is also a smooth and fluid athlete, he also possesses rare explosiveness, playing speed and violent hitting ability. I find it interesting that Ogletree displays excellent instincts in pass coverage, which allows him to use his great athleticism to make plays all over the field against the pass. However, against the run Ogletree does not display the same instincts as he often takes a false step before identifying the play and getting started in the right direction. He is however able to make up for it because once he identifies the play he accelerates to full speed fast and has the top end playing speed to chase down anyone in pursuit. Those instinctual questions also show up as he does not consistently sense/feel blocks from the side coming, which leads to him being sealed out of the play. There is no hesitation for Ogletree stepping up and taking on blockers strong at the point of attack and because he does so while maintaining leverage and using his hands well he is able to stay free from their blocks consistently. His foot quickness, agility and balance help him to maneuver his way through traffic easily to make plays all over the field against the run. While I feel he is more productive than Te'o against the run and in coverage, he really separates himself with his ability to explode through the line or off the edge to pressure the quarterback. Additionally, his excellent build combined with his rare athletic traits give him the versatility to be productive as an inside or outside linebacker in a 34 or 43 scheme.
When all is said and done, I believe that both Te'o and Ogletree will be successful NFL linebackers, but that Ogletree will play at a higher level and be more valuable to his team. His versatility to contribute in all aspects of the defense combined with his explosive playmaking ability will enable him to impact games similar to the way that Patrick WIllis does for the 49ers. Te'o will be a strong and physical interior force against the run who also shines in pass coverage. His playing style reminds me of Paul Posluszny in that he will make many plays against the run and in coverage, but likely not many impact plays and will not make mush impact as a pass rusher.
Email Russ at Russelllande@yahoo.com and Follow Russ on Twitter @RUSSLANDE