November 29, 2012 -
National Football Post
Conference Championship Weekend Match-Ups.
While there are significantly fewer college football games this weekend, there are some excellent matchups to watch. As many of this weekend's games will directly affect teams going to BCS bowls, NFL scouts will be in attendance around the country to see how specific prospects do in their biggest game of the season. Below is a breakdown of three good matchups coming up this weekend.
Pittsburgh –vs- South Florida
Pittsburgh C Ryan Turnley (Senior) and OG Chris Jacobson (Senior) battle
South Florida Nose Tackle Cory Grissom (Senior).
Even though none of these players are likely to be selected in the first two rounds of the Draft, there is definite interest as quality offensive and defensive linemen are hard to find. In a season with few high end centers, Turnley is a very intriguing second tier prospect. Centers with his height and long arms are rare and combined with his aggressive blocking style, excellent competitiveness and good technique he has many of the traits to be a quality NFL center. Returning from a season ending knee injury in 2011, guard Chris Jacobson is back playing at a high level. Quick setting up to block, he gets his hands on man fast and does an excellent job of staying over feet to maintain block and eliminate man from the play. Grissom does not have the big sack and tackle for loss numbers that grab attention, but he has been an excellent interior anchor who clogs the middle and flashes ability to collapse the pocket. This matchup provides all three players a chance to prove to NFL teams that they can produce at a high level against other players who will be playing in the NFL.
Alabama –vs- Georgia
Alabama OL – C Barrett Jones (Senior), OG Chance Warmack (Senior) and RT D.J. Fluker (Junior) take on Georgia DT's John Jenkins (Senior) and Kwame Geathers (Junior).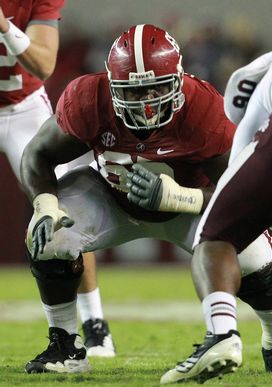 US PRESSWIREAlabama OG Chance Warmack about to come out of stance.

With such a tremendous amount of NFL talent playing in this game, NFL scouts will have to really work hard to get a good feel for all of them. However, one of the most interesting matchups features Alabama's three good offensive linemen battling against Georgia's two massive defensive tackles. Jenkins came into the season expected to play nose tackle the entire season, but as Kwame Geathers developed the staff at Georgia started playing Jenkins outside at defensive end often with Geathers manning the nose tackle spot. With Alabama's offensive success directly linked to the success of the rushing attack, the ability of Jones, Womack and Fluker to block Jenkins and Geathers could well be the determining factor in the game. When Jenkins plays with leverage and aggressiveness, he has the strength to physically dominate blockers and flashes the ability to torque offensive linemen off their feet and toss them out of the play. He does not however consistently play with leverage and is much less effective when he plays upright and high. Geathers is an even bigger man than Jenkins and while he is a little less developed in terms of hand use, he does play with leverage consistently which enables him to anchor and clog up the middle of the play easily. For Barrett Jones this will be a great test for him to prove to NFL teams that he can handle blocking the massive nose tackles that have become so prevalent as so many teams play 34 defenses. A very smart and competitive player, Jones is more of a technician than a physically dominant blocker, which is why this will be a real challenge. As opposed to Jones, Chance Warmack is a very well built guard with a shocking combination of strength and athleticism. If he can control and block these two defensive linemen throughout the game, then he can cement himself as the best guard prospect and a likely top 20 pick. Fluker is not viewed as a definite first round prospect because he lacks top level athleticism for an offensive tackle. He is however a strong and physical blocker and should get the chance to shine in a matchup with Jenkins that will likely be determined by strength and competitiveness.

Connecticut –vs- Cincinnati
Connecticut CB Blidi Wren-Wilson (Senior) matches up with Cinn. WR Kenbrell Thompkins (Senior)
After transferring to Cincinnati from junior college, Thompkins has been the Bearcats top downfield threat and tied with McClung as their leading receiver since the start of the 2011 season. At approx. 6-1, Thompkins has the size NFL teams covet and has shown a consistent ability to make big plays with the ball in his hands. He gets a chance to prove he can handle the jump to the NFL when he battles Wren-Wilson, who is one of the most under-rated cornerbacks in the country. At over six feet with good athleticism and premier speed, Wren-Wilson provides a great challenge for Thompkins. Smooth and fluid with loose hips and good agility, Wren-Wilson can flip hips without losing a step and has the speed to stay with receivers deep down the field. Thompkins, who has been Cincinnati's big play offensive weapon, has to prove that he can run sharp routes and burst out of his cuts to get separation from Wren-Wilson. While Wren-Wilson is viewed as a likely second or third round pick, this game gives him a chance to prove he needs to be in the conversation with the top cornerbacks in the country. On the other side, Thompkins is viewed as a fourth or fifth round prospect now, but if he proves himself against Wren-Wilson he could push up draft boards to challenge to be a third rounder.
Email Russ at Russelllande@yahoo.com and Follow Russ on Twitter @RUSSLANDE