September 14, 2012 -
National Football Post
Corey Fuller – A Different Path Taken
Corey Fuller WR Virginia Tech 6020 187 4.47
Despite coming from a family of football players, older brother Vincent played defensive back in NFL for seven season, younger brother Kyle starts at cornerback for Virginia Tech and the youngest of the brothers Kendall is a senior in high school and one of the top five cornerback prospects in the country, not much was expected from Fuller when the 2012 season began. As a star on his high school track and field team, Corey chose to go to Kansas to compete on its track team despite starring as a quarterback in high school. After the 2009 season, Corey chose to transfer to Virginia Tech with the hopes of playing football. He sat out the 2010 season as part of the NCAA's transfer rules.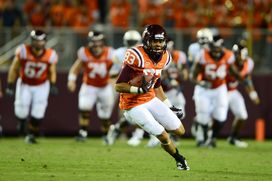 US PRESSWIREVirginia Tech receiver Corey Fuller runs after the catch.
After his redshirt season, Fuller was a backup receiver for the Hokies in 2011 while he continued to adjust to playing football again and learn the nuances of playing receiver. Fuller no doubt has had to prove that he has the toughness to play football, because many former track athletes who try to make the switch to football never make it and are always referred to as "a track guy trying to play football." Entering the 2012 season NFL teams were intrigued by Fuller solely because of his measureables as few 6-2 receivers have the explosiveness and speed that Fuller possesses. According to NFL scouts we spoke to, he definitely jumped out with his explosiveness and pass catching ability during fall camp, but as he still only had two career catches he had a lot to prove when the season began.
He opened the season with a bang catching five passes for 82 yards against Georgia Tech. More importantly, he displayed sharp route running ability combined with real explosiveness out of his cuts to get separation. While his sharp routes were definitely a surprise because of his lack of experience playing receiver, more impressive were the soft hands he showed plucking the ball, the quickness tucking it away and getting started up the field after the catch. Although he only caught a handful of passes in the opener, he impressed with his sharp cutting ability to make tacklers miss running after the catch. For a player with limited experience playing college football, he consistently shows good initial quickness getting moving at the snap, is able to accelerate to full speed fast and has the speed to get separation on deep routes.
In that one game alone,
Fuller put himself squarely on the list of players who could well rocket up draft boards in the next six months. He followed up his impressive debut against Georgia Tech by catching two passes against Austin Peay, but his real test will come as he goes against the better teams in Virginia Tech's conference for the rest of 2012. If he continues to impress during the season he will likely get invited to the Senior Bowl because NFL teams will want to see him practice against the best talent. I believe that Fuller will stand out in Mobile at the Senior Bowl, if he gets invited, and then will blow up the Combine, which will lead to him being a high draft pick (Likely in the second round). His lack of playing experience, flashes of explosiveness and big play ability remind me of former NFL receiver Terry Glenn because Glenn did not really shine at Ohio State until his last season there (After catching eight passes in 1993 and seven in 1994, Glenn exploded with 64 catches for 1,411 yards and 17 touchdowns in 1955), but ended up being a top ten pick in the NFL Draft. While Fuller is a long way from being Terry Glenn right now, I am confident that with each game this season he will continue to impress and will likely be selected in the second or third round of the 2013 NFL Draft.

Email Russ at russelllande@yahoo.com and follow him on Twitter @RUSSLANDE