May 23, 2012 -
National Football Post
Could Knile Davis challenge for the top RB spot?
RB Knile Davis: Arkansas (6-0, 226)
What I like…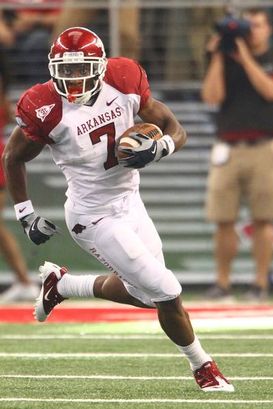 ICONDavis is a thick back to bring down in space.
- Possesses a thick, compact frame that is tough to wrap up on through contact.
- For a thicker back showcases a "plus" first step when asked to press the hole.
- Runs to the edge extremely well, has the straight-line speed/balance to turn the corner and/or put his foot in the ground and accelerate up the field.
- Showcases a good feel between the tackles with above-average vision when picking his way through tight quarters.
- Does a nice job running with natural forward lean and making himself small inside.
- Is willing to take what the defense gives him. Will lower his head and use his "plus" power and leverage to bull his way through contact.
- Exhibits the balance and footwork to be sudden laterally at full speed and make defenders miss in tight areas or in space.
- Is slippery for a big back who can run with power, but also does a nice job side stepping defenders and breaking/slipping would be tacklers.
- Exhibits a legit second gear once he gets into the open field for a bigger back.
- Acclerates well out of his breaks and has the ability to get back up to speed quickly.
- Looks like a 4.45 guy, however, plays even faster because of his combintion of power and speed.
- Likes to finish runs both between the tackles and in the open field. Lowers his pad level through contact and has a strong leg drive allowing him to always fall forward
- Is a good athlete who can be used split out in the pass game. Looks natural plucking the football off his frame and creating in space.
- Averaged 6.5 yards per carry as a sohmpore and has been productive during his first two years in the SEC.
- Can carry the load, has the bulk and power to get stronger as the game goes on and will wear down a defense.
What I didn't like…
- Missed the 2011 season due to a fractured ankle and has been hindered by injuries throughout his career.
- Runs a bit reckless at times, leaving his feet and exposing his frame to some bigger hits.
- Gets a bit leggy when changing directions, causing him to lose balance at top end speed.
- Can also be tripped up easily when trying to change directions because his base gets a bit upright and narrow, which limits how sudden he can be laterally.
- Needs to continue to develop as a pass blocker. Has the size and power, but tends to get overextended into contact.
Overall…
If Arkansas RB Knile Davis is healthy, (which he claims he is) he could put himself in position to be the number one running back drafted in the 2013 NFL draft. Davis is a thick, compact runner with good lateral quickness when he gets up to full speed. And his combination of size, power and explosiveness makes him a bear to bring down in all areas of the game.
At times he does getting a bit leggy when asked to change directions. However, he's got the ability to break tackles on all areas of the field, run effectively inside because of his size, vision and burst, and he will create in the open field.
Therefore, if healthy, Davis has the makings of a first round caliber back and a guy who should be able to carry the load for an NFL offense early on.